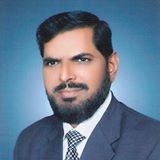 Izhar Ahmad Gulzar
Izhar Ahmad Gulzar is a Paksitani poet, fiction writer, author, broad castor, critic and researcher, born july 15, 1966 in village 87 G.B. (Babay Di Bair) Distt. Faisalabad, Punjab, Pakistan. He did his M.A (Urdu), M.A (Political Science) M.A (Punjabi Literature) M.O.L (Literature) and L.L.B from University of Punjab and B.Ed from Allama Iqbal Open University. He did his D.H.M.S (Doctor of Homeopathic) from National Council of Homeopathy and also did his Medical Technician course and Pharmacy course from Punjab Medical Faculty Lahore. Dr. Izhar Ahmad Gulzar did his M.Phil in Urdu from International Riphah University, Islamabad and now he is a research scholar of P.HD in Urdu Language & Literature. He is the son of famous fiction writer and columnist of Pakistan Rana Muhammad Gulzar Kapoor Thalvi. His Uncle (Taya) Noor Muhammad Noor Kapoor Thalvi was a great poet and writer of Urdu & Punjabi literature, who was the close friend of Faiz Ahmad Faiz, (Legend of Urdu Poetry).
Books
Sochaan Bharan Kalaway (Short Stories in Punjabi)
Kuliyat-e-Noor (about Noor Kapoor Thalvi Life & Poetry, Compiled)
Fakhar-e-Kainat (Seerat un Nabi PBUH)
Sara Alam Hai Munawwar ap ky Anwaar Say (Non Muslims Naatia Poetry,…Research)
Zamany Mai Chamka Hai Naam-e-Muhammad (Sherha Esma-un-Nabi PBUH)
Dil Jis Sy Zinda Hai (1400 Years Naatia Collection…Compiled)
Gulzar-e-Taqreer (Speaches)
More than one hundred articales in Urdu and Punjabi on different research, literacy and socio cultural issues published in different well known magazines of Pakistan and India.
Qualification
| | |
| --- | --- |
| M.A (Urdu Language & Literature) | 1999 |
| M.A (Political Science) | 1993 |
| M.A (Punjabi Language & Literature) | 1989 |
| M.O.L (Literature) | 2000 |
| LL.B | 2004 |
| B.Ed | 1996 |
| M. Phil (Urdu) | 2015 |
| PH.D (Urdu) | Cont……… |
Awards
Dr. Izhar Ahmad Gulzar has achieved many awards and certificate on his different literary work. Tributes has been paid to him on his contribution in literature.
Quaid-e-Azam Gold Medal
Best Performance Gold Medal
Barri Nizami award
Punjabi Sewak award
Quaid-e-Azam Talent award
Mian Muhammad Bukhsh award
Punjabi T.V award
Pakistan Writers guild award
Noor Kapoor Thalvi award
Anjuman Faqeeran-e-Mustafa award
Syed Waris Shah award
Al-Mustafa Thinkers Forum award
Markezi Meelad Committee award
Along with many appreciation certificates.
Izhar became a regular contributor to mushaira (traditional poetry gathering). In his published work, his first real breakthrough came when one of his short story was published in his mother tongue Punjabi in 1987. He then became a regular contributor to newspapers and literary magazines including the most widely circulated Urdu Language local newspapers ie daily "Awam", "Ghareeb", "Millat" & "Paigam" of Faisalabad and monthly magazines "Lehran", "Likhari", "Sangat", "Mah-e-Nau", "Namood-e-Harf", "Saahat", "Seveir" of good repute. He was interviewed in different newspapers and magazines as well as radio and television "Punjab T.V" & "Royal T.V" on his literary contributions. He was also a senior broad caster of F.M 94 dhamaal in Pakistan. Izhar Ahmad Gulzar is the chairman of a literary forum "Noor Muhammad Noor Kapoor Thalvi Thinkers Forum". He is basically a story writer along with writer of critic and research articles.
Review on his books / TRIBUTES
Famous scholar Akhlaq Haiderabadi has written about his stories that "Izhar's Stories contains both beauty of thought and beauty of style."
Izhar depicts our rural life in realistic manner. He does not create artificial setting and surrounding. His characters, themes, Language, diction and style of narration all are simple, vivid, direct, spontaneous and natural. Famous writer Muhammad Aamir Gulzar (Chartered Accountant) has written about his stories. "Izhar Ahmad Gulzar is a true patriot and great performer. His stories are based upon reforming and patriotic passions. His themes include everyday problems of our life. They are dowry, corruption, abduction, disaster, dejection, depression, disappointment, heart burning, unemployment, lawlessness, unjustice, faithlessness and uncertainly. All these problems are prevailing our life. Izhar Ahmad Gulzar has successfully directed these problems in his stories. He uses similes metaphors, symbols and images in his stories."
Well known scholar Prof. Riaz Ahmad Qadri expressed about Izhar's stories."Izhar Ahmad Gulzar describes the experience of pathos, sorrow and suffering of common man in a noble way. All aspects and shades of life may be seen and deep details of even the most trivial incidents. His stories are true and real Izhar does not follow the beaten traditional tracks, he digs his own grounds himself. The canvass of Izhar's art is laden with intuition and perception. The short stories are marked with profundity, magnificence, allurement, moral alleviation spiritual regeneration. The use of figures of speech like simile, metaphor, alliteration come spontaneously in to his stories. He unveils the evils of modern society like superstitions, hypocrisy, nepotism, jobbery, corruption and moral deterioration. Izhar Ahmad Gulzar is full of hope and optimisms for the better future and truth. May his expectations come true."
As a Seerat-un-Nabi (SAW) writer, he has written a proudful book "Fakhar-e-Kainat" Porf. Qamar-uz-Zaman Qamar Qadri has written about this seal of the Prophet (SAW). Dr. Izhar Ahmad Gulzar has tried his level best. Often being eclectic, to describe the cause of the creation of the cosmos. Izhar Ahamd Gulzar's humble efforts "Fakhar-e-Kainat" (SAW) will remain a sublime fountain of all important inspiration and guidance for all of us. Being a dedicate writer, he has adorned it with rare words, well known allusions, holy Haidith and Qur'anic verses. He has elaborately and vividly highlighted the spotless and unblemished actions, miracles, traits and teaching of the most pious personality (SAW). The lover writer's methods is educative, didactic, realistic and idealistic, never ambiguous at any clime. No question of paradox of hoax. The treatises, included in the book, speak volumes for the variety of their chapters e.g.
"Pefect love and perfect faith, preacher of peace and forgiveness, the first spring of the universe, the benefactor of humanity, the mercy of the worlds. As the radiant sun, the unlimited bounty, the accession of the Holy Prophet (SAW). So on and so forth. Blessed is the person who is blessed with the love of the Prophet of Islam (SAW). Izhar Ahmad Gulzar's emblem reflects his love of the Holy Prophet (SAW) or the supreme teacher (SAW). I congratulate Dr. Izhar Ahmad Gulzar of this all-illuminating guide full of lofty love and lessons. May this cherished and dignified venture be accepted in the matchless court of the kindest Master (SAW)."
IZhar Ahmad Gulzar has also compiled an other noble book "Sara Alam Hai Munawar Ap Ky Anwaar Sai" which he has researched encomia (Naat) of non muslims in the world.
Humble poems aiming at highlighting Prophet Muhammad (SAW) sublime virtues and graces are called encomia (Naat).
It is wise to select elevated, encomia which inculcate pious traits of characters and spirit encomia are not enigmas, but elegant criteria of love for the Holy Prophet (SAW). Dr. Izhar Ahmad Gulzar, and enthusiastic researcher, has compiled encomiums composed by Non Muslim who have great devotion to the Holy Prophet (SAW) to make a beautiful bouquet of sacred Poems is a herculian task. Dr. Izhar Ahmad Gulzar, the dedicated compiler has rendered this endeavour very superbly. In past a book of the same sort was published by some devotee, but it is not available anywhere. Dr. Izhar Ahmad Gulzar is a eminent research scholar of Urdu & Punjabi literature, some remarkable books have been written and edited by him. Devotional and enlightening pursuit is a means of spiritual purification by which people are Graceful and soul stirring are the verses belief Dr. Izhar Ahmad Gulzar's venture (Sara Alam Hai Munawar Ap Ky Anwaar Sai) remains a praise worthy activity in the form of anthology. No taint of artificiality on part of dedicated poets (Christian, Hindu & Sikh Encomia writers) as well as the Editor/complier Dr. Izhar's this asset of venerating poems reflect love, meekness, sincerity, of Non-Muslims for the seal of the Prophet (SAW). Let's pray for sublimity of all who worked whole heartedly in bringing out a venerable venture like this.
Izhar Ahmad Gulzar is the honorary Editor of "Sangat" and doing his struggles for the progress of Punjabi. Now he is a Exective member of Editorial board of monthly "Lehran" Lahore which is publishing from 50 years. He is also a member of Pakistan Writers Guild and Halqa Arbab-e-Zouq Faisalabad (Pakistan). He has written various reviews and Flaps of different books of literature. His columns are publishing in different newspapers as named "Izhar bhi mushkil hai".
Izhar's literary journey is continue. He will prove himself a good writer and a noble personality of Urdu Language & literature in future (Insha Allah)
Contact: 0092 313/300 7632419
0092 345 7692365
E-mail:izhar.dhamal94@gmail.com