Dr Amjad Parvez
First of all singer Ghulam Ali is not be confused with Ustad Bare Ghulam Ali Khan or with Ustad Chotte Ghulam Ali Khan (though there is a link between Ustad Bare Ghulam Ali Khan and Ghulam Ali, which I shall discuss subsequently). The two mentioned classical ustads (vocalists) have been legends in the domain of classical vocalisation.
I have known and worked with singer Ghulam Ali, more known as ghazal singer, since a lifetime. He and I consider each other as brothers. On the night between March 9-10, 2014 he was the guest at Pakistan Television Corporation's (PTV) programme 'Nisf Sadi Ka Qissa' (story of half a century) hosted by Ammar Masud. This programme is being telecast every weekend with different celebrities in consonance with golden jubilee celebrations of PTV and speaks on the contributions of artists in all the domains of art for which they have contributions for PTV and vice versa. The guest speakers on the life and works of Ghulam Ali were PTV's former director programmes Farukh Basheer, music composer Mujahid Hussain, Indian singer Hans Raj Hans, singer Taranum Naz and I. Many participants pointed out that Ghulam Ali was not only a proficient singer but an equally proficient harmonium and tabla player. His voice gets along well with the keys of harmonium in the most of difficult permutations and combinations of notes.
The information received about Ghulam Ali's earlier life was that he was born in the village of Kaleke, Daska near Sialkot, Pakistan in 1940 (research information provided to Ammar Masud mentioned the birth year as 1941). He belonged to a musical family. His father was a vocalist too. Apart from singing he enjoyed playing the instrument Sarangi as well. Naturally the early training was received from his father. Unsatisfied with his own training, Ghulam Ali's father wanted Ghulam Ali to become a disciple of a great teacher, Ustad Bare Ghulam Ali Khan. So Ghulam Ali was taken to the great legendary ustad who was on visit to Kabul, to take him as his pupil. Initially reluctant because of his busy schedule that had kept him busy, ustad became convinced of Ghualm Ali's talent only after hearing disciple-to-be sing thumri "Saiyyan bolo tanik mose rehiyo na jaye" and according to Ghulam Ali, hugged him and took him under his umbrella. Ghulam Ali was in his teens then, probably 15. The legendary classical singer Bare Ghulam Ali Khan, hailed from Patiala Gharana of gaiki (singing).
Here it would be pertinent to provide some brief information on Ghulam Ali's teacher, Ustad Bare Ghulam Ali Khan. He started his career by accompanying female singers on musical instrument Sarangi. He also used to sing a few compositions of his late uncle Kale Khan. He was a disciple of both Ustad Akhtar Hussain Khan and Ustad Ashiq Ali Khan, two scions of the Patiala Gharana. Ustad Bare Ghulam Ali Khan won laurels after his performance in Kolkata. Bare Ghulam Ali Khan's uniqueness that kept him distinct from his contemporaries was in his amalgamation of the best of four singing traditions: his own Patiala-Kasur style, the 'Behram Khani' elements of Dhrupad form of gaiki, the gyrations of Jaipur, and the 'behlavas' (embellishments) of Gwaliar. His voice had a wide range. He could move his voice with ease for almost three octaves and that too, effortlessly on all tempos. Despite all this craftsmanship his voice remained sweet and flexible. His raag expositions used to be unlike the traditional longish ones. While he agreed that the beauty of classical music lay in leisurely improvisation that normally takes a longer time, he believed that the audience would get restless listening to long 'Alaaps', but since he had to sing for the masses, he used to change the music to what the audience wanted. While in Pakistan, the story resounding in the verandas of radio Pakistan since past five decades is that once he used his umbrella stick to open the door of ZA Bukhari's office who snubbed him that he didn't know the etiquettes of entering into an officer's office. Ustad got annoyed and said that many officers would come and leave but Bare Ghulam Ali Khan was only born once. He was moody and sat in the gardens of radio and asked for microphones to be brought there if the radio desired for his recordings.
Ghulam Ali disclosed in his interview that he was handed over for daily practice sessions to Ustad Bare Ghulam Ali Khan's younger brothers Ustad Barkat Ali Khan, Ustad Mubarak Ali Khan and Amanat Ali Khan in Lahore. All these great teachers of classical music taught him the finer details of classical music and laid solid foundation for all forms of classical music like 'thumri' and singing raags. Due to early cerebral attachment with Ustad Bare Ghulam Ali Khan, singer Ghualm Ali's father had named him Ghulam Ali as well. Continued
From : Daily Times April 05, 2014
Part II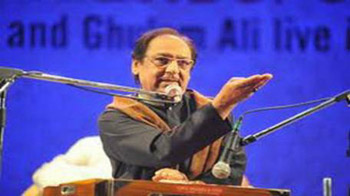 Singer Ghulam Ali avoided himself being called an ustad as he revealed during a show on PTV. This gesture simply indicated his humility. I know for one thing that Ghulam Ali is a very simple person. He avoids eating meat and naan (baked bread). He likes simple chappati and shorba (gravy). I was witness to it when I recorded his ghazals for Oriental Star Agencies' (Birmingham, UK) album 'Khushboo' at EMI Recording Studios, Lahore. (I had the honour to render the same ghazals too). He mixes well with friends. He is a down to earth person, wears a simple dress and despite him crossing 70, travels widely all over the world for his live concerts. Unlike his contemporaries he has managed his finances well. He told me that he is his own finance manager.
Ghulam Ali has sung songs composed by many music composers of the subcontinent but he composes music also, especially ghazals. His compositions for the poet Nasir Kazmi need special mention. His ghazal "Dil main ik leher si uthi hei abhi" sung for PTV and composed by Altaf Hussain (late) was also rendered by a female singer Tasawur Khanum for a programme in, which both male and female singers used to sing the same ghazal, disclosed Ghulam Ali. This number was an instant hit and later Ghulam Ali started rendering it as a solo item in most of his concerts both at home and abroad. His variations on the word 'leher' (wave) through different combination of notes used to establish many shades of waves; quiet and noisy. This craftsmanship used to mesmerise the audience and establish his command on tune, words and rhythm. One of such performances of this ghazal was part of PTV's show 'Meri Pasand' (My choice) produced by Khwaja Najamul Hasan in early 1980s. Though Ghulam Ali has rendered most of the ghazals composed by his assistant Rafique Hussain, his compositions are raag-based and sometimes include a scientific mixture of raags. The music lovers must be aware that a raag is a scientific, precise, subtle and aesthetic melodic form with its own peculiar ascending and descending movement consisting of either a full seven note octave, or a series of six or five notes (or a combination of any of these) in a rising or falling structure called the 'Arohi' and 'Amrohi'. I had observed that Ghulam Ali uses his training of singing thumri in most of his renderings and plays with the rhythm, being a rhythm master himself.
Sometimes he uses a 'bedaar' (odd) note only to return to the original scale with ease beautifying his composition and performance. The other scion using this quality was legendry singer late Tufail Niazi. The result is touching the hearts of music lovers. Some of the examples that can vouch for this observation are "Aae husne lala faam", "Apne dhun mai reheta hun mai bhi tere jaisa hun", "Apni tasveer ko aankhon se", "Arze gham say bhi faida tou nahain", "Ye dil yei pagal dil mera kyun bujh gaya awaargi" (Poet: Muhsin Naqvi), "Baharon ko chaman", "Barsan lagi sawan bundiya raja" (thumri), "Chamakte chand ko tuta hua tara bana dala", "Chhup chhupa ke piyo", "Chupke chupke raat din ansoo bahana yaad hei" (Poet: Hasrat Mohani), "Dil buk buk ahro", "Dil jala ke mera muskuraate hain woh", "Dil dharakne ka sabab yaad aaya" (Poet: Nasir Kazmi), "Dil mein ik leher si uthi hai abhi" (Poet: Nasir Kazmi), "Fasle aise bhi honge yei kabhi socha na tha", "Hadaffe gham na kiya sange mallamat nay mujhay" (Poet: Raees Warsi), "Heer" (for Pakistani film 'Heer Ranjha' composed by Khwaja Khurshid Anwar), "Hum tere shehr mein aye hain", "Hum to kitno ko mehzabeen kehte hain", "Humko kiske gham ne mara yei kahani phir sahi" (Poet: Masroor Anwar), "Hungama hai kyon barpa" (Poet: Akbar Allahabadi), "Itni muddat baad mile ho", "Jin ke honton pei hansi" (Produced by Khalid Asghar), "Kabhi naiki mein mujhe", "Kachhi deewar hoon", "Kesi chali hai abke hawa", "Kal chaudhvin ki raat thi" (Poet: Ebne Insha), "Kal raat bazm mein jo mila", "Kehte hai mujhse ishq ka afsana chahiye" (Poet: Qamar Jalalabadi), "Khuli jo aankh", "Khushbu gunche talash karti hain", "Khushbu jese log", "Kina kina timro tasveer", "Kiya hai pyaar jise", "Koi humnafas nahi hai", "Main nazar se pee raha hoon" (Poet: Qamar Jalalvi), "Mehfil mein baar baar" (Poet: Agha Bismil), "Mera kya tha tere hisaab mein", "Ni chambe diye band kaliye" (film song).
Before proceeding ahead I must talk about Ghulam Ali's songs sung for Pakistani films. The most notable songs in his voice are by music composer Safdar Hussain. It was in 1972 that Diljeet Mirza produced a movie namely 'Tha' in, which Waris Ludhianvi wrote a beautiful song for Ghulam Ali "Pehli waari aj ohna akhian nei takia" picturised on actor Shahid opposite Rozina. Continued
From : Daily Times April 06, 2014
Part III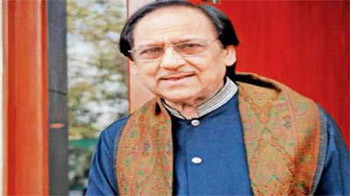 Another gem of the same director Diljeet Mirza was the song "Ni chambe diye bund kaliye" again picturised on actor Shahid but this time opposite actress Naghma. Dr Bukhari reported that three Saraiki songs were rendered by Noor Jehan and Ghulam Ali. He posted that Saraiki film songs' history dates back to old times as Nahid Niazi was the first singer to sing a pure Saraiki song in film 'Aabru' (1961) under composition by none other than the son of the soil Baba GA Chishti. The cast included Bahar, Akmal, Zeenat and A Shah Shikarpuri. It was basically a Punjabi movie by Kashmir Theatres Limited. Sheikh Ataur Rehman was its producer as well as the director. It was released on January 27, 1961. However the complete Saraiki movie's honour goes to the movie 'Dhiyaan Nimaniyaan' by the genius singer cum actor Inayat Hussain Bhatti under the banner of Nadeem Pictures (attributed to his son Nadeem Abbas) who also appeared as film producer in title and Inayat Hussain Bhatti as director. Being the first of its kind it was destined to be the biggest blockbuster in the huge Saraiki belt ranging from areas of Sindh to the whole of Punjab and Pothohar regions. Ashiq Hussain was its music director and the cast included Inayat Hussain Bhatti, Khanam, Saiqa, Asad Bukhari, Afzal and Agha Hussain.
The singers included Inayat Hussain Bhatti, Noor Jehan, Afshan and Sultana Naz. It was released on December 7, 1973. The success of this movie led to the making of more films in this sweet language. Our next stop is Saraiki film 'Saanjh Saaday Pyar Di'. Produced under the banner of Movie Masters, it was directed by Sarwar Chaudhary. The cast included Raj Multani, Saiqa, Khalid Mahmood and Seema. Music was composed by Ghulam Hussain Shabbir who used the voices of legends like Ghulam Ali and Madam Noor Jehan in a melodious style. It was released on April 21, 1974. 'Haatu Jat' is another Saraiki film in, which apart from Noor Jehan, notable singers were Masood Rana, Ghulam Ali, Mala Begum, Tasawwur Khanum and even Irene Parveen with Afshan and Balqees Khanum. Another Saraiki film worth mentioning here was 'Rab Da Roop' by Nadeem Pictures again; Nadeem Abbas was the producer and Kaifi directed it. The cast included Inayat Hussain Bhatti, Khanam, Nanha, Shahida, Raja Riaz and Bahar. Safdar Hussain was the music director and singers line-up included Inayat Hussain Bhatti, Mala Begum and Afshan. It was released on June 6, 1975.
There are many other Ghulam Ali Punjabi numbers that became popular when released. One of such numbers is "Patta laga menu hundi ki judai jadon da mera mahi ruseya". It is a typical catchy rhythmic number, which I heard in a live concert.
Another Punjabi number is "Tere pyar di saun menu". Ghulam Ali rendered a lovely duet with Afshan; a Mahiya "Patna tei mil mahiya". The most popular number is "Mere shauq da nahi etbaar teinu". (Sufi Tabasum's translation of Ghalib's verses). He sang this number umpteen times, the best rendering being in Khwaja Najamul Hasan's PTV programme 'Meri Pasand'. Another melodious hit is "Tahngaan waei nain kadaun sukh naal saun" composed by Radio Pakistan Producer Ustad Tasaduq Ali Khan. The number "Nit dei vichore saada sukh chain kho laya" is a sad but tuneful number. The catchy rhythmic number "Beh ja mere kol tenu takda rahwaan" was also hit of the day song. Again many variations on the word 'rehwaan' used to captivate the music lovers. "Akhan sohnian vichon dulda khumar" also became popular across the borders.
"Jai gham sajna da hunda na" was another nice number. A film's song "Sohnya oei mukh tera sajri saver aei" is a very melodious song that became so popular that even Madam Sabiha Khanum rendered it in a PTV programme. His Kafi "Rabba mere haal da mehram tun" and another number "Ki pucchde ho haal" need special mention. Another title song "Mahi mahi kookdi ni main aape ranjha hoi" composed by Mian Sheheryar for a drama serial of the same title was very much in demand when the serial was telecast on PTV. One of the other popular songs of its time was "Tak patri waleya laikh mere".
There are many other Punjabi numbers to mention but the following Urdu numbers are worth mentioning as well. To start with a ghazal; "Patta patta boota boota haal hamara jane hei" by poet Mir Taqi Mir. Many crooners have sung it including myself in the music of Mian Sheheryaar for my EMI released audio album 'Amjad Parvez sings Mir'. The notable factor in my rendering was Sarangi accompanied by Ustad Nazim Ali Khan and tabla by Ustad Tari Khan. It is this very ghazal when rendered by Mehdi Hasan in the music of Ustad Niaz Hussain Shami that made Lata Mangeshkar reportedly comment that god existed in the vocals of Mehdi Hasan (Mehdi Hasan ke gale main bhagwan bolte hain). Continued
From : Daily Times April 07, 2014