The Punjaban from Down Under
by MANPREET KAUR SINGH
Japji Kaur Khaira, the Punjabi beauty from Down Under, is on top of the world - she has been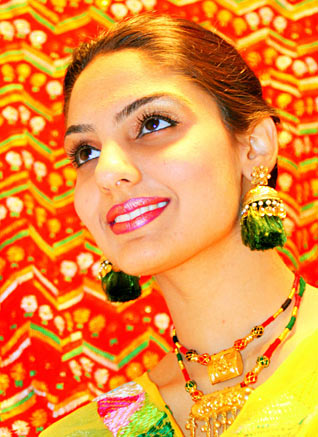 crowned Miss World Punjaban and has become the first ever non-Indian Punjaban to win this unique competition.

"I can't describe how it feels," gushes Japji, a second year university student of Applied Science, who just turned 20 in January '07. "I had only dreamt about this, and now it has actually happened!" Japji recalls, "You know, I was only 14 years old when Priyanka Chopra won the Miss World title. I remember immediately searching the internet for other pageants held around the globe and I was stunned to read about 'Miss World Panjaban' competition. Right then I had decided that I would work hard to claim this title, and today, I've realised that dream".

So what is this Miss World Punjaban contest? Initiated by the Sabyacharak Satth Punjab, based in Ludhiana, the first such pageant was held in 1993. In a world accustomed to glitz and glamour, and where beauty pageants have become increasingly focused on exhibitionism rather than on natural beauty, this is a pageant with a difference: the participants wear traditional Punjabi attire, speak in Punjabi, perform Gidha and answer questions about 'charkha', 'chakki' and 'madhani'. The usual swimsuit rounds and teeny-weeny western outfits are given a toss in this competition and tradition is served up on a platter in many countries across the world.

Preliminary contests were held in Australia, UK, Canada and some other countries, as well as in all Indian states in 2006. Overall, around 50 participants made it to the finals held at Ludhiana, at the end of the year. They went through many rounds and in the end 15 participants were left to vie for the title.

Japji, already a Miss Punjaban Australia, proudly represented the Aussie Punjabis at the pageant in Punjab.

Explains Jasmer Singh Dhatt, the founder of Sabhyacharak Sathh Punjab, "This is a competition for the quintessential Punjabi 'muttiar'; whilst beauty is important, the participants are also asked to demonstrate their understanding of Punjabi culture, their love for Punjabi performing arts and love for their language. It's a contest not just for the 'soorat', but also the 'seerat' of the Punjabans."

Japji vowed the audience by playing the dhol in the talent round. She recalls, "I had gone to India a month before the competition so I could prepare for the pageant. I went to museums, read books and most importantly, took classes to learn the dhol. The audience couldn't believe that this girl from Australia would actually come on stage and play the dhol - and I think that was the best moment of the whole pageant for me." Apart from the personal talent round, there was a bridal round, a gidha round and a quiz round where participants were asked questions pertaining to the Punjabi way of life. Japji was asked to explain what a 'kolhu' is and was also asked to sing a boli on "naar".

But here, the question arises about the relevance of ancient tradition in the life of a 21st century Punjaban. Does a modern day Punjaban really need to know about charkha, chakki and kolhu in this day and age? Ask Dhatt this question, and he responds, "Definitely. It's important for every Punjabi girl to know what our traditions are. We don't ask the girls to work the charkha or grind grains in the chakki; we only expect them to recognise these things and know them for what they are. In any case, this round carries less weightage in the overall score as compared to other rounds, but nevertheless, it's an important part of our competition.

That's what makes Miss World Panjaban pageant unique - it is the only event of its kind in the world where contestants are asked specifically about their culture. In most other contests, vulgarity is the call of the day and girls feel the less dressed, the better. But in this competition, tradition is given precedence, and more is beautiful."

So what are the future plans of Miss World Punjaban? Standing 5 feet 6 inches tall, and passionately proud of her cultural background, Japji says, "Well, I intend to complete my studies and work in the IT industry. Equally I want to fulfill the responsibility that comes with the Miss World Punjaban title and will work hard to spread the fragrance of Punjabiat. Even though I've grown up in Australia, I have felt the need to uphold our traditions. I think it is inevitable that we will all be touched by the modern, western culture and there is nothing wrong with that; but it shouldn't come at the cost of abandoning our cultural roots. I hope to help open Punjabi cultural centres throughout the country and encourage youngsters to appreciate our rich traditions," says Japji.

Her message to other young Punjabans around the world? Pat comes the reply, "I'll narrate my favourite 'shayr':

"Chunni nun na killi tango
Khud nun na pachhim wich rango
Rahe virsa jeenda saada
Rab to ehi duavan mango"
[Don't hang up your chunni on the hook,
Don't surrender it all to western ways.
May the good Lord grant us this boon...
That our traditions live forever.]