Learning the Oorha-Airha
by MANPREET KAUR SINGH
Australia, a country built by migrants, is a natural when it comes to support and promotion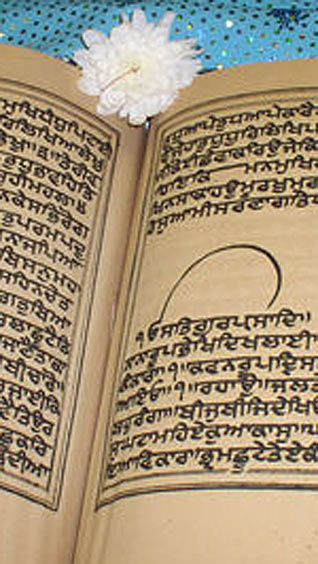 of multiculturalism. Like many other communities, the Australian Punjabi community has reaped rich benefits of this policy, as a result of which language schools, community centres and cultural organisations have flourished over the past few years.
In fact, a brand new Sikh Community Centre is currently being purpose-built in Melbourne to fulfill the growing needs of the Punjabi community. The million-dollar project, proposed by the Victorian Sikh Association, is being partly funded by the local government and the Council has provided a grant of $480,000 for its development.
But the biggest impetus to the promotion of Punjabi culture came when the Victorian government formally recognised Punjabi as an accredited language for the school curriculum. This meant that for the first time anywhere in Australia, students in Melbourne and other Victorian areas could study Punjabi as a school subject, and get additional credits for it at the end of Year 12 (called Victorian Certificate of Education or VCE).
As a result of this, 22 Victorian students took the Year 12 VCE Punjabi exam at the conclusion of the first term, and two young women from Melbourne scored the highest marks in the entire state.
Chandan Preet Kaur Passi and Sital Kaur Gill, the two top scorers from Victoria, were ecstatic at this achievement. "I've been learning Punjabi ever since I was a little girl and now it has helped me secure a place in one of the most prestigious universities of Australia", says Chandan.
She is currently studying at the Royal Melbourne Institute of Technology ("RMIT"), one of the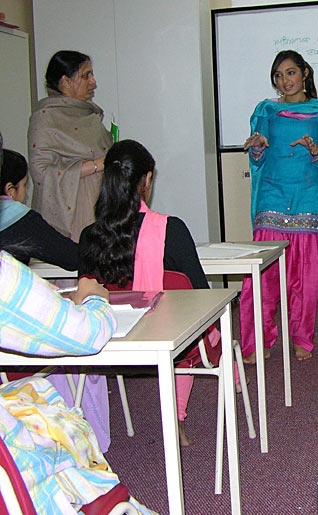 elite institutions of Australia, and she believes that the extra credits she received for studying Punjabi helped her get the prized admission.
According to the education system in Victoria, every student studies five subjects in Year 12 and the highest marks obtained in four subjects are added to obtain the ENTER score. The ENTER score determines which University you go to or which course you get admission in. But the score for languages other than English, like Punjabi, get additional weightage, as a result of which even getting 40 out 50 in the subject gives the student an excellent ENTER score.
The situation for the other topper, Sital, is even better. "I took the exam when I was in year 11. Now I'm in Year 12 and can concentrate harder on all the other subjects because I've already got a great score in Punjabi. I'm so proud because on the one hand I have learnt my mother tongue really well and on the other, it's given me better prospects for further education and higher studies".
Sital first learnt Punjabi in Singapore, a country where she spent most of her school years and only came to Melbourne last year. She attributes her success to the firm grounding she received in that country.
"In Singapore, it is compulsory to choose a second language at school and one has to choose between the local language and Punjabi. It was an obvious choice for me, because even though my family migrated from India generations ago, they have kept the culture alive. Everyone spoke Punjabi at home and it was only natural that I learnt it at school", says Sital.
Chandan's family, on the other hand, migrated to Australia ten years ago and she has done almost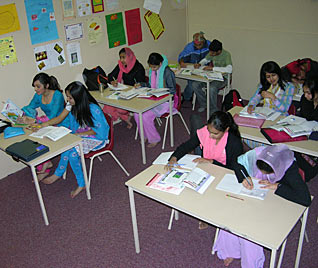 all of her schooling in Melbourne. But right from the beginning, she spoke Punjabi at home and attended the Punjabi classes at the local Gurudwara.
"My parents always encouraged me to learn more about the Punjabi language and culture. Being religious-minded, we went to the gurdwara regularly, and that's where I formally learnt the language. Initially, I just wanted to be able to talk to my relatives in India and write letters to my grandparents. Now I can read Punjabi literature, history, novels and I can even do paath, something I'm really proud of."
Traditionally, Punjabi classes have been held over weekends at the local gurdwaras so that children can attend the classes while the parents listen to shabad-kirtan. Even now, although Punjabi has been accredited as a VCE subject, classes are still held at the gurudwara school or at other centres opened by Victorian School of Languages ("VSL").
Parents still have to make the extra effort to drive their children to the class venues every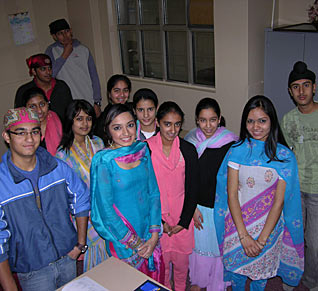 weekend. But until last year, parents only had emotional reasons to teach their children Punjabi; but with the Victorian government's new initiative of including Punjabi in the school curriculum, parents now have a more tangible reason for teaching Punjabi - children could have a better future, and a better prospect of getting admission in coveted universities.
Dilpreet Jaswal, Principal of Khalsa Punjabi School since 1999, explains: "Children can only learn Punjabi if their parents take the initiative. We teach the children once a week, but parents have to make sure they speak Punjabi at home, finish their homework, bring them to school regularly, etc."
Opened in 1995, Khalsa Punjabi School is one of the largest Punjabi schools running in Victoria, with 90 children enrolled at various levels this year. Fully funded by Communities Languages Australia, it operates within one of the larger gurdwaras in Melbourne. According to the Principal, "Children don't just learn the Punjabi language at our school. We also teach them about our culture and our values, we discuss current affairs and encourage them to participate in shabad-kirtan as well. If you ask me, these kids are much better Punjabis than the children growing up in Punjab today. In India, its not very fashionable to learn Punjabi, most children speak Hindi because even the parents speak to them in Hindi. And with the increasing influence of Bollywood and western culture on TV, not many Punjabi children in India know about our history, our culture or our religious heritage. I know it's important to expand your horizon, but it shouldn't come at the cost of forgetting your own traditions. I think I can safely say that our kids here are far better off in this respect than those in present-day Punjab."
Apart from the Khalsa Punjabi School, VSL runs five Punjabi centres across Victoria. Fully funded by the state government, hundreds of children are enrolled for these Punjabi classes as well.
Frank Merlino, the Principal of VSL, declares: "Many studies have proven that knowledge of a second language helps to improve a student's literacy in English. That's why we encourage learning of a second language and run classes in 44 languages around Victoria".
Established in 1935, VSL runs classes in many subcontinental languages apart from Punjabi, such as Bengali, Hindi, Sinhala, Tamil and Urdu. But, Merlino warns, "It is essential that the Punjabi community takes full advantage of the recent VCE accreditation and encourages students to study it at all levels. If this doesn't happen, then the VCE accreditation could be lost, as it happened with Bengali last year. Student enrolments for the VCE Bengali exam fell below the critical number of 15 for three consecutive years, and its accreditation was scrapped last year".
But Merlino is upbeat about the future of the Punjabi classes in Australia. "Given that Australia is increasing its trade arrangements with South Asian countries and given that we have a significant Punjabi community in Victoria, I feel Punjabi classes have a bright future here. While some parents might give English studies a priority at the expense of the background language, I think the Punjabi community by and large encourages its children to study Punjabi."
And what do the successful Punjabi toppers of Victoria have to say about this? According to Sital, "Punjabi is our maa-boli, our mother-tongue. If we don't learn it, who will? If you don't know Gurmukhi, you can't do paath, and wouldn't that be awful?"
Adds Chandan, "If we don't know about our own history and culture, how can we ever explain it to others? I think once you learn Punjabi, you create your own identity and learn something for a lifetime. I wish all mums and dads would give this gift to their children, so they could reap the benefits in the future".
Currently, there are 21 students enrolled in Year 12, who will take the VCE Punjabi exam later this year. Hopefully, all the attention Chandan and Sital have received will encourage more parents to send their children to Punjabi classes. It would be wonderful if the Victorian example will be followed by all other states of Australia, with Punjabi receiving its rightful recognition in schools across the country.
Just like no tree can grow tall without deepening its roots first, no community can progress without a firm grounding in its culture, and no migrant can embrace a solid future without upholding the past traditions.
Here's to learning oorha .. airha .. eerhie .. sassa alongside A-B-C-D, for many generations to come.