Unsung Heroes -
WWII Prisoners of War
by MANPREET KAUR SINGH
Few stories are more inspiring than those of young soldiers who go to faraway lands to "fight for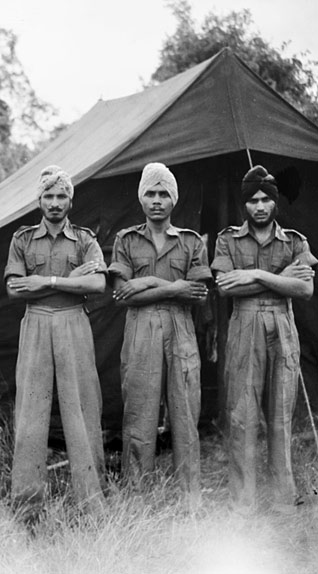 their country and national honour" and who don't hesitate to lay down their lives in the line of duty.
But what if the country they belong to doesn't recognize the war itself, the army they fought for doesn't accord them any legitimacy, the enemy captures them and inflicts unspeakable torture on them, but they still continue to fight with dignity that leaves a life-long impression on their liberators?
This is the story of thousands of Indian prisoners-of-war (POW) during World War II, many of them Sikh and Punjabi, who were captured by the Japanese in 1942, only to be freed by Australian forces in 1944.
Sadly, the story of these brave men has largely been consigned to anonymity, with a few historians going even further, questioning their loyalty and almost heaping them with ignominy. But historical documents from the Australian War Memorial (AWM) in Canberra claim otherwise, and testimony from countless Australian soldiers shows the POWs' true grit, their steadfast loyalty and their "greatness in adversity".
Peter Stanley, formerly the Principal Historian at AWM and now at the National Museum in Canberra, has painstakingly gleaned the story of these forgotten soldiers from the records at the National Archives. His research shows that time and time again, Australian soldiers remarked that the Indian soldiers were "fine men" and despite deprivation and severe torture, they had "great soldierly pride".
Another described them as "very weak but morale still high". One Australian officer, writing about how the soldiers from the land of the five rivers "inspired" him, declares, "They are a great race, Sikhs and Punjabis - great in adversity".
This officer was a part of the 16th Australian Brigade, operating around Bolken Point and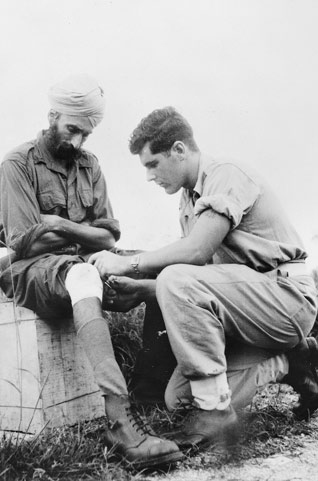 Koanumbo in New Guinea, an area where thousands of Indian POWs were liberated. He describes how, in May 1945, nineteen Indian prisoners came to the Australian lines on the 26th, followed by many more over the next few weeks.
They were weak and ragged, but before mounting the lorry that would take them to the headquarters, "their sergeant pulled them up and made them tidy their clothes to the best of their ability, so that they would arrive at headquarters looking as presentable as possible".
Another witness from the 2/8th Battalion described an "ennobling" experience, when ragged and starving Indian prisoners-of-war reached the perimeter of the Australian camp. He recalls how the Havildar in charge pulled his soldiers into two ranks, saluted smartly and said, "Havildar (name) reporting with thirteen sepoys, Sir".
According to the Australian soldier, "This was a moment of great triumph, not to be forgotten by those who witnessed it". But how did these Indian soldiers, fighting for the British imperial army, get to this bedraggled stage, reach New Guinea and other desolate islands, only to be freed by the Australians after two years in captivity?
History books tell us that halfway through WWII, in February 1942, Singapore fell and the Japanese took many imperial soldiers as prisoners. Among them, it is estimated that 40,000 were of Indian origin, and a huge proportion of them, Sikh and Punjabi.
They were separated from the rest of the POWs and subjected to propaganda to join the Indian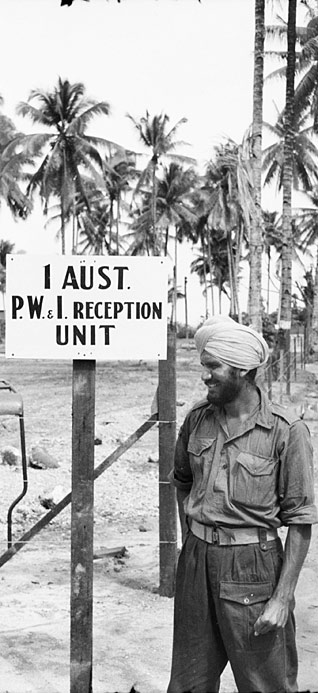 National Army (INA), which at that stage was fighting alongside the Japanese.
Mandeep Singh Bajwa, director of Center for Indian Military History explains, "The Japanese, under a brilliant intelligence officer, Major Fujiwara, had already raised an Indian National Army under the command of Capt Mohan Singh of the 1/14 Punjab, with a nucleus of around two hundred Indian soldiers captured during the Malayan campaign. These soldiers for freedom fought against the British forces prior to the surrender of 1942.
"Giani Pritam Singh of the Indian Independence League from Bangkok was instrumental in the raising of the INA and weaning away of the Indian soldiers to fight for India's freedom."
It seems that "up to 30,000 Indian soldiers joined the INA either willingly or under duress" and the rest, called "non-volunteers", were immediately subjected to varying degrees of torture.
Bajwa says,"The INA had a concentration camp for such cases at Bidadari where many non-volunteers were tortured, beaten and badly treated. Capts. Dhargalkar, Badhwar and Ghanshyam Singh were tortured very badly, the first two being confined to the latrines for weeks on end, the latter being made to spend months inside a small cage, where he could neither stand upright nor stretch his legs".
Bajwa goes on: "Some other officers, like the brothers Lt. Col. Gurbaksh Singh, commander of the Jind Infantry unit from the armies of the Princely States, and Capt. Harbaksh Singh, of the 5/11th Sikh Regiment, also coaxed their soldiers to refrain from joining the Japanese. General Harbaksh Singh, as he became later in the Indian army, has given a vivid account of his days as a POW in his autobiography. All of them were imprisoned in a camp at an airfield on the Malayan mainland".
Although the above-mentioned officers were all awarded MBEs (Member of the Order of the British Empire) or OBEs (Officer of the Order of the British Empire) by the British, a large majority of the soldiers in the Far East campaign were never given any recognition, because of their perceived association with the INA.
But whether the Indian soldiers joined the INA or not, eventually they all received the same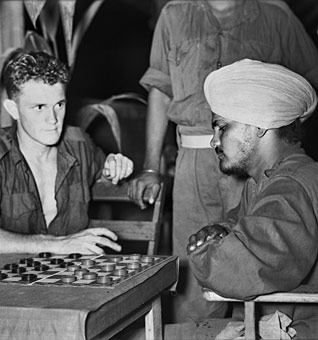 treatment at the hands of the Japanese. By December, 1942, relations between Capt. Mohan Singh and the Japanese broke down, since he and other patriots within the INA and IIL were adamant upon Japanese guarantees of Indian freedom.
Bajwa explains: "They wanted a genuine role for the INA in the attainment of Indian independence. The Japanese, however, had their own agenda. The result was the arrest of Mohan Singh and his close associates and the dissolution of the INA till the arrival of Subhash Chandra Bose in 1943.
"The Japanese, in urgent need of labour for construction work in the South-West Pacific, used the nebulous situation prevailing between the dissolution of the First INA and the raising of Netaji's INA to ship the Indians to forced labour camps in New Guinea and Sumatra".
These forced labour camps seem to be the Asian equivalent of concentration camps in Nazi Germany. According to Stanley, the POWs were divided into several Indian Working Parties and around 10,000 Indians (a substantial number of them Sikhs) were sent to New Guinea, Rabaul (New Britain) and Bougainville and smaller parties to Admiralties, Timor and New Ireland.
Jemadar Chint Singh has described these camps in great detail in his testimony to the Australian liberators, especially highlighting the inhumane way that Col. Takano, his Japanese captor, treated them.
They were made to work for long hours, beaten with wooden sticks if "they were too slow", hardly given much to eat, and made to sleep in a water-logged camp. In his sworn testimony, on the basis of which many Japanese soldiers and officers were convicted of war crimes later, Chint Singh recalls "we usually slept in water and had no sanitary facilities".
He also testified about an instance in August 1943, when they were working on an airstrip at Wewak, and Allied aeroplanes bombed the area. Five or six Indians were killed in the bombing and many wounded. When Col. Takano heard the wounded cry out in pain, he reportedly threw sand at them and said, "Why are you crying, this is not my fault, it's Roosevelt and Churchill".
The wounded were not treated and all of them died a short time thereafter. More testimony appears in a book by John Baptist Crasta, a head clerk in an Indian Army Service Corps field bakery, who was captured by the Japanese and sent to Rabaul in 1943. Crasta's book, Eaten by the Japanese, was written in 1950, but only published in 1999. It not only corroborates the inhuman treatment meted out to the Indian POWs, but also describes systematic cannibalism practiced by the Japanese, who would pick out a soldier whose flesh they would eat later in the day!
Despite the unspeakable torture that the Indian POWs went through, they didn't lose heart and the Australian records show that they actually mounted three different protests against their captors at Wewak.
First, in July 1943, the Indian officers submitted a petition (written in English) to Col. Takano. They asked to be treated according to the conventions of international law, and to be given better food, facilities and medical attention.
According to Chint Singh, "Col. Takano was very angry, called us traitors of Asia and India", and asked a subordinate to make sure that they worked even harder.
The second protest probably came after the air raid at Wewak, and taking a leaf from the Indian independence struggle, the soldiers went on a hunger strike until their petition was heard. This protest was led by Capt. Nirpal Chand, a King's Commissioned Indian officer, who said, "We will go without food and die, if necessary, unless our requests are heard".
The Japanese first threatened to kill them, but later relented, and conditions improved for the prisoners - but only for six days, after which "the ill treatment began again".
The third protest was regarded as most serious by the Japanese captors. When the landing of American troops became imminent at Sepik coast, the Indian prisoners were ordered to march 300 kms. from Wewak towards Hollandia. After walking for about 100 kms., the troops, under the orders of Capt. Nirpal Chand, refused to walk any further.
Captain Mitsuba describes Nirpal Chand as "inciting his subordinates" and fearing "an uprising", summarily executed Capt. Chand. Similar instances are quoted by Rabaul prisoners too, which are described in great detail in the AWM documents, "War crimes and trials - Affidavits and sworn statements".
The first breakthrough for these POWs came in April 1944, when the 1st Cavalry Division seized the Admiralty Islands and rescued sixty-nine Sikh prisoners of war. They had been used as labourers at Los Negros and, by all accounts, their presence in the Admiralty Islands surprised the Allied Forces.
Over the following weeks and months, nearly six thousand Indian soldiers were recovered from Australian New Guinea and sent to Recovery of Allied Prisoners of War and Internees (RAPWI) missions, where they were formally processed as "recovered" soldiers and shipped back to India.
By late 1944, First Australian Army headquarters issued instructions for "processing" members of the Indian army - they were to be sent to Australian medical units for transport to general hospitals, or held at depots at Bougainville, Madang, Aitape, Jacquinot Bay or Lae.
"Members" would be issued with Australian uniform and kit - including twelve yards of white muslin for turbans, cooking vessels, pay books and allowed to write letters back home in their own script. It is interesting to note that according to Crasta, many of the Indian soldiers refused to take uniforms from the Japanese because "they didn't want to be seen as cooperating with the Japanese".
Crasta also notes, "These men could very well have stayed back in Singapore and saved their lives". However, they did not. They stayed with the loyal working parties "to be away from the INA influence".
There are many stories of these recovered soldiers that the Australians fondly remember, one being the discovery, by the 2/4th Battalion, of a Sikh and another soldier eating a watermelon near Danmap river. The Australians brought them back to Suain and fed them a little, and they "started to pick up immediately".
The Sikh, who had lost his turban, was given half a mosquito net. This "made quite a presentable turban and the turban made quite a presentable Sikh, emaciated though he was".
But the Sikh did not only desire the outward form of his faith, he also sought the tools of his trade. Before leaving Suain, he asked if he could fire a few shots from a rifle.
"It was touching", the Australians recorded, "to see the way the poor chap placed his hands on the weapon once more". He fired exactly as the musketry manuals laid down and hit all of the bully beef tins set up as targets!
Across the globe, war heroes are accorded the highest status in any country, their memory kept alive by descendants and historians who remind each generation of their bravado and sacrifice. World war veterans are almost deified in the western world, with countless movies made, books written and salutary parades organised to honour them. Sadly, these other war heroes are not even recognized as such.
"The British government announced a generous compensation of 10,000 GBP for all Far East Prisoners-of-War (FEPOWs), but summarily rejected cases pertaining to Indians on flimsy grounds", says Bajwa.
"Most of the rejections were on the grounds that the applicants had been members of INA", he adds. Through his vast research, Stanley found that "no Indian army personnel from New Guinea were held for investigation or trial as members of INA", since the RAPWI was specifically asked to identify and isolate INA members.
He adds: "The term JIF (Japanese Indian Forces), so common in the South East Asia Command, where the Fourteenth Army faced an INA Division, is nowhere seen in the Australian records. The only evidence of collaboration comes from Japanese sources, all (it seems) oral rather than documentary".
According to Stanley, "those who rejected Japanese blandishments and remained loyal to their oath of service were regarded as dupes of the imperial power and have been disregarded by an independent India, which does not provide pensions to former members of Britain's Indian army".
As a quirk of fate, those associated with the INA were recognized by the Indian government and to date, are given full benefits, as those given to other freedom fighters.
Bajwa adds, "The story of Indian FEPOWs is one of great suffering, trials, tribulations and extreme excesses by the Japanese, neglect by their own countrymen and the British, and general ignorance of their plight. They are forgotten by the British and disowned by their own country".
[For further info: http://www.awm.gov.au/journal/j37/indians.htm. For more photos and videos: http://www.awm.gov.au/, click on "Search Our Collections".]
[Article: courtesy - Simply Punjabi. All photos, courtesy of The Australian War Memorial - First from bottom (Photo ID # 119756): Morotai, Borneo, October 18, 1945; Freed prisoner-of-war Pvt. Dial Singh of the Punjab Regiment, has a quiet game of draughts. Second from bottom (Photo ID # 111922): Morotai, Borneo, July 20, 1945; Corporal Partap Singh at the main gates of 1 Australian Prisoner of War and Interrogation Reception Unit. Third from bottom (Photo ID # 017106) : New Guinea, May 12, 1944; Injured soldier and prisoner-of-war, Hari Singh, being bandaged at an Australian base. Freed when American troops attacked the Japanese-held Admirality Islands, he is one of the first British troops, captured at Singapore, to be liberated.]