A Bumper Crop of Stars
by MANPREET KAUR SINGH
Australians are known to unashamedly love their sport - be it a team pursuit or an individual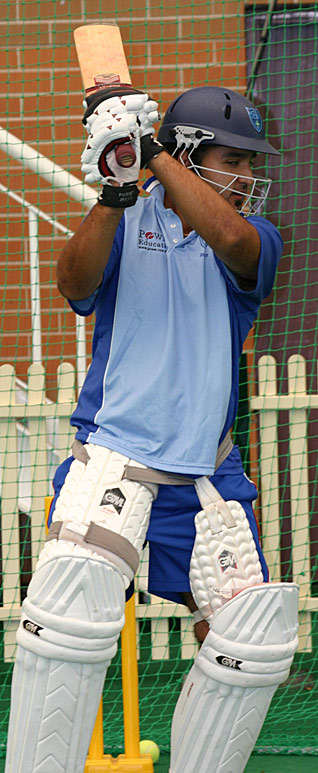 quest, everyone gives it their utmost to achieve their personal best.
Fortunately for immigrant children growing up here, the enthusiasm is infectious and many ethnic backgrounds are reflected in the state and national teams. Needless to say, children of Sikh-Australians are in sync with this trend and every so often, a Sikh or Punjabi name makes it to the news headlines. Here is a sampling of Sikh-Aussie youth, who are vying to be among the crème de la crème of Australian sport:
CRICKET
The fact that Australia reigns supreme in the cricket world is no coincidence. Children are inculcated into the game from as early as five years of age, and anyone with potential is given lots of encouragement to achieve his or her best.
Although Sikhs and Indians have an unrivalled passion for cricket, it is the Australians who have the best infrastructure, effective institutions and a fair, merit-based system. For Sikh-Aussie youth, this brings a happy marriage of passion and hard work on the one hand (which they have imbibed from their parents), and institutionalized support (which is the gift they get from their country - many of them are now Aussie-born) on the other.
Already, there is a bright Sikh star on the horizon, who may well go on to break the final frontier, and possibly be selected in the Australian team in the future.
MANJOT SINGH
Nineteen-year-old Manjot Singh is currently in England, playing league cricket in Sussex - perhaps the first Sikh-Australian to make it to English county cricket. He started playing the game as a nine-year-old in Sydney, progressing through the under-13s, -14s, and -15s every year. In fact, he even captained the New South Wales (NSW) under-15s team and went on to be selected for the state's under-17 side.
He represented his state again at Adelaide in the under-19s tournament this year and soon thereafter, was invited to play county cricket in Sussex.
"This is a great opportunity for me and I've deferred my University studies this year, to be in England for six months", says Singh excitedly.
Manjot is a top order left-handed batsman, known to score freely with the bat. As an added
bonus, he is a right-handed spin bowler, who draws inspiration for his bowling from Monty Panesar and Harbhajan Singh. His batting idol is the Australian vice-captain, Adam Gilchrist.
Says McFadgen from the Brisbane-based Centre for Excellence, "From the little bit I've seen of Manjot at the under-19s games, I think he is a promising all-rounder. His right arm off-spin is equal to any other top level player and his batting is aggressive, dynamic".
Ask Manjot about his future, and he says, "I hope to play for New South Wales in a couple of years' time and then, with hard work and dedication, I think anyone can make it to the top level - the national team".
But why hasn't someone from Punjab or of a South-Asian background made it to the Australian team yet? Answers Manjot: "Anyone with merit can get up there. Maybe, in the past, people didn't want it as much or didn't try hard enough".
He adds, "With all the exposure I'm getting now, I know which areas I need to work on. Thanks to all the support I'm getting, both professionally and from my family, I hope I can make a career in cricket".
Jaspal Singh, Manjot's father, is equally humble, yet confident about his son's future: "He has a long journey ahead of him still, but he has the talent and the ability. He has always got a lot of encouragement right from his early days in junior cricket, and most importantly, he still enjoys every game he plays. So let's see what's in store for him".
HOCKEY
Hockey might not enjoy the same star status as cricket, but it is still a much-loved sport in Australia.
PARAMBIR KAUR
Born and brought up in Australia, seventeen-year-old Parambir Kaur Sandhu has been playing hockey ever since she was nine years old.
Although the first sport she ever played was soccer, she soon made the switch to hockey. "I'm not quite sure why or how I chose hockey - I think my parents chose it for me", says the bright-eyed Year 12 student from Sydney.
"But I love the game - it's fast and a lot of fun", she declares.
She made her way through the clubs to district and regional games and, last year, represented her state in the under-18s at the national championships, which her side won. "That has been the highlight for me so far", notes Parambir. "Being selected for the New South Wales team was a huge honour, and then winning the nationals!"
She is the goal-keeper for the NSW under-18s team which recently retained its national title at the championship in Launceston, Tasmania.
But how did she get to be the goalie? She answers with a chuckle," Maybe I didn't run fast enough, and they got me to mind the nets".
But the unassuming youngster hasn't been nicknamed "Bambi" without a reason - she is certainly nimble and agile like a deer and well-suited to the role of saving goals for her team. She adds, "I've been the goal-keeper for many years now and hope to go on to be selected for the under-21s team soon".
Even though the girls' hockey team doesn't have a huge multicultural mix to boast of, Parambir is very comfortable in her shoes. "I've never felt left out", she says, "The other girls have always made me feel very welcome".
When asked if she would like to make a career out of hockey, she says, "There aren't big bucks in hockey to make a career out of it and play it all year round. So, I'll probably study commerce or business and work in those areas".
So, what about the future in hockey? Has it occurred to her that she could represent Australia at the Olympics or the Commonwealth Games?
"Oh I haven't thought that far ahead", she laughs. "But if it happens, it would be a dream come true".
VOLLEYBALL
BALRAJ SINGH
Also born and brought up in Sydney, fifteen-year old Balraj Singh Ougra has only played volleyball seriously over the past four years. But he has shown enough mettle to be in the New South Wales under-17s side for two years now, and is most definitely the only patka-wearing player playing at this level. His side won the national junior championship last year and defended the title earlier this year.
Although like most other youngsters, Balraj first started playing cricket - and that's where he got the nickname "Bails" which has stuck on - it was natural that he was attracted to volleyball. Both his parents played the game recreationally and his older brother, Navdeep, played at the local club.
Owing to his skills and on-court agility, Balraj soon progressed through various levels of competition and at the age of fourteen, was chosen to represent his state at the national under-17s competition. He hasn't looked back since, and says, "My long term goal is to excel in this sport".
Studying in Year 10, he does find it difficult to juggle studies, training and matches all at the same time. "I train at least three times a week, and very often have to go for tournaments. It interferes with my studies sometimes, but I do manage in the end".
Looking ahead, he says, "Volleyball isn't a huge sport in Australia. But, if I ever get a chance, I would love to go to Europe and pursue it as a career over there. It's a big sport there".
"But, if I ever get to represent Australia in international matches", he quickly adds, "that would be awesome!"