In the Name of the Father
by MANPREET KAUR SINGH
Jeev Milkha Singh might not have performed as well as he wished at Augusta National recently;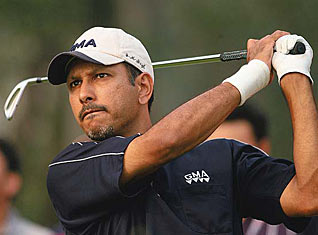 nevertheless, he created history by becoming the first Indian golfer to ever play at a US Masters. Although he did reasonably well in the first three rounds - in fact, he even led the leader board at one stage on the first day - he just had a bad day playing the fourth round and finished up 37th in the end.
Obviously unhappy with his performance, he wasn't disheartened though and said, "I'll be back next year and will do better".
For the mild-mannered person that he is, Jeev shows a great killer instinct on the golfing greens. He had a dream year last year when he won four tournaments, including the Volvo Masters, which culminated in him being honoured with the Order of Merit in the Asian Tour. And that led to the invitation to the first US Masters this year held at Augusta in April. Ask Jeev about his dream-run last year and he responds with typical humility: "I'm really lucky that I played so well last year. God has been really kind and I've been able to achieve a lot in the past few months."
35-year-old Jeev began playing golf as a 9-year-old, when he began accompanying his father to the golf course. Although his father was India's track-and-field legend - the Flying Sikh, Milkha Singh - there was something about golf that drew him to the game instantly. Says Jeev, "Even though cricket is the number one sport in India, golf is a well-loved sport across northern India. Some of my friends played too and soon thereafter golf just became my life and all I ever wanted to do was play it professionally".
He went to the US to pursue higher studies but turned professional golfer in 1993. He remained in the wilderness for a few years but qualified to join the European Tour in 1998. By the year 2000, his best achievement was finishing 50th in the Tour, and a string of injuries left his career on the hedge. He started concentrating on the Japanese circuit and says his stint in Japan healed him both physically and professionally.
"I regained my confidence there after winning a tournament," he says and has never looked back since. Last year, he finished among the top 10 in 18 different tournaments around the world, which includes four titles; he became the first Indian to break into the top 50 of PGA rankings, and made it to number 37 in the world after winning the Volvo Masters.
This year, the Indian government decorated him with the Padma Shri, one of the highest civilian honours in the country - the same honour that was awarded to his father many decades ago. Says the elated father, Milkha Singh, "I'm really proud of my son's achievements. His Padma Shri has brought me much more delight and satisfaction than my own did years ago".
So, what about the future? Has Jeev set any targets for himself? "No" he responds. "I don't want to set goals for myself. I just want to play the best golf I can and let's see where it takes me."
And what is his advice to budding young golfers around the world? "Work hard and believe in yourself. I was always inspired by top golfers around the world and thought to myself - if they can do it, so can I. I say to the youngsters today, if I can do it, so can you. And my advice to their parents is the same - believe in your children and support them. You'll be surprised at what they can achieve".