Baba Najmi's world
Reviewed by Shafqat Tanvir Mirza
Dawn July 15, 2007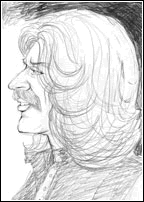 MANY of the workers of the Majlis-i-Ahrar were urban-based but had a rural background. They were well aware of the oral traditions of Punjabi poetry and with little or no education they used to express their agitation rhetoric in Punjabi verse. Some of them were hired by publishers of Kashmiri Bazaar, Lahore, to write on the latest issues in the background of the freedom movement. Public speeches in verse were also welcomed. But pamphlets in verse on latest political and social events were the best medium. With time this practice did not remain limited to Ahrar and they were joined by the poet-workers of other political parties, including the Congress, the Muslim League, the Akalis and the progressive sections.

Although it was not a totally new trend and style in Punjabi, it contributed a lot to the movements. In Punjabi, Vaar and Dhola genres were deeply associated with that theme. In Urdu journalism, Maulana Zafar Ali Khan was very prominent in that respect. Many years after independence, the romantic awara poet Habib Jalib picked up the thread and his journey started from Ayub Khan's 1962 Constitution about which Jalib wrote, "Aisey dastoor ko, subh-i-benoor ko mein naheen manta, mein naheen janta"(This constitution, a morning without light, I do not endorse, I wish not to know).

The poem got instant popularity in both East and West Pakistan. With the passage of time, this poem and many of Jalib's lines earned a proverbial status. Shad Arifi from Rampur and Majeed Lahori had also set some examples in the genre before Jalib but in a satirical and humorous way. Shad had so commented on the political sychophants around the rulers of both India and Pakistan:

(Their fans now are like dogs in a slaughterhouse)
Raees Amrohvi was another big name whose four-liners regularly appeared in an Urdu daily. But the basic difference between all these practitioners and Jalib was that Jalib's first preference was to recite his poetry in political gatherings. He associated himself with progressive political parties and continued his crusade against dictators of all hues. For instance he wrote in the 1970s: Larkaney chalo warna thhaney chalo (Go to Larkana or to jail).

This was the period when Baba Najmi left Lahore for Karachi in search of a livelihood and according to the late Hasan Abidi, the gharib-nawaz (poor nurturing) city of Karachi accommodated Najmi as a car-shining boy. Only Najmi's close friends may be aware of his early poetry of which no trace is found in his three collections, all of which were first published from Karachi. He emerged as a Punjabi poet of the downtrodden in a style once solely associated with Ustad Daman who earned himself time in prison after writing his famous lines on Bhutto's trips: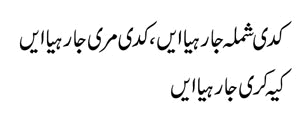 (Off to Simla and Murree by turns, what's he up to?)
Baba Najmi's poetic journey started from Karachi and of course with the blessings of Habib Jalib. Contrary to his temperament, Jalib wrote an introductory article included in Najmi's first collection titled: Akhran vich Samundar (Ocean in words). In this collection Najmi raised the first and the permanent question of the difference of noble and menial classes. Jalib appreciated Najmi's question: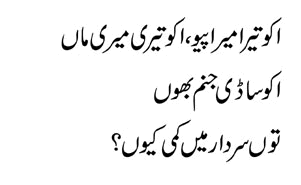 (Father and mother we have in common/ so the birthplace/ why then you the master and me the labourer?)

Class is a recurrent theme in Najmi's all three collections published between 1988 and 1995. He stands witness to all the political and social upheavals of the period, starting from the fag end of Zulfikar Ali Bhutto's government. He was a witness to how Bhutto's political rivals 'successfully' brought in a military dictator, with no magic wand in hand. During this period Najmi expressed himself more in the ghazal genre and was less direct. The bloodshed in Karachi and Sindh during the MRD movement and the MQM rioting made him write:


(With us they played holi in the streets/ Then our blood money they stuffed their pockets with)
During this period, like many millions of others, he pinned his hopes on Benazir. It was rightly or wrongly concluded that the daughter of Bhutto would implement the part of the PPP manifesto left untouched by her father. He wrote the poem Benazir dey Naan (To Benazir)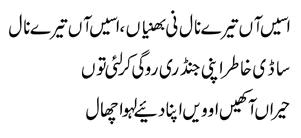 (By you we stand, Sister, we do/ For us you have led a life of misery/ We're ready to serve you with our blood)

But what came out of Benazir's struggle for democracy was sadly contrary to expectations. Najmi took a turn. He did not feel comfortable writing ghazals and started producing political verses directly hitting the rulers, including Benazir, her husband Asif Zardari, the next prime minister Nawaz Sharif, Pervez Musharraf and their ministers. The democratic period of Nawaz Sharif's rule proved oppressive for the people and with reference to his party's election symbol, the tiger, he says: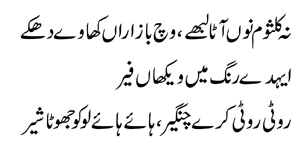 (Kulsoom (Sharif's wife) won't find flour running around in the street/ True colours shall show/ For bread begs the bowl, down with the paper tiger)

Like Habib Jalib, Baba Najmi versifies his comments and remarks on the wrong policies of the establishment which he identifies as the enemy of the people. He is frustrated with and disappointed by the political leaders, Benazir and Sharif, and like so many others, thinks of the other option. He is grossly mistaken and the third option also fails to ease the life of the man in street. He addresses two poems to General Pervez Musharraf. In the first he says: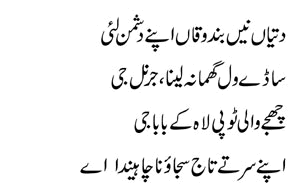 (We gave you guns to fight our enemy/ Don't point them at us, General/ Pea cap he now wants to change for a crown!)

Baba Najmi is a sharp critic of the establishment and the political leaders who have made the people's life miserable. Najmi's remains the voice of the poor and the vulnerable.
---

Akhran wich Samandar
Sochan wich Jahan
Mera naan Insaan (Third editions)
By Baba Najmi
Fiction House, 18 Mozang Road, Lahore
Price of each volume ranges between Rs120-Rs160