The Fabulous Lyricist and a Song-writer: Shailendra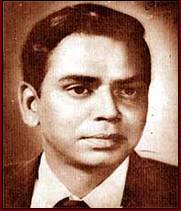 -Satish Chopra
'Sajan rey jhooth mat bolo, khuda key pass janaa hei, na hathee hei na ghorha hei wahan paidal hi janaa hei'- was sung by Mukesh for the film- 'Teesri Kasam' and composed by Shanker Jaikishan.
The simple and straight forward words having profound and meaningful thoughts immersed in the lyrics, which carried the feelings of a common man in this fabulous melody will certainly be remembered for years together. After listening to this soulful song, one can confidently say- 'The writer of the sonata must be Shailendra', who is known for his simplicity of expression in his lyrics.
In the year 1949 Raj Kapoor produced and directed film -'Barsaat' and introduced a large number of personalities, such as music director- Shanker Jaikishan, story writer- Ramanand Sagar, actress- Nimmi and lyricists- Hasrat Jaipuri & Shailendra. It was indeed a big stake, since it was Raj Kapoor's second produced film after 'Aag'. During those days, songs of the film was a prime factor for its success. The title song- 'Barsaat mein humsey miley tum sajan'
was written by Shailendra and sung by young Lata Mangeshkar became an instant hit. It perhaps overshadowed all other popular songs of the film including his own–'Patli qamar hei tirchhee nazar hei' and others written by Ramesh Shastri, Qamar Jalalabadi and Hasrat Jaipuri.
The soulful sonnet of Shailendra forming a thin and delicate veil between life and death reflected the passion and obsession to dwell upon the brevity and uncertain life and the finality of death. This was the beginning of the success story of Shailendra. As a close associate for Raj Kapoor's films, he continued till 'Mera Naam Joker' not only as a lyricist but also as a title song writer. Besides, in the future course, where ever there was a song based on rain-theme, the success of the film came as an assurance.
When the film 'Barsaat' was in making, C. Ramchandra, one of the greatest music composers observed- "Apnee nayee film mein, Prithviraj ke betey ne naye chehrey lekar jo juaa khela hei, wo usko itnee mehngee paregee ki wo tasweer banaa bhool jayega' (The gamble played by the son of Prithviraj Kapoor (Raj Kapoor) in choosing all new faces i.e music director/s, lyricists, and actors will cost him so heavily that he will forget the task of film making).
The predictions turned out to be false.
On the contrary the trust, confidence and conviction in Raj Kapoor proved otherwise and the selection of Shailendra and also of Shanker Jaikishan became a milestone in the career of the brilliant showman.
In some of his such songs to follow, depicting the pain of parting- 'Do din key liyay mehmaan yahan' (Badal), 'Janey naa haye yey dunian dil ki lagee' (Buzdil), 'Ay merey dil kahin aur chal' (Daag), 'Ye shaam ki tanhaiyan' & 'Chhoti si ye zindgani (Aah), 'Mittee se kheltey ho baar baar kis liyey' (Patita), 'Rulaa ke chal diyey ik din' - (Badshaah) 'O janeywale ho sakey to laut ke ana (Bandini); the lyricist in Shailendra has simply and intimately explored such sentiments, which was certainly a heavenly gift to the composers, the producers and above all to the thoughtful listeners.
Shailendra had best of his association with Shankar Jaikishan, but he shared an equally pleasant rapport with musical giants of those days, like Salil Chowdhry (Madhumati & Parakh), S.N. Tripathi (Sangeet Samrat Tansen), S.D. Barman (Guide & Bandini), Pt Ravi Shanker (Anuradha) and Anil Biswas (Chhoti Chhoti Batein)
Once Anil Biswas the master composer very boldly observed that the principal factor for the success or failure of a song depends on the choice of its lyrics. Then comes composer's understanding of depth of thought and capacity to explore the feelings immersed in the lyrics. Thereafter it is the selection of instruments to be deployed and the selection of the singer. This is how according to the maestro a melody must be composed. His observation that the prime factor for the success of an everlasting melody goes to its lyricist- bears his conviction and a candid truth.
The films produced during black and white era are primarily remembered for their immortal melodies. The success of a large number of films made during such period is generally attributed to the star cast followed by the composers and singers. But, it is an irony that rarely viewers, the listeners and even the critics have adequately evaluated the role of the respective lyricists.
In this context a film named 'Rattan' produced in the year 1944, is a classic example to discuss this vital aspect of recognition of the lyricist. The film was an instant success in view of its fabulous songs. The nostalgic music lovers still have not forgotten the immortal melodies 'Akhiyan mila ke, jiyaa bharmaa ke chaley nahin janaa', 'Pardesi balamwaa baadal aayey', 'Mil key bichharh gayee akhhiyan,' 'O jaaney wale baalmawa laut ke aa, laut key aa' & 'Aayee diwali, aayee diwali, deepak sang nachey patanga' -sung by Zohra Bai Ambalewali for this film.
These unforgettable songs for this film were written by Dina Nath Madhok, who even prepared the tunes of all these songs with a finger playing on a matchbox or his favorite '555' cigarette-tin.
Naushad, the music director of this film once admitted that the total cost of the film- 'Rattan' was a mere seventy five thousand rupees. However, the first year's royalty earned through the sale of its gramophone records was over rupees three lacs. A 78 rpm disc used to cost rupees two. It was a landmark. The fact remains that -'The song writer never got his due recognition!' The destiny of lyricist Shailendra was not different, either.
As stated, Shailendra entered the 'film-music-arena' in the year-1949 in Raj Kappor's film 'Barsaat'. It was during the phase, when a galaxy of eminent song-writers and favorites of the composers were already available. Notables amongst were- Pradeep, Qamar Jalalabadi, Kidar Sharma, J. Naqshab, Prem Dhawan, D.N. Madhok, Bharat Vyas, Pt Indra, Shakeel Badayuni, Sahir Ludhianvi, Rajender Krishan, Safar Aah, S.H. Bihari, P.L. Santoshi, Tanvir Lucknavi, Majrooh Sultanpuri, Kaif Irfani, Behzad Lucknavi, Raja Mehndi Ali Khan, Ehsan Rizvi, Khumaar Barabankvi, Aziz Kashmiri, Jan Nisar Akhtar, Pt Bhushan and others.
A few lines about the life and career-graph of Jan-Kavi (people's poet)- Shanker Kesrilal Shailendra (as he was known by birth). He was born on 30 August, 1923 at Rawalpindi (now in Pakistan), where his father Kesrilal was posted while serving Indian Army. His family belonged to Bihar. After retirement they settled at Mathura (U.P), where young Shailendra had his early education. He studied at Govt School, Mathura. He was a bright student and topped in the school and had a first division in the matriculation examination. He was also a good hockey player.
After matriculation in the year 1941 he joined Indian Railways as a 'welder'. Apparently, it was in view of his family's financial constrains that he could not pursue his studies. In the year 1947 he was sent to Bombay for training in G.I.P -later on known as Central Railway.
While serving Railways, he sustained his pursuit in poetry and used to write verses inspired by leftist movement. He was also actively associated with progressive Indian People Theatre Association (IPTA). In the year 1947 in a symposium he read a poem- 'Jalta hei Punjab__Meri bagia mein aag lagaa gayo re gora pardesi' where Prithviraj Kappor and his son Raj Kapoor were also present.
Raj Kapoor was overwhelmed with his poetry. He was on the look out for a lyricist for the climax song of his maiden production- 'Aag'. He considered Shailendra as a appropriate song-writer; consequently asked Shailendra to write theme-song for his film-in-making.
"No"- he out-rightly replied and added that he considers films have cheap quality lyrics, thereby it is beyond his pride. However, at the insistence of Raj Kapoor he kept his visiting card.
As the destiny would have been, after about a year when Shailenra's wife was in the hospital for the delivery and their first child- Shaily was born, he was short of funds even to pay the medical bill. At this juncture he went to Raj Kapoor for financial assistance. At the studio gate, he was forbidden by the gate-keeper to enter. It was raining heavily and at this point of time Raj Kapoor came in his car. Shailendra on seeing Raj uttered- "Barsaat mein tum se mile hum sajan hum se mile tum!"
Raj Kapoor took him alongwith. In an arrogant manner he told Raj Kapoor- "I am in need of five hundred rupees." He got the desired money without any interaction. This is how the two maestros met once again and rest is history.
The trust and confidence of Raj Kapoor- in selecting Shailendra for his film- 'Barsaat' for writing the title song –'Barsaat mein humsey miley tum sajan, tumsey miley hum' proved distinctive. . The lyricist in the poet was fully equipped and came in flying colours and established himself as an eminent song writer.
The successful song carried some amazing lines which haunts the listeners time and again. Just have a look at some of the lines in the lyrics-
Barsaat mein tumse mile hum sajan,
Hum se mile tum, barsaat mein
Der naa karnaa kahin yey aas toot jayey,
Saath chhoot jaye, tum naa aao dil ki lagee mujh ko bhee jalaye,
Khak mein milaye, aakhree lafzon mein pukarey yun mera gam,
Mil naa sakey hum, mil naa sakey tum!'
The film comes to 'The End' with this song with a simply fascinating impact and till date it is considered as one of the finest achievements of Raj Kapoor and his duo composers- Shanker Jaikishan.
Even in the other song- a memorable a duet sung by Mukesh and Lata- the lyricist wrote something which created a splendid impact on the listeners.
Patli qamar hei___
Mein behte darya ka pani
Khel kinaron se bandh jaoon
Bandh na paaon, naya nagar nit
Nai dagar hai__patli qamar hei tirchhi nazar hei.
Shailendra emphatically established himself as a lyricist with a difference. His simplicity of expression made his songs immortal. For the subsequent films, he wrote lullabies ('lorees'), songs of love, lyrical sagas on pain of parting, philosophy of life, poetic devotions (bhajans) and on different aspects of humane. Besides, he wrote all the title songs for R.K. films till 'Mera Naam Joker'.
Shailendra wrote virtually all types of songs pouring therein some captivating thoughts and expressions.
The tradition of 'loree' is an oldest form of singing. Mothers usually sing loree for putting a child to sleep. K.L. Saigal sang a fabulous loree -'So ja rajkumari'. While continuing the tradition Shailendra wrote some memorable lullabies viz. 'Aa ja ree nindiaa' (Do Bigha Zamin) and 'So ja so ja merey rajdulary' (Kathputli). .
Likewise his songs of devotions or bhajans and mystic songs have formed an integral part of a large number of films. Just have a glance at some of immortal bhajans for films- 'Jago mohan pyarey' (Jagte Rago) and 'Tu pyaar ka saagar hei' & Khan jar aha hei tu aye janey wale (Seema) & 'Matlab kee duniyan pyarey' (Chhoti Chhoti Batein).
The child in the heart of the poet made him write some enthralling songs for the young-ones. Listen to-
Nanney munney bachey teree muthee mein kya hei
Muthee mein hei taqdeer hamari
Humnein kismet ko bus mein kiya hei (Boot Polish)
Naanee teri mornee ko mor le gayey,
Baaki jo bachaa wo kaley chor le gaye (Masoom)
Chhun chhun kartee aayee chiriya
Daal ka dana layee chiriya (Ab Dilli Door Nahin)
Munna baraa pyara, ammi ka dulara__
Kyon na rotiyon ka perh hum lagalein
Aam torein roti torein
Roti aam kha lein
Kahe karein roz roz
Ye tu jhamela (Musafir)
The celebrated English poet P.B. Shelly wrote- "Sweetest are the songs, that sing of saddest thoughts". Shailendra in one of immortal lyrics wrote-
Hein subse madhur wo geet jinhe
Hum dard ke sur mein gaate hein. (Patita)
Just have a glance at few of his songs of a class, with classic expressions, coming straight from the heart –
Haye re wo din kyun na aayey
& 'Janey kaisey sapnon mein so gayee akhian. (Anuradha)
Dua ker gamein dil, khuda se dua ker
Jo bijli chamkti hei unke mahal per
Wo kar lein tassali mera ghar jala kar. (Anarkali)
Roun mein saagar ke kinarey (Nagina)
O janey waley ho sakey to laut ke anaa
Ye ghaat ye baat kahin bhool na jana &
Ab ke baras bhej bhayia ko babul
Sawan mein leejo bulay re (Bandini)
Ganga aur Jamuna ki gehri hei dhaar
Aagey ya peechhe sabko jana hei paar.
Dharti kahe pukaar ke,
Geet bichha le pyaar ke
Maosam beeta jaye__
Apnee kahani chhod ja
Kuchh to nishani chhod jaa. (Do Bigha Zameen)
Dunian na bhayey mujhe apna bana le (Basant Bahaar)
Ghar ajaa ghir ayey badraa sanwaria (Chhotey Nawaab)
Koyee lautaa de merey beetey huyey din (Door Gagan Ki Chhaon Mein)
Din dhal jaaye haaye raat na ayey
Tu to na ayey teri yaad sataye (Guide)
Poochho na kaisey meiney rein bitayee (Meri Soorat Teri Ankhein)
Andhe jahaan ke andhey raaste (Patita)
Dunian walon se door, ja lney walon se door (Ujala)
Ik aaye ik jaaye musafir
Duniyan hei ek saraaye (Musafir)
Kahaan ja rahaa hei tu ae jaaney waley (Seema)
O sajnaa barkhaa bahaar aayee (Parakh)
Sub kuchh seekha hamney na seekhee hoshiari
Such hei duniyan walo hum hein anari &
Tera jaana, dil ke armanon ka lut janaa (Anari)
Chhota sa ghar hogaa badlon ki chhaon mein (Naukri)
Maati se khelte ho baar baar kis liye
Toote huey khilon se pyar kis liye (Patita)
Do din ke liye mehmaan yahan (Badal)
Jhan jhan payal baje, kaise gaoun geet khushi ke (Buzdil)
Mere dil ki dharkan kya boley, kya boley (Anhonee)
Dekho ji mora jiya churaye liye jaye
Naam na jaanu dhaam na jaanu. (Naubahar)
Ye sham ye tanhayian &
Chhoti si ye zindgani, ye chaar din ki jawani meri (Aag)
So gayee chandni, jag uthee bekali
Gum sataney lage, tum mujhko aur bhi yaad aane lage (Aakash)
Aaja abto aaja, meri kismet ke kharidaar ab to aaja (Anarkali)
Chhota sa ghar hoga, badlon ki chhaon mein (Naukari)
Sur na saje kya gaoon mein (Basant Bahar)
The list such heart throbbing verses is endless!
'Zindgi khwaab hei,
khwaab mein jhooth kya,
aur bhalla such hei kya__'
-the song was picturised on genius Motilal (Jagte Raho) who dominated the film world for more than three decades. He had a greater than the greatest image and was known for his splendid acting talent. But, with the passage of time and changes of human values, the viewers have forgotten a lot many faces of our bygone era. But the fact remains that as and when this song is played, the image of Motilal comes alive. The song and the actor in a way have became one.
Motilal produced and acted in his classic film 'Chhoti Chhoti Batein', but before its completion he breathed his last. Once again Shailendra wrote –'Zindagi khwab hei' as a tribute to the maestro, but here in the lines to follow he wrote-
'Aah mein bhi pataa
per hamein zindagi se bahut pyar tha
sukh bhi the, dukh bhi the, dil ko gherey hue
chahe, jaisaa tha rangeen sansaar tha.
'Aa gayee thee shikayat labon tuk magar
Kisey kehte to kyaa kehte, kehnaa bekaar tha
Chal parey dard si kar, to chaltey rahey
haar kar baith janey se inkaar tha
Look at the class of intellect in the lyricist particularly in the lines to follow-
Chand din ka basera hamara yahan
Hum bhi mehmaan the
Ghar to us paar tha
Hum safar ek din to bichharna hi tha
Alvida, alvida___alvida, alvida'.
What better tribute and compliment one can expect? While commenting on these lines, my pen stops! I am completely short of words to express my sentiments. But, I can merely add that the composition sung by Mukesh and composed by Anil Bisaws, as and when played makes the listeners cry.
Anil Biswas, the master composer of the film 'Chhoti Chhoti Batein', while remembering Motilal and Shailendra once observed with choked emotions that both the personalities were of the rarest of rare excellence.
Besides writing some captivating lyrics for a large number of films, Shailendra wrote a number of thought provoking poems. Here are a few extracts from his lesser known literary masterpieces-
Tu zindaa hei to zindagi kii jeet mein yakin kar.
Agar kahin hei swarg to utaar la zamin par.
In his tribute to Shaheed Bhagat Singh, he wrote-
Bhagat Singh na lena kaya (body) bharatwasi ki
Desh bhakti ke liye aaj bhi sazaa milegi phansi ki
Yadi janata ki baat karoge tum gaddaar kahaoge
Band-sab ki chhodo, bhaashan doge, pakde jaoge
Nikla hei kanoon naya, chutki bajte bandh jaoge
Nyay adalat ki mat poochho, seedhe mukti paoge
Kangres ka hukm, jarrorat kya warrant talashi ki
Baith gayein hein kale par gore julmon ki gaadhi hei
Wahi riti hei, wahi niti hei, gore satyanashi ki
Satya ahinsa ka shashan hei, Ram rajy phir aya hei
(Bhagat Singh Se-1948)
In his another poem, Shailendra has exposed the leaders-
Leader jee, parnaam tumhein ham majddoron ka
Ho nyotaa swikaar tmhein ham majdooron ka
Ek baar in gandee galion mein aao
Ghoomein Delhi-Shimla, ghoom yahan bhi jao.
Tab sawaal paida hoga- m kya tumhein khilayein
Jwaar baajre ki roti ya bhaat khilaein?
Tum to gehoon-hi-gehoon khate aye ho
Bade baap ke bête, sab patey aye ho
Tum bhhakri jwar ki kaise kha paoge
Dar lagta hei tumhein na badhazmi ho jaye
Raajniti ka kiriyakaram shithil par jaye. (Netaon ke Naam-1948)
In another poem, he wrote his optimism-
Tu zinda hei to zindagi ki jeet mein yakin kar
Agar kahin hei swarg to utaar la zamin par
Ye gum ke aur chaar din, sitam ke aur chaar din
Ye din bhee jaayeinge guzar, guzar gaye hazaar din. (Tu Zinda hei)
Nirdhan ke laal lahoo se, likha kathor ghatna-krm
Yon hi aayega jab tak pidit dharti se
Poonjiwadi shasan ka nat nirbal ke shoshan ka
Yeh daag na dhul jayega tab tak eisa ghatna-kram
Yon hi aayega-jayega yon hi aayega –jayega (Nyota aur Chunoti)
Har jor julam ki takkar mein hartaal hamara nara hei.
Mat karo bahane sankat hei, mudraprasaar inflation hei,
In baniyon aur luteron ko kya sarkari kansession hei?
Baglein mat jhanko, do jawaab kya yahi swaraj tumhara hei?
Mat samjho hamko yaad nahin hei june chheyalis ki dhatein,
Jab kale gore baniyon mein chalti thi saude batein;
Reh gayee gulami barkaraar hum samjhe ab chhutkara hei
Ab samjhein samjhotaparast ghutnateku dhulmulyakeen
Hum sab samjhotabajon ko ab alag kareinge been-been.
(Har Jor Julam ki Takkar Mein- 1949)
Phanishwar Nath 'Renu' was an eminent fiction writer of Hindi literature. He wrote some of the classics viz 'Partee Parikatha' & 'Mailaa Aanchal' (novels) and a large number of short stories depicting therein lifestyle of a cross section of society, mainly of illiterate and deprived sect of inhabitants of Bihar. The complexities of human character portrayed by 'Renu' in his writings is a matter of captivating study. It requires a particular bent of mind to understand his writings. Amongst his large number of short-stories, there is one classic, named- 'Teesri Kasam', wherein he has remarkably depicted the attractions mixed with illusions towards each other of a village bullock-cart driver 'Hiraman' and a Nautanki dancer 'Hirabai'. The short story in itself by all standards, can be categorized as a world class piece of fiction.
After being in the field of cinema for two decades, the reflections in the poet and his personal friendship with Renu; deeply motivated Shailendra to play the biggest gamble of his life. He produced the film-'Teesri Kasam' based on aforesaid story with super-star cast of his time- the legend Raj Kapoor and the exemplary Waheeda Rehman. It was directed by Basu Bhattacharya, (who like his father-in-law Bimal Roy) deeply understood the sentiments of the respective characters depicted in the story-line and did the wonderful portrayal and a perfect piturisation. As director, it was his maiden attempt and so was of the producer.
It was estimated that shooting of the film will be completed in six months, but instead it took more than six years. The relations between the director and the producer became strained. Besides Basu had serious problems with his wife to be- Rinki and her father Bimal Roy, which seriously effected the continuity of shooting of the film. This certainly caused acute problems for the editors- Iqbal & S.P. Khol. .
Shanker Jaikishan provided the fascinating music based on most of the lyrics written by Shailendra himself. In all, the film was a classic by all standards.
Shailendra once again wrote some heart-throbbing verses-
Dunian bananey waley kya terey mun mein samayee,
kahey ko dunian banayee,
kahey banay tuney maatee key putle,
kahey banaya tuney dunia ka rela
jismein banaya tuney dunian ka khela
gup-chup tamasha dekhey jismein akela
kahey ko dunian banayee__
But, the destiny of the maestro had some thing else to be inserted! The film after its completion was released hurriedly and abruptly in a haste during September, 1966. Before its screening there was hardly any publicity. It was certainly in view of shortage of funds and lack of experience. Consequently, it came out as a complete box-office flop in the first week of its release. The viewers in general were unable to appreciate the sentiments and depth of its story line.
Traumatized Shailendra could not bear the agony of the failure!. His dreams were utterly shattered.
The borrowed-debt incurred for making the film and his poor health further aggravated the woe. According to his scholar friend Arvind Kumar, he started taking liquor much in excess which further damaged his liver and proved disastrous and certainly suicidal.
On the evening of 13 December, 1966 when he was taken to nursing home, he desired that he should be taken via Chembur- an all together different direction, so that he could see his much cherished R.K. Studio. Shailendra breathed his last the following day- on 14 December, 1966 (at the age of 43 years) which coincides with the date of birth of his mentor- Raj Kapoor.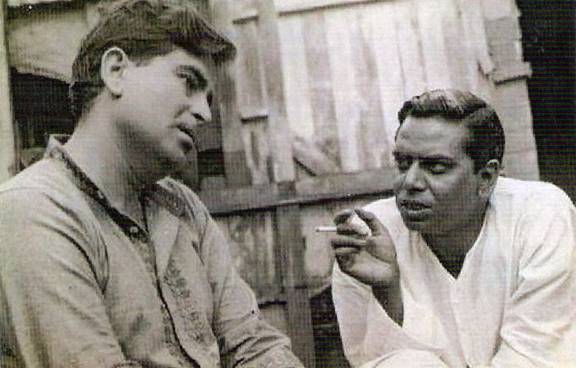 (Raj Kapoor & Shailendra- Two greats of Indian Cinema)
After his demise, when the cine- critics acclaimed 'Teesri Kasam' in a very high esteem, the film received National Award. Then it became a grand success at the box-office, as well. What an irony!
In a tribute to the genius Lata Mangeshkar once observed- "Shailenderji nahin rahe. Ek bhalaa insaan chala gaya. Aisa insaan jisne bade jatan se Hindustan ke aam aadmi ke dukh-dard apne dil mein sanjo kar rakhe the. Unke dil mein sadaa ek aag dhadhakti rehti thi Jo anyayi samaaj ki vyavashtha ko phoonk dena chahti thi. Filmi geeton ki hajar bandishon mein rehkar bhi yeh aag unke geeton mein spasht dikhai deti hei."
(Shailendra is no more. A noble soul has passed away. He effortlessly adorned sorrow-happiness of a common man of India. A flame was always burning in his heart with which he aspired to burn the cruel system. Many of lyrics for films clearly portray such thoughts).
It is a sheer twist of fate that three other geniuses in the field of music viz K.L. Saigal, Khemchand Prakash and Ghulam Haider died in their early forties in the years 1947, 1950 and 1953 respectively
-Satish Chopra, BA/26B Ashok Vihar-I, Delhi-110052 # 011-27134229/27450869
Email: satishchopra@rediffmail.com