A master music-composer called: Anil Biswas
-Satish Chopra
The immortal melody of yesteryears -'Seeeny mein sulagty hein armaan' sung by Talat Mehmood and Lata Mangeshkar for film 'Tarana' (1952) will continue to bewitch earnest music lovers, not only for years together, but for ages to come. The music for the film was composed by none other than Anil Biswas.
Anil Biswas (popularly known as Anil Da) once during an interview-telecast said -"If Rai Chand Boral is the 'Baap' (father) of Hindi cine music, then I am the 'Chacha' (father's younger brother)." This verdict sounded egoistic so long I was not fully acquainted with the immortal melodies he had composed for the films as music-director.
From then on almost five decades have passed. During these years I have \
listened to some of the nostalgic cine-music time and again, more particularly songs composed on classical base. Amongst such melodies were -'Mun ki been matwaree bajey' (Lata & Rafi) for 'Shabaab' music –Naushad, 'Sun merey sajnaa dekho ji hamko bhool na jana' (Lata & Rafi) 'Aansoo' music-Husnalal Bhagatram, 'Sapt suran teen graam (K...L. Saigal)­ 'Tansen' music-Khemchand Prakash and 'Ketki gulab juhee' (Bhim Sen Joshi & Manna Dey) 'Basant Bahar' music- Shanker Jaikishan. These fascinating songs composed by maestros continue to enchant and glitter of their glory has not faded till date.
Then came a day, when I listened to 'Ritu aye ritu jaye' followed by 'Pee bin sunaa jee' sung by Lata & Manna Dey for film -'Humdard' music-Anil Biswas. I was indeed mesmerized. The duet is set in four classical ragas- Gaud sarang, Gaud malhaar, Jogia & Bahaar and bears complete signatures of its composer.
After listening to this fabulous classical number; I had no option but to concur with what Anil Da said in his interview that he is the 'Chacha' of Hindi cine music, which conveyed nothing but his conviction and a candid truth.
Anil Biswas, like K.L.Saigal never had any formal training in music from any 'Guru' or 'Ustad'. Like Saigal, he also used to accompany his mother in 'Bhajan-singing'. However, he owed a little to Pt. Lal Mohan Goswami, who taught him a bit about swara.
Born on 7 July 1914 at Barisal in East Bengal (now in Bangladesh); the early
childhood of the maestro was very eventful. He took active part in freedom struggle and joined 'Jugantar Party'. For such activities he was jailed at the tender age of 14. On his release, he ran away from his home with just five rupees and reached Calcutta . Here, after doing some odd jobs (even working as domestic­ help), he landed at the house of his childhood friend Panna Lal Ghosh, the eminent flute player, who later on married his sister Parul (herself a singer of repute). It would be interesting to note that in his early years Anil Da used to play flute and Pannalal Ghosh was a Sitar player. Later on they switched over to singing and flute respectively.
In his days of struggle in Calcutta, Anilda was associated with Kazi Nazrul Islam, the revolutionary poet and a celebrated music composer. During such period he worked for 'Megaphone' recording company as well.
He came to Bombay in the year 1935 and gave music for his first film­ 'Dharam Ki Devi'. One of its songs sung by Ratanbai-'Terey poojan ko bhagwan, banaa man mandir aalishaan' became an instant hit and till date, the song is considered as one of the finest numbers of 'Sentimental Era'.
In the year 1936 Anil Biswas married Mehrunnisan, a Kutch muslim and a film celebrity. She was later renamed as Asha Lata. Anilda had four children, three sons- Pradeep, Utpal & Amit and a daughter- Shikha.
Till the year 1940, Anil Da composed music for about 26 films. Notable were Manmohan (1936), Jagirdar (1937), Ek Hi Rasta (1939), Alibaba and Aurat (1940). In films 'Ek Hi Rasta' & 'Alibaba' Waheedan sang some popular melodies. These two films were directed by the celebrated Mehboob Khan.
The film - 'Aurat' was directed and produced (under the banner of National Studios) by Mehboob Khan with star cast- Sardar Akhtar, Surender, Yaqoob and Kanhaiya Lal. In addition to composing music, Anil Da as well acted for the sequence and sang- 'Kahey karta der barati' for this film. There were however other 11 songs in this film sung by Sardar Akhtar, Jyoti, Surender, Anil Biswas and Vatsala Kumdhekar. The film was a grand success and considered as one of the foremost classics of the decade- 1931-40.
It should be remembered that the much acclaimed film -'Mother India' (1957) produced and directed by Mehboob Khan and music composed by Naushad, was the remake of film-'Aurat'. In view of the superb performance of Nargis in 'Mother India'; the film continues to be rated as one of the greatest films produced in the history of Indian cinema. Yet, owing to grand success of the music of film- 'Aurat'; the film critics have acclaimed 'Aurat' as the mother of 'Mother India'.
B.D. Garga, one of the most perceptive writers on films, once studied the two pictures together and in the context of music, wrote- "Anil Biswas's music is more in tune with the dramatic movement of the film: his use of a single instrument on mood was more authentic than Naushad's large orchestra overwhelming the auditory senses". (Cinema in India, April-June 1989).
"Even then Mehboob Khan was not fully satisfied with me, as he considered the music of 'Alibaba' as better than that of 'Aurat'. Consequently some differences developed."- once Anil Da told the author of these lines.
When another historic film- 'Roti' (1942) was in making, a serious dispute between Anil Biswas and the producer developed over its music. In a fit of anger, Mehboob Khan asked Anil Biswas- "Terey liyey Akhtari ko bulwa doon" (Should I call Akhtari for you?). Anil Biswas replied in the same tone- "Bukwa dey" (Yes, call her. Thus, Akhtari Bai Faizabadi (Begam Akhtar, as she was then known) the ghazal queen. was persuaded to act and sing for the film. And, a momentous chapter was created. She acted and sang six immortal melodies for this film.
In each of these six numbers of Begum Akhtar, be it was the instrumentation, the alluring orchestration and the style of singing was something unique. However, in view of certain dispute & technical complexities all the six melodies sung by Begum Akhtar were removed from its soundtrack.
After the release of film 'Roti', serious disputes erupted between the two masters -Mehboob Khan and Anil Biswas and they got alienated. The separation seriously effected the career-graph and fate of Anil Biswas. As thereafter Naushad became the music composer for more or less for all the films of Mehboob Khan. This was indeed a turning point for Anil Da.
The film 'Basant' released in the year 1942 though bears the name of Pannalal Ghosh as its composer; the fact remains that its music was composed by Anil Biswas. This was in view of the fact that artists used to work with the respective production company on contract basis. As such, Anil Biswas was not supposed to work for Bombay Talkies, the producers of film 'Basant'. Though, he composed some enthralling melodies for this film, namely-''Tumko mubarak ho oonchey mahal ye', 'Aaya basant sakhee, birha ka ant sakhee' and 'Hua kya kusoor'-were sung by Parul Ghosh (sister of Anil Biswas and later on wife of Pannalal Ghosh), yet the gramophone records bear the name of Pannalal Ghosh as composer.
'
The film 'Kismat' (1943) starring- Ashok Kumar and Mumtaz Shanti it proved to be one of the greatest successful movies in the history of Indian cinema. by virtue of its music by Anil Biswas. The film ran continuously for three years and eight months, which was a record till the release of film –'Sholey' (1973). One of its songs- 'Door hato aye duniyan walo yey hindustan hamara hei' became an instant super-hit. The beguiling use of trumpet in this song till date enthralls the listeners with patriotic fervor. Since it was against the spirit of the then British Raj; the lyricist Pradeep and the composer went underground to escape their arrest.
Additionally there were some other fascinating numbers in this film sung by Amir Bai viz 'Dheerey dheerey aa re baadal, dheery dheery aa', 'Ab terey siwa kaun mera krishan kanhaiya' & 'Ghar ghar mein diwali merey ghar mein andhera', and an all time trendy- 'Papiha rey' sung by Parul Ghosh.
In the years to follow till 1950, Anil Biswas composed music for a number of films. The notables were-'Hamari Baat' (1943), Jwar Bhata (1944)- the debut film of matinee idol- Dilip Kumar, 'Pehli Nazar' (1945), 'Milan' (1946), 'Anokha Pyar' (1948), 'Girls School' & 'Ladli' (1949), and 'Arzu' (1950).
In each of these films, consistently there were more than one fascinating melodies. Listen to some of these numbers- 'Mein unkee ban jaon re' –Parul Ghosh (Hamari Baat), 'Saanjh ki bela, panchhi akela' -Arun Kumar and 'Bhool jana chahti hoon'–Parul Ghosh- (Jwar Bhata); 'Dil jalta hei to jalne de' –Mukesh and 'Ukka ishara jaan se pyara'- Naseem Akhtar –(Pehli Nazar); 'Suhani berian biti jayein', 'Jisne banaa di bansuri' & 'Mein kiski laaj nibhaaun' –Parul Ghosh (Milan); 'Jeewan sapna toot gaya' –Mukesh; 'Merey phulon mein chhupi hei jawani', 'Yaad rakhna chand taro is suhani raat ko', 'Merey liye wo itnzaar chhodh gayey', 'Jeewan sapna toot gaya' to name a few - Lata (Anokha Pyar); 'Tumhee kaho mera man kyun rahe udas nahin' – Lata (Girls School) 'Tumharey bhulany ko jee chahta hei' –Lata and 'Aankhein keh gayee dil ki baat' –S.D. Batish (Ladli); 'Aye dil mujhe aisi jagah le chal' –Talat Mehmood and 'Kahan tak hum uthayen gam' –Lata (Arzu); 'Zamaney ka dastoor hei ye puran' –Lata & Mukesh (Lajawaab).
Some of these musical marvels composed during fourth decade (i.e. 1941-50) of the previous century establish the fact that Anil Biswas was certainly one of the finest music composers of his time. As against all other composers, his choice of lyricist was wide open and not predetermined. As the maestro himself had a brilliant understanding of verse; he chose the lyricist, who he thought was the best suitable to the situation of the story line. In a large number of films, it is observed that there were more than one lyricist. Again, while composing a song he deployed the minimal use of instruments. Consequently, most of the songs emerged had a unique impact on the listeners. His use of counter-melody in various songs established him a composer with a difference. For instance, listen to- 'Saanjh ji bela, panchhi akela' –Arun Kumar (Jwar Bhata) and 'Baar baar tum soch rahi ho' –Shanker Das Gupta (Girls School).
The greatest contribution of Anil Da for the cine music lies in the fact that he introduced and or brought to limelight a large number of singers. It is a matter of record that 76 singers -male and female- sang for the maestro. Notable amongst were Mukesh and Talat Mahmood. How can we forget 'Dil jalta hei to jalne de' - sung by Mukesh in film 'Pehli Nazar' (1945) and 'Aye dil mujhe aisee jageh le chal, jahan koi na ho' sung by Talat Mahmood in film 'Arzu' (1950). Before singing these two memorable songs, Mukesh and Talat were entirely unknown. Mukesh was struggling for an appropriate opportunity and Talat was in Calcutta and used to sing by the name of Tapan Kumar.
The list of other eminent singers, who came to prominence through Anil Da includes - S.D.Batish, Surender, Rajkumari, Sudha Malhotra, Ameerbai, Shanker Das Gupta, Sardar Akhtar, Parul Ghosh, Meena Kapoor, Arun Kumar and others. In his early career, the maestro had created some memorable melodies in the voices of dancer Sitara, prominent actors- Motilal, Ashok Kumar, Gope, Nalini Jaywant, Leela Chitnis, Sheikh Mukhtar, Sardar Akhtar, Ashraf Khan and a few others.
Besides others, Lata Mangeshkar too was primarily brought to limelight by Anil Biswas in the year 1948, when she sang the songs for -'Anokha Pyar' viz 'Yaad rakhna chand taro is suhani raat ko', 'Ik dii ka lagana baaki tha', 'Ab yaad na kar bhol ja' (with Mukesh), 'Merey phulon mein chhupee hei jawaani' &' 'Jeewan sapna beet gayaa'. These songs were originally sung by Meena Kapoor for the soundtrack of the film but for gramophone record version, these numbers were re-recorded in the voice of Lata Mangeshkar. She sang 115 songs for the maestro and quite a few from them can be included amongst her best.
Once during a casual conversation the author of these lines enquired from Anil Da, as to why K.L. Saigal and Noorjehan, who belonged to his epoch, never sang for him. Anil Da in a fit of emotion said- "Betey Satish, I had always longed for composing songs for both these singers. Saigal was very close to my heart, but he was initially under an agreement with New Theatres, Calcutta and after coming to Bombay, he was too busy with different production houses. He was also not keeping well and died young. Noorjehan likewise migrated to Pakistan. However, I had in mind a duet –'Zamaney ka dastoor hei ye purana' -ready for both of them; which later on Mukesh and Lata sang for Lajawaab."
Though the song –'Zamaney ka dastoor hei ye purana' later on was sung by Mukesh & Lata and is rated as one of the finest duets of Indian cine music; the fact remains that if these two greatest - Saigal & Noorjehan- of undivided India had sung together; they would have created a fabulous occurrence in the history of harmony.
Continuing his musical journey after 1950, Anil Biswas composed music for film 'Tarana' in the year 1951 (starring – Dilip kumar and Madhubala), which was certainly one of his best endeavors. All the nine melodies of this film were magnum opus. 'Mosey rooth gayo mora sanwaria', 'yun chhup chhup kr', 'Beimann torey nainwa nindiya na aye', 'Wapas le le ye jawani', & 'Kya khabar thi___Wo dil kahan gaye bataa' –sung by Lata and all time favorite duet of Lata and Talat Mehmood- 'Seeney mein sulagtey hein armaan' besides two other duets of Lata and Sandhya Mukerjee- 'Nain mile nain huye bawre' & 'Bol papihe bol'. These songs made the film a musical super-hit. The depth of feelings emerged particularly in 'Wo din kahan gaye bata' continues to haunt ardent music lovers, as and when the melodies is played.
The films 'Araam' (1951), 'Doraha' (1952), 'Aakash' (1953) & 'Fareb' (1953) though were not box-office success; the maestro composed some rare gems for these films. 'Aye jaaney jigar, dil mein samaney aaja' –Mukesh and 'Shukriya, shukriya aye pyar tera shukriya' – Talat (Araam); 'Man mein kisi ki preet basa le' & 'Balma ja ja ja, ab kaun tujhe samjahye' -Lata (Doraha); 'Muhabbat tark ki maine, gireban si liya maine' – Talat (Doraha); 'Saraa chaman tha apna' & 'So gayee chandni' – Lata (Aakash) and 'Mere dukh sukh ka sansaar' & 'Husn bhi hai udas udas' –Kishore Kumar and there was one of the finest duets- 'Aa muhabbat ki basti basayeinge hum' - Lata & Kishore and 'Mila dil mil ke toota jar aha hei – Lata (Fareb).
A few interesting lines about the duet –'Aa mohabbat ki bast basayeinge hum'. One afternoon Anil Da at his residence was in the company of celebrated actors –Dilip Kumar and Ashok Kumar. He played on his harmonium and hummed the serious tune of his forthcoming melody -'Aa mohabbat ki basti basayeinge hum'. As to who will be the female singer, there was absolutely no doubt about Lata; but who will give the male voice? "Dada it should be Talat"-said Ashok Kumar. Whereas Dilip Kumar suggested –"Anil Da, in any case looking to the serious lyrical notes, male singer should be your favorite Mukesh." Anil Da had something else in his mind. "How if Kishore sings with Lata"- said the maestro. "Kishore!' –Dilip was taken aback; "if Kishore will sing such a serious song, then 'Aapka joota aur mera sar (if Kishore will sing such serious song, my head is ready for your shoe-beating)'" –added Dilip Kumar. "Mein joota le kar aataa hoon, sar tayyar rakho (Be ready with your head, I am bringing my shoe)."
Kishore Kumar was called, who at the first instance, bluntly refused to sing the said duet with Lata. But, the maestro's conviction prevailed the result and eventually a heart-throbbing duet was created!
Back to musical journey! The film for which Anil Da composed music were not from a set production banner. As such, there had been some downright box office failures with some of the finest songs. Such films include- 'Hamdard' (1953), 'Maan' (1954), 'Jalti Nishani' (1957) and 'Chhoti Chhoti Batein' (1963). Perhaps the finest classical melodies of Anil Biswas came from film 'Hamdard', which could'nt even have three days screening. Listen to 'Ritu aye ritu jaye' followed by 'Pee bin soona ree' –Lata & Manna Dey for this film, which is considered till date as one of finest classical based film-music marvels. This particular number was recorded twice. In the soundtrack version, Pannalal Ghosh played the flute; and in the subsequent gramophone record version Ramnarain played the sarangi. The other memorable numbers of the film include- 'Tera haath haath mein aa gaya' – Manna Dey. 'Mere pyar mein tujhe kya mila' & 'Allah bhi hei mallah bhi hei' –Lata (Maan); 'Rooth ke tum to chal diyey, ab mein duaa ka kya karoon' – Lata (Jalti Nishani). Likewise, 'Chhoti Chhoti Batein', the last film of the maestro, starring Motilal and Nadira had some captivating numbers. Shailendra, wrote some heart-throbbing lines- 'Zindagi khwaab hei' -as a tribute to matinee idol Motilal, who died before the completion of the film and Mukesh sang with utmost pathos. Lata & Mukesh's- 'Zindagi ka ajab fasana hei', and Meena Kapoor's –'Kuchh aur zaman kehta hei' and Manna Dey's two classics- 'Andhi duniyan, matlab ki dunian' & 'Kya laye ho, kya le jaoge' - were some moving melodies.
The fact remains that for his fabulous melodies composed; the maestro was unconcerned with the fate of the respective film-produced, whether it will be a box-office success or failure. To illustrate, a song 'Rooth key tum to chal diyey, ab mein duaa ka kya karun' - film 'Jalti Nishani' (1957) and another number 'Allah bhi hei mallah bhi hei' - film 'Maan' (1954) sung by Lata Mangeshkar, are indeed some glittering gems and very many words may not suffice to appreciate these melodies. As stated, both these films were bitter box-office failures and could not have even two days' screening.
Anil Da's musical compositions had a varieties of colours and shades. If some had shades of folk of Bengal, he could compose the clan of Punjab, Haryana and Goa also with the same fervor. At times, he could create songs on carnatic style musical notes as well. He occasionally even mixed different ragas in one melody. For instance, listen to- 'Naa ja naa ja balam'- Lata –'Pardesi' (1957) and 'Intzaar aur abhee' -Lata –'Chaar Dil Chaar Rahein' (1959). In these two alluring classical based melodies, he created some bewitching effects. Similarly, in film 'Sautela Bhai' (1962) starring Guru Dutt; he composed a few classical classics- 'Ab Laagi naahi rama' & 'Jaa mein to se naheen bolun' – Lata & Meena Kappor and 'Phuley ban bagia' –Manna Dey and Meena Kappor.
Anil Da, though a Bengali by birth, had a wonderful command over Urdu language and a deep understanding of ghazal. Thereby, before composing a song he could imbibe deeply the emotions, thoughts, feelings, messages and the entire composition of the respective lyricist.
In view of his deep concern for poetry he wrote a book on the history of ghazal in BangIa and its cover page was designed by well the known painter- M.F. Hussain.
Faiz Ahmed Faiz, the celebrated Urdu poet of Indian sub-continent was a close-friend and a great admirer of Anil Da's music. Both of them used to recall each other's memories with passionate regard.
Anil Biswas was perhaps the first composer, who understood deeply various complexities of background music and also introduced counter-melody in his music. This was the reason that another maestro -Naushad called him his 'Guru'. He was indeed a master of invaluable techniques of singing. As a seer and a visionary, he closely witnessed the music journey of Indian cinema & also that of classical music. He was thus cherished by most of classical musicians.
Lata Mangeshkar once confessed- "Anilda always stressed on where to pause, to take a breath, so that it neither disrupts the flow of the song, nor rankles the listener's ear. He would, 'If you must break up the line, do it in a manner that does not change its meaning.'" She further said- "Anilda taught me how one should move away, even so slightly, from the mike, while drawing a breath between two words and then return, almost instantaneously, to continue with the song".
In the year-1965 somewhat unhappy Anil Da left Bombay and joined All India Radio, New Delhi as Director, National Orchestra. He gave music for the first TV soap opera ­'Humlog' which proved a grand success.
A question generally arises after going through the maestros brilliant career-graph, as to whether he got the recognition he deserved? Perhaps, not ! The Chacha of Indian cine music was denied a sarkari 'Padma award'. Besides, he was certainly a front runner in the line of recipients of 'Dada Saheb Phalke Award'. About the reasons for such notable omission, it is lesser said the better!
Nevertheless, in recognition of his contribution to music, Anil Biswas was awarded Madhya Pradesh Government's- Lata Mangeshkar Life Time Achievement Award, Sangeet Natak Academy fellowship and life time achievement award by Indian Motion Pictures Association (IMPA).
What an irony! As a totally unknown person (in the posh South Extension colony of New Delhi) Anil Biswas breathed his last on 31 May, 2003.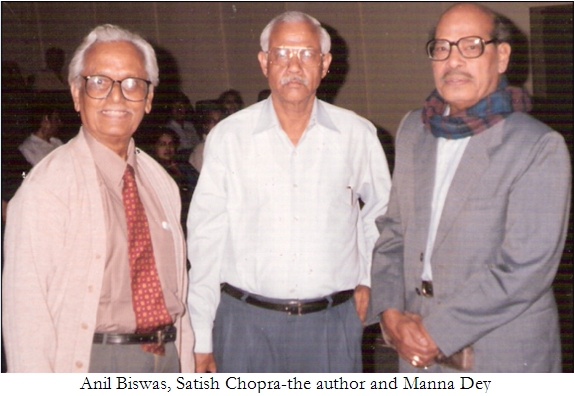 -Satish Chopra, BA/26B Ashok Vihar- I, Delhi-110052 #011-27134229/27450869
Email: satishchopra@rediffmail.com