In search of a genius: Shyam Sunder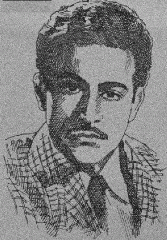 -Satish Chopra
Thirty five years after the partition and two wars between India and Pakistan; in the year 1982 the melody queen, Malika-e-Tarannum Noorjehan visited India. It was certainly a grand occasion for millions of music lovers of Indian sub-continent.
In her honour and to facilitate nostalgic music lovers, an impressive show was organized in Sanmukhanad Hall, Bombay which was attended by a large number of luminaries of Indian cinema. Notable amongst were- Anil Biswas, Naushad, the maestro music composers and matinee idols- Devika Rani, Ashok Kumar, Dilip Kumar & nightingale of India Lata Mangeshkar to name a few.
Noorjehan came to the dais with a thunderous applause from the jam-packed auditorium and after a brief speech; as expected, she sang her most popular melody- 'Awaaz de kahan hei, dunian meri jawan hei' she recorded in India for film 'Anmol Ghadi' -Music was composed by Naushad.
Thereafter, it was Lata to sing, who found herself in a very difficult situation owing to a completely charged atmosphere all around the auditorium. She kept every one guessing about the selection of her song.
Lata came out with one of her endearing melodies- 'Saajan ki galian chhod chaley, dil roya aansoo beh na sakey' from film 'Bazaar' music for which was composed by Shyam Sunder. The applause was beyond imagination. The memory of the completely forgotten genius music director Shyam Sunder came alive, when in her next round Noorjehan sang– 'Baithee hun teri yaad ka ley karkey sahara' another immortal melody from film- 'Village Girl', music for which was composed by none other than Shyam Sunder.
The audience was indeed spell bound. Every one thought as to why she chose a completely forgotten Indian melody instead of a large number of songs she recorded in Pakistan after migrating from her performing place of origin- Bombay . Perhaps, it was in view of the fact that the singer and the composer of the film 'Village Girl' were from Punjab .
The momentous event continued with lots of nostalgic and tearful exchanges and it became a history in the annals of pre and post partition Indian art, culture, music and all such related aspects of humane!
A period of another more than twenty six years has since passed, but memories of these two immortal melodies composed by Shyam Sunder besides many others; at times, create a typical restlessness in the head and heart of a large number of candid music lovers.
Why such a legendary music- composer has completely been forgotten? Who composed music for some of the classics of his time, such as 'Village Girl'- 1945, 'Devkanya' 1946, 'Actress' and 'Ek Pal'-1947, 'Bazaar' and 'Lahore'- 1949, 'Dholak', 'Kale Badal and Alif Laila' -1951 just to name a few.
Down memory lane, it was the year 1938 K.LSaigal visited Lahore , the city known as Paris of East for a performance and Shyam Sunder accompanied him. It was certainly a big occasion. When the programme was about to start, some fault developed in the microphone system. Consequently, it became very difficult to control a large audience. One of such persons in the gathering was Mohammad Rafi, who was little-bit known to Shyam Sunder. Rafi requested Shyam Sunder to allow him to sing without a mike, till the sound system is set to order.
As such, before the commencement of the show, Mohammad Rafi, the young lad who came from a nearby village, sang a few songs in Punjabi without a mike. He was appreciated by one and all, including Shyam Sunder and Saigal.
Subsequently, when a Punjabi film named 'Gul Baloch' was produced and its music was composed by Shyam Sunder, young Mohammad Rafi recorded his first song (in Punjabi)- 'Soniyo nee, heeriyo nee'.
In the years to follow, the collection of melodies composed by Shyam Sunder is embedded with some rare gems. To commence with, let me introduce the readers with some of his fabulous numbers. In the year 1943, he composed music for film 'Nai Kahani'. An alluring song of G.M. Durani and others–'Neend hamari khwab tumhary, kitney meethy kitney pyary' which became an instant hit. Even today after a gap of more than sixty years, the melody richly deserves an eloquent place in the list of popular melodies of yesteryears.
In his next film 'Village Girl' -1945, Shyam Sunder came with flying colours, wherein Noorjehan sang some of her fabulous melodies viz–'Baithi hoon teri yaad mein ley karkey sahara', 'Kis tarah bhulega dil' & 'Sajan pardesi, balam pardesi'. In these vital numbers, the feelings immersed in the lyrics -written by Wali Saheb- she was in her complete command. The singer did not merely sang the words inscribed in the lyrics, but the depth of feelings. The class of accompanying instrumentation and the matching orchestration was superb and genius of the composer was distinctively visible.
It is needless to reiterate that as and when a list of immortal melodies of previous century of Indian sub-continent in general and Noorjehan in particular will be drawn; these numbers will invariably find a prime place, music for which was composed by a totally forgotten genius called- Shyam Sunder.
Again, it will not be out of place to record that Noorjehan continued to sing after leaving Bomaby and migrating to Lahore . But, what she sang and recorded in undivided India was indeed unique, matchless and of much better quality than what she sang in the later course in Pakistan . One of the foremost reasons, according to my personal observations, was that she never had the qualitative composers of the caliber of Shyam Sunder, Sajjad Husain, Naushad, Khemchand Prakash, K. Dutta, Pt Amarnath, Husanlal Bhgatram and others (barring Ghulam Haider). These master composers certainly proved as qualitative diamond-cutter for the singers of India , which is very much indicative from the melodies composed during the golden era of Indian film music for the period- 1950 till 1965.
Coming back to the music of maestro- Shyam Sunder after the exit of Noorjehan from Indian film music, there came film 'Actress' in the year 1948, wherein Mohammad Rafi gave his initial introduction to music world by singing – 'Hum apne dil ka fasana unhein suna na sakey' . This proved to be Rafi's initial introduction. .
The film 'Bazaar' released in the year 1949 was certainly a class, in view of its musical hits. Listen to some of the fascinating melodies of this film-'Sajan ki galian chhod chaley, dil roya aansu beh na sakey' & 'Basaa lo apnee nigahon mein pyar thorha sa' (Lata Mangeshkar), 'Aye mohabbat unse milnen ka bahana mil gayaa' (Lata & Rafi), 'Shahidon tumko mera salaam' (Rafi) and 'Chhalla de jaa nishani teri mehrbani' (Rafi and Satish Batra).
Another musical masterpiece entitled- ' Lahore ' (starring Nargis and Karan Dewan) was released in the same year. In this film, Shyam Sunder composed three unforgettable glittering gems for Lata Mangeshkar. Her magic in these three bewitching solo melodies- 'Nazar se door jaane waley__baharein phir bhi aanyeingi magar hum judaa hongey', 'Tootey huye armanon ki ik duniyan basaye' & 'Us dil ki kismet kya kahiyey' was distinctively visible. These captivating melodies immersed with a deep understanding of classical ragas of the composer and also of the singer makes some heartfelt impressions on the listeners. Besides, there were another two engrossing duets for this film viz 'Duniyan hamare pyar ki' & 'Sun lo sajan meri baat' (Lata & Karan Dewan). And, the heartfelt expression of pain of the partition inscribed in 'Wahi rotaa hua ik dil idhar bhi hai, udhar bhi hai' –sung by Karan Dewan, cannot be put to words!
While evaluating his music in his subsequent films viz- 'Kamal Ke Phool', 'Bhai Behan' & 'Nirdosh" -1950, 'Kale Badal', 'Mukhra' and 'Dholak' -1951, and 'Alif Laila' -1951; a particular reference needs to be made of film- 'Dholak', wherein Shyam Sunder created three poignant compositions- 'Mere dil mein aaiyey sung by Shamshad, 'Chori chori aag si dil mein laga key chal diye, hum taraptey reg gaye, wo muskara ke chal diye' & 'Mausam ayaa hei rangeen, bajee hei kahein surili been, aisey mein hauley hauley' sung by Sulochana Kadam and Satish Batra. In the last number, the orchestration is simply great and captivating and the way hauley hauley has been sung, it is simply a class in itself. Such a film musical experiment can be categorized as rarest of the rare category.
The list of his other memorable melodies include: 'Ik bewafa ki yaad mein tadfa ke maar dala'-Suraiya ('Char Din'-1949), 'Thandi hawa ke jhoke' –Shmashad ('Nirdosh-1950), 'Ye meri chalti phirti laash' –Lata, 'Sazaa mili hei ye kisi ko ye dil lagane ki' and Koi dil mein samaya chupke chupke' -Suraiya and 'Jalti hei dunia jalti rahegi' –Talat ('Kamal Ke Phool- 1950), 'Akhiyan mila ke akhiyon kineend chura ke' –Sulochana Kadam ('Mukhra' -1951), 'Khamosh kyon ho tare, ummid ke sahare' and 'Kya raat suhni hei' –Lata & Rafi ('Alif Laila' -1951).
The music-creating journey and cardiograph of Shyam Sunder can be matched with another maestro called Sajjad Husain, who also composed music for just 14 films, but composed some of the finest melodies of his era.
Both the masters were highly perfectionists; but ill-tempered and uncompromising. Shyam Sunder, additionally in view of his addiction to liquor and excessive drinking, occasionally uttered abusive language and consequently used to lose control over his head and heart. During the making of the film ' Lahore ', he had some abusive interaction with Lata Mangeshkar; as such, they were not on talking terms for a considerable time.
In the year 1952, when the film- 'Alif Laila' was in making, Shyam Sunder died in the recording studio, owing to excessive drinking and consequent heart attack; the music thereby was completed by his assistant- Madan Mohan.
-Satish Chopra, BA/26B Ashok Vihar-I, Delhi-110052 # 27134229/0- 8802805055
Email: satishchopra@rediffmail
•