A child prodigy: Master Madan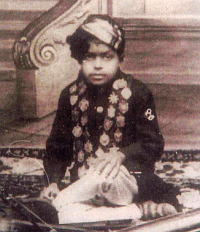 'Yun naa reh reh kar hamein tarsaaiye' and 'Hairat se tak rahaa hei jahane wafa mujhe' these two ghazals of Master Madan recorded at the tender age of eight years, on a 78 rpm gramophone record is a priceless collection of yesteryears' immortal music.
Anyone with even a passing interest in music is familiar with these two Sagar Nizami's ghazals, sung by the extraordinary child prodigy- Master Madan, who died at an age of just less than fifteen.
These two ghazals have certainly retained the magic even after a gap of more than sixty five years, which is evident from a collection of ten CDs released by HMV by the title- 'Ghazal Ka Safar'. This collection includes these two ghazals of Master Madan, along with recordings of majority of eminent ghazal singers of the previous century. The collection was edited by Jagjit Singh, the famous singer.
Till the end of previous century, just these two songs of Master Madan were available. However, after strenuous efforts by some ardent music collectors, we could trace six more of his fabulous renderings. Thus, making available collection of his perfectly modulated songs to eight.
A few lines about the life of the celebrity. Master Madan was born on 26 December, 1927, in an orthodox Sikh family in a village of Punjab called- 'Khankhana', built and named by Abdul Rahim Khankhana in Jallandhar District. Abdul Rahim Khankhana was one of the nauratans (courtiers) of Emperor Akbar. Besides a warrior, an eminent Hindi & Arabic poet-philosopher, he was popularly known as 'Rahim'.
Master Madan's father Sardar Amar Singh was in the service with Education Department and his mother Puran Devi was a religious lady. She too died young in the year 1942
The child prodigy started singing at the tender age of three and quickly became a craze all over India. His astonishingly mature voice left a deep impression on the listeners in general and devout Sikhs in particular. Listen to his captivating rendition- 'Chetna hei to chet ley' a hymn (sahabad) of Guru Teg Bahadur Saheb- which is a classic example of his excellent understanding of thought and feel of whatever he sang. Shanti Devi, his elder sister had revealed that- he always carried a portrait of Guru Nanak wrapped in silk, a rosary and a 'gutka' (abridged holy Granth) where ever he went.
He gave his first public performance at the age of three and a half years at Dharampur Sanitorium (Himachal Pradesh) where he enthralled the audience by singing in dhrupad style of Indian classical music. According to Shanti Devi; the listeners were spell-bound with his command over laykaari and surtaal (rhyme and rhythm). The young lad concluded the recital with a devotional composition 'Hey sharda naman karoon' in raag mishr kafi. The critics hailed it as the beginning of a fabulous era.
After the conclusion of this captivating recital, he was bestowed with a gold ring, a shawl and a gold medal. His first successful performance made him a celebrity. There was a grand news coverage in the print media. Some of such paper clippings are still available with Ravinder Kaur, the niece (bother's daughter) of Master Madan at Butail Building, Shimla.
Overnight, the identity of the genius spread like fire all over the music fraternity of the country. After his grand success, he commenced giving performances along with his elder brother Master Mohan. Every where he was in demand. Though, posters portrayed the photographs of both the brothers, there used to be a special mention of mesmerizing singing of Master Madan.
The maestro commenced his training in music at the age of seven years, under the able guidance of Pt Amar Nath, a great musician and elder brother of composer duo- Husnalal Bhagatram. He had composed music for film 'Mirza Saheban', wherein Noorjehan sang some of her captivating numbers. The two ghazals referred to above were also composed by Pt Amar Nath.
Master Madan's elder brother Master Mohan, who was in Shimla, also used to sing and played violin. This was the time when the legendry singer K.L. Saigal too was in Shimla. Very often, Saigal used to bring his harmonium to their home- 'Butail Building' Lower Bazar, Shimla- for his singing and his brother played violin..
In 1940 Mahatma Gandhi visited Shimla and very few people turned up at his meeting, as most of them had gone to a concert of Master Madan.
The singing sensation was a particular favourite of the rulers of Indian states, who conferred many medals on him, which he invariably wore at his recitations. He was always in demand for his singing. Thereby his family was thrilled, as he used to bring lot of money and valuable presents.
But, this took its toll. In view of excessive strain under which the young boy lived and performed, his health began to suffer. He would complain of exhaustion and low fewer. Sadly, he was not properly taken care of and provided adequate medical attention. When at a later stage, he was taken for an examination, he was found to be beyond recovery. The diagnosis was a slow poison that had affected his vital organs. The genius with his immortal voice died in Shimla on 5 June, 1942 several months short of his 15th birthday. He was cremated wearing all his medals.
There had been many rumours about the cause of his death. One such gossip went that at one time when he was performing at Ambala, a local singing girl had invited him to her Kotha and gave him a doctored paan (betel leaf). Another said that at Radio Station Delhi, he was given mercury in his drink by a jealous performer. Yet another was that in Calcutta, after his sensational concert at which he sang a thumri- Bintee suno meri, someone gave him a slow-acting poison in his drink. It was noticed in retrospect that he never recovered his voice after that particular performance. .
However, the fact is that it was the greed of the family or envy of the rivals that killed the child-prodigy- Master Madan, leaving behind recordings of just eight classic classicals:
Bagaan wich peengan paiyaan (Punjabi)

Raavi de parle kandey (Punjabi)

Yun naa reh reh kar hamein tarsaaiye (Urdu Ghazal)
Heirat se tak rahaa hei jahane wafaa mujhe (Urdu Ghazal)

Goree goree baiyaan (Thumri)

Mori bintee mano kanha re (Thumri)
Man ki man hi maan rahi (Gurbani)

Chetnaa hei to chet le (Gurbani)

One is remembered of a couplet from Abdul Rahim 'Khankana':
"Rahiman ochhey naran soun, bair bhalo na priti;
kaatein chatein swaan ke, dou bhanti vipreet'
"Rahim let not a petty man be your friend or foe;
A dog's lick or bite will only lead to woe".
Satish Chopra, BA/26B Ashok Vihar-I, Delhi-110052 #011-27134229/20316429
Email: satishchopra@rediffmail.com