East Punjabi Literature: At Cross Roads
by Amrita Chaudhry
<![if !vml]>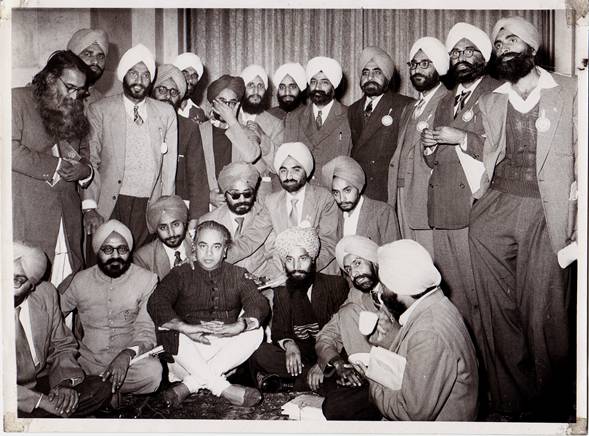 <![endif]>
Good old Days of punjabi literature:
A galaxy of Punjabi writers at Afro-Asian Writers Conference. New Delhi 1956.
Standing from left: Devinder Satyarthi, Harbhajan Singh (7th), Pritam Singh Safir (9th),
Harcharan Singh (10th), Sujan Singh and Jaswant Singh Kanwal.
Sitting from left: Pritam Singh (2nd), Mulk Raj Anand and Santokh Singh Dhir (with a tea cup). PHOTO Amarjit Chandan Collection
Punjabi is one language that is spoken in nearly 160 countries. It is the 11nth most widely spoken language. Crores of Punjabis residing in these nations, speak, read and write in Gurmukhi and a large section does the same in Shahmukhi. However a recent report said to be released by Unesco had every one alarmed. This report said that Punjabi language would disappear in the next 50 years.
Experts agree to the fact that survival and growth of language is much dependent on the literature that it produces. This one medium that keeps not only a language alive and kicking but also the people who speak this language. Sadly jury agrees to the fact that the Punjabi literature, music, cinema, art have all come to a point of stagnation. No doubt books written in Punjabi language are still be churned out in hundreds each year, yet Punjabi language till date has only one Jnanpeeth and is still awaiting a classic, despite all time greats and landmark books be it be novel, poetry, cinema, music or short story.
The reasons are many, transitional times, lack of awareness amongst the writers, no government support and others. We decided to check out each genre and the realities that mar it.
Punjabi Novel
One of the most powerful tools of a language, Punjabi novel brought us the lone Jananpeeth. Gurdial Singh received this award jointly for the year 1999. Till date this is the highest award for Punjabi language. This language has also produced novelists like Bhai Veer Singh, Nanak Singh, Mohan Singh, Kartar Singh Duggal, Dalip Kaur Tiwana, Ram Sarup Ankhi and many others.
<![if !vml]>
<![endif]>
Gurdiāl Singh.
Photo by Subhāsh Parihār
But then after Gurdial Singh's Parsā (1991) the novel that becomes the talk of the reading community after a long time is Des Raj Kāli's Parneshwari (2008). Gurdial Singh likes to explain this as: "The degradation is all around us and is hence reflecting in our literature too for after all our authors, poets and artists come from this very society. The society on the whole is in a state of confusion. Our novelists are a part of this confusion and hence lack issues." Defending his genre, he says: "The numbers of great people has never been large. These are the people whom we can count on our fingers. Moreover good Punjabi literature never got translated into English and Hindi, so people beyond us do not know the kind of greats that we have."
<![if !vml]>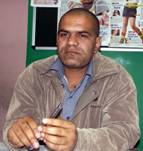 <![endif]>
Des Raj Kāli
Sutinder Singh Noor, vice president Bhartiya Sahit Akademi – Indian Academy of Letters – and a critic, likes to explain this stagnation as: "The fact that Punjabi writers do not read what is being created around. Let's just not talk about the latest works, Punjabi writers do not even read the classics. They simply churn out cheap literature which gets published and circulated around. The lone classic that we can claim till date is Giani Gurdit Singh's Mera Pind. Punjabi Sahit Academy president Dalip Kaur Tiwana and a novelist herself contends: "How can we expect greats from a writer who can not make livelihood out of literature? Authors have to work to earn their bread and butter."
Ram Sarup Ankhi adds: "Novel is not a miracle, it is a detailed life and classics are not created in a day." The young writer Kāli whose book is the talk of seminars presently has his take: "The basic fact is that our novelists with all due respect to them have no clue about the present times. These are the times of internet, pizzas, mobiles and SMSs. Recently during a reading of one of my works where I had shown a girl showing a nude clip to her friend, a lot of opposition to this came from the elders who said this was porn. But the reality is that girls talking about sex are no longer locked up in closets. The times have changed drastically and so have the aspirations."
Punjabi poetry
Noor says: "A lot of poetry is being created each day both good and bad. So while I would say that Punjabi novel has stagnated, poetry is one medium from where a lot of material is being generated, both good and bad. However the ground reality is that bad poetry is finding its way into the market faster than good one, there by diluting the entire genre. We need to sift the good poetry from bad one. We in Punjabi literature have grown horizontally but not vertically. From a few handfuls we are now thousands but our growth intellectually has stagnated. Lesser known languages like Bodo are producing much higher and better literature than Punjabi."
The man whose verses have the readers at his feet Surjit Patar cites the reason for this as: "Much of literature that is being written around lacks the thought process. The poetry is shallow leaving a few works like that of Jaswant Deed. The poetry being created has no depth at all. And this is much to do with the fact that symbols of Punjab, our heroes are no longer authors. A singer can be our hero so can be a sportsperson or a politician but never a poet or a novelist. Present times in Punjab are all about power and money."
<![if !vml]>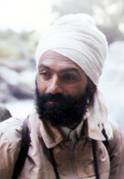 <![endif]>
Surjit Pātar
Gurdial Singh explains: "As per till date the greatest poet that we have had is Guru Nanak. He is the person who could create some of the greatest paradoxices when writing about the atrocities of Babar he writes, eiti maar payee kurlan*e teiN kee dard naa ayaa. (So much atrocity was inflicted [by Bābar] that people cried with grief. Did not Thou O God, feel compassion?). Nanak had no reference for himself as Sheikh Farid was two hundred years before Nanak. Through his writings he created a community that shook the Muhgals. This is the power of literature which in present times is missing."
Punjabi short story
While Punjabi novel and poetry have taken a beating, it is the Punjabi short story which many would agree to the fact is leading the pack. Critic Ravinder Ravi proudly states: "It is just this genre that has been able to capture the suppression of the middle class and reflect it just that way. Punjabi short story has been able to raise a debate on issues like man woman relationship, sexuality, incest which no other genre has even dared to touch. The voices of the marginalized, women and dalits find their voice in short story alone. In short I would say that no sociologist has been able to grasp Punjab as Punjabi short story has been able to do."
Noor agrees to this fact: "Literature survives on experimentation and what ever few experiments are taking place in Punjabi literature are happening here in short story. Newer themes, writing styles all are to be found here while Kāli has tried to do the same in his latest novel too."
Sukhjit adds: "We can vouch for the fact that the Punjabi story is at par with what is being written in other languages. This is a safe statement while comparing our short story to world story would not be an ambitious idea."
Punjabi music, cinema and theatre
Amongst the three, it is theatre that takes the cake not that Punjabi theatre is anywhere near the theatre of other languages like Marathi. "Why should some one come to see a play by paying from his own pocket. We are not creating this kind of work," says playwright Balram, "What we are showing the people around is youth festival theatre. Punjabi theatre which has always been dominated by the Left has not been able to break its dogmas till date and is hence where it ought to be."
<![if !vml]>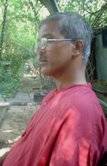 <![endif]>
Balram
Playwright Atamjit however states: "We still are any way better than cinema. Look at the films being made all around us. Theatre has been able to charter into waters where cinema which is a much powerful tool than ours has not entered." TV film maker Harjit agrees: "Our subjects for cinema till date are the safe ones – love stories, NRI nostalgia and so on. Gone are the days of Marhi dā Deeva, Chann Pardesi, Sutlej de Kandhe and others."
Presence of women in Punjabi literature
This number is pathetically low and poet Nirupama Dutt says agrees to the fact that people know very few female writers in Punjabi literature beyond Amrita Pritam. And to be honest had Amrita Pritam lived in Punjab even she would have faced the same problems that the writers here face. Punjabi literature is primarily male-dominated and the men prefer to promote only their mistresses." But then Dutt says: "All is not lost rather it is the reverse. Wait for just a decade longer and women writers will carve a space for themselves. The promise for the same comes from writers like Simrat Gagan, Neeru Aseem, Simrat Sumiara and others."
Noor explains this phenomenon: "Women writers in Punjabi have not gone beyond the usual male bashing. They have never broadened their subjects but those who have done it are in the reckoning. Amrita Pritam, Ajit Caur, Dalip Kaur Tiwana, Nirpumama Dutt, Pal Kaur, Majit Kaur Tiwana and see how Sukhwinder Amrit has broken into the male bastion of ghazal writing." Dalip Kaur Tiwana explains this phenomenon as "the reality is that women have little time for themselves. I myself used to write after nine in the night. Women who can expand their nights and have husbands who let them do that can create literature. It is not easy for women to work in the office, finish the domestic chores and also create greats."
What can be done
Dalip Kaur Tiwana further suggests: "The government should provide assistance to literary organizations. We are still waiting for the Rs 25 lakhs that Chief Minister promised to us. The reality is that we do not have funds even to employ even a chowkidaar. If we have the money we can publish good works on our own. Presently what is happening is that a person who has the money pays the publisher and gets his book published. A good writer will never pay. This is the work that the Akademy can publish. Then just like the Russian literature that was so famous till some time ago. Even we can publish good Punjabi literature very tastefully." To this Pātar adds: "We need to sift bad literature from good one so the Academy on its part should bring out anthologies at the end of each year. To begin with these may be just two poems or one novel but good literature should be and has to be nurtured."
<![if !vml]>
<![endif]>
Dalip Kaur Tiwana
Politics of Punjabi language
Much of the failure of Punjabi literature to grow as per critic Amarjeet Singh Grewal is because of the fact that "the very nature of Punjabi language has changed. Punjabi is a language of resistance. Guru Nanak wrote in this language to oppose. However we have now changed this language into a language of modernism without realizing the fact that language of modernism is only one and that is English."
Grewal adds: "Literature in present times is not longer a part of craft but is an industrial good. In earlier times each person was creating things which would be individual and not a part of masses. But in present times we are churning out literature more like an industrial exercise."
Diaspora hits the jackpot
While Punjabi literature art cinema and painting is looking for its new heroes, there are many who made it big time off shore. These poets, sculptors, poets, novelists, short story writers have not only made a big name for themselves but are also artists laureates in their respective nation.
<![if !vml]>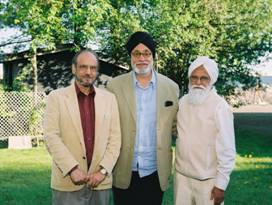 <![endif]>
From left Ajmer Rode, Amarjit Chandan and Navtej Bhārti.
Photo by Manjit Singh Chātrik. Ottawa. May 2007
This list is long but the few names that have made a mark for themselves include that of painters and poets Sohan Qadri and Dev settled for years in Denmark and Switzerland respectively. Poet Amarjit Chandan who lives in England or be it is writer Sati Kumar who lived and died recently in Stockholm write in their mother tongue Punjabi and have been recognized in the countries that they live in. Similarly Canada takes its pride in the brother poets Ajmer Rode and Navtej Bhārti who created a classic like Leela.
[Unabridged version of this article appeared in the Indian Express Punjab edition. November 24 2008.]
About the author: Amrita Chaudhry is a senior journalist with the Indian Express specialising in Punjabi agriculture and art and culture. E: ieamrita@gmail.com