Sadhu Binning's short story collection Fauji Banta Singh and other stories Released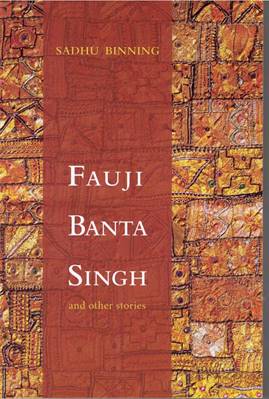 On Thursday, May 22nd, well known writer Sadhu Binning's collection of short stories Fauji Banta Singh was released in Vancouver Public Library's main branch in downtown Vancouver. Patti Mills welcomed everyone on behalf of VPL. This event was organized as a part of the month long festival called ExplorAsian. As a representative of this festival, Jim Wong Chu, a Canadian writer of Chinese background, introduced Sadhu Binning and spoke about his long friendship with the author.
There are 12 stories in Fauji Banta Singh collection and it is published by Toronto South Asian Review publishers from Toronto. The author has translated/recreated these stories into English from his own Punjabi originals. The book was released by 'the future readers', two grandsons of the author - Pavel (two and a half year old) and Janik (11 months old) along with author's family.
Speaking about the book, UBC Punjabi instructor and co-editor of Watan, Sukhwant Hundal said that these stories cover a period of two decades between 1970 and 1990. The author has focused on the process of entry and settlement of Punjabi immigrants during that time. He said that through these stories Sadhu has shown us how the capitalist economic system impact people's lives. These stories artistically record the various issues such as the racism faced by the new immigrants, the hold of the feudalistic and religious values, the problems faced by the elderly and the place of women in the society and so on.
Phinder Dulai, a well known poet, briefly spoke about his relations with the author beginning in the early 1990s with the launch of an English magazine Ankur by Vancouver Sath. He felt that it was important to publish these stories in English.
Sadhu Binning talked about the process of translating/recreating these stories into English. He thanked many friends - David Jackson, Yasmin Ladha, JP Shason, Phinder Dulai, Sukhwant Hundal and others - who helped him with the translations over the years. He also thanked his wife Jagdish and his son Preet and daughter Priya for their continued support. He read parts of a few stories from the book.
- Harpreet Sekha