Shiv Kumar Batalvi passed away aged 36 in 1973, but the Punjabi poet of searing intensity enjoys an iconic resonance even 50 years after his death
A photo of Shiv Kumar. Late 1960s, Amritsar. photos Courtesy: Punjab Lalit Kala Akademi exhibition, curated by Diwan Manna from Amarjit Chandan collection
Nonika Singh
Eh mera geet, Kisse na gaana.
Eh mera geet, Main aape gaa ke
Bhalke hi mar jaana!
Prophetic, yet perhaps, not quite so. Bard of Punjab Shiv Kumar Batalvi may have had an uncanny premonition about his early death. "Asan taan joban rute marna…" (I shall die in the prime of youth) but did the singer, the youngest Sahitya Akademi award recipient, popular in his own time and age, have any inkling that as he left behind a treasure trove of poetry, the world would never cease to sing his songs?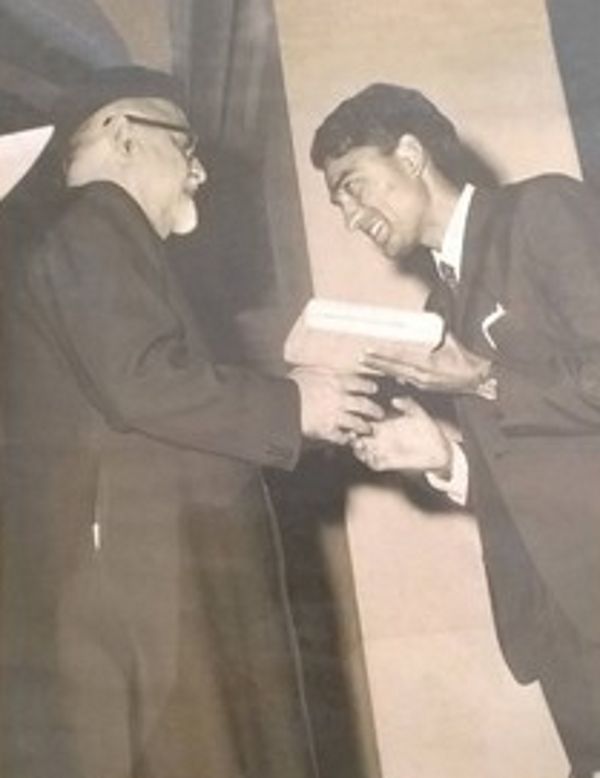 The poet receiving the Sahitya Akademi award from the then President Zakir Husain, 1967. Collection Beeba Balwant
Rather, as he passed into eternity 50 years ago on the intervening night of May 6 and 7, 1973, he remains as relevant, significant and undeniably inimitable. Birah Da Sultan… "Kisse kisse de lekhe hunda edda dard kamaana" (Only few are destined to earn so much pain) — he certainly was the chosen one. Noted playwright and theatreperson Dr Atamjit says, "In Punjab, no one is comparable to Batalvi for I don't think we have anyone who writes with the same freshness as he did on the subject of pain he chose to explore."
What made him a cut above the rest? "His was the voice of the soul," says Meharban Batalvi, son of Shiv Kumar Batalvi, who lives in Canada with his mother, Aruna. Meharban was all of five when his father passed away. To begin with, the endless visits of strangers to their house may have piqued him. With all the attention coming their way, Meharban's sister Puja Jaidev, however, felt like royalty in those days. Both started understanding the real import of daddy dearest's poetry when they were in Class X. For years, Meharban thought being Batalvi's son also made him a natural inheritor of the same stream and rhythm of poetic thoughts, till he realised that what he was writing was mere tukbandi (rhyme) and decided to pursue other interests.

'Birha Tu Sultan', one of Batalvi's most famous works; (top) 'Loona', an epic verse play, won him the prestigious Sahitya Akademi award.
Indeed, writing like Batalvi is easier said than done. Shellee, a distinguished lyricist of films like 'Udta Punjab', refused to add to Batalvi's famous song 'Ik Kudi' in the same film when asked by his director Abhishek Chaubey. He recalls, "I just couldn't bring myself to do so as I didn't have the audacity to add anything of my own to those immortal lines. Diljit Dosanjh, who sang the song, too, was of the opinion that Batalvi's words should not be trifled with." The song, which became a cult hit, reintroduced Batalvi to a whole new generation.

In Imtiaz Ali's film 'Love Aaj Kal', Batalvi's immortal lines, "Ajj din chadheya tere rang warga", were further elaborated by lyricist Irshad Kamil. The celebrated filmmaker remembers how when Kamil introduced Shiv Balatvi to him, "I was stuck and these lines played in my mind like a loop." Of course, the rest of the song was written by Kamil, but Ali believes, "It was the power of these opening lines that made the song so popular. It's such a beautiful, free, romantic thought. I think the spirit of Batalvi is unique and comes very rarely to any civilisation." He further opines, "Batalvi was a creative artist constantly pushing boundaries, an embodiment of struggle between deen and duniya. He was a man from the heart, which is what makes him so popular." Any wonder, singers across generations and diverse styles, from ghazal maestros to qawwals to folk singers, cannot resist singing him.

Musician and urban balladeer Rabbi Shergill, who has rendered Batalvi time and again in verses like 'Ik Kudi', states his reasons for being drawn to Batalvi's poetry, "He is iconic, resonates with me and his poetry speaks to me more so as it is in the same dialect as mine. We both come from the same Majha belt. He has been the foundation of my literary aesthetics, as I grew up listening to Jagjit Singh's albums of his poetry as well as reading him." From Surinder Kaur to Jagjit Singh to Nusrat Fateh Ali Khan to new generation singers like Jasleen Royal, many have lent voice to his heartfelt feelings of sorrow, anguish and pathos.

Whether Batalvi's pain was personal as tales about his unrequited love abound, he touched a universal chord. Women in his life may have pained him beyond measure, nevertheless, he voiced the woman's pain in his epic poem 'Loona'. It is also Puja's favourite work of her father. It often makes her wonder, "Had he lived, would he have treated me like a princess or made me a stronger woman?" Actually, each time she reads 'Loona', it's at one go. Dr Atamjit rates 'Loona' singular for many reasons like expression and distinctive idiom. "Who but Batalvi could have thought of a metaphor like 'Main Puran to ik chumman waddi…' (I am older to Puran just by the time it takes to kiss.) Besides, what made 'Loona' exceptional was how he went against societal norms while foregrounding a woman's emotions/desires and suffering in a patriarchal setup." He even grants that had Batalvi not brought forth 'Loona's' perspective in the age-old legend of Puran Bhagat, he too would not have been inspired to pen his play, which is essentially from Puran's point of view.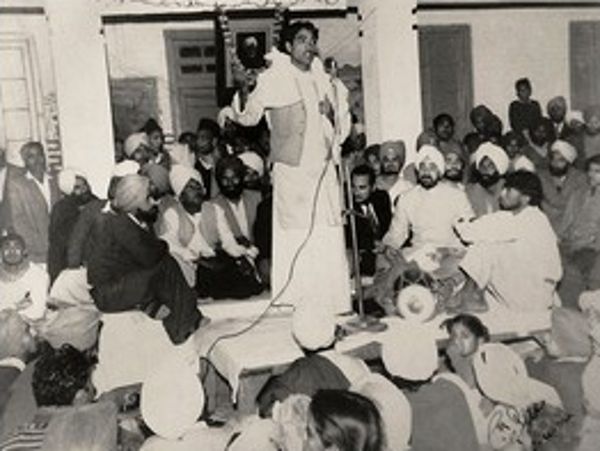 Shiv Kumar recites his poetry at a gathering, April 1962.

Batalvi not only inspired but many aspired to write like him. Some would even drink themselves silly to write like him. But clearly, it was not Batalvi's infamous drinking habit that made him who he was. Meharban, in fact, takes strong objection to this exaggerated persona: "Sure, like many Punjabis, he must have loved his drink, but he was no drunkard."
Shiv Kumar Batalvi, the man or the myth, the hopeless romantic or the poet who never fails to touch, there are endless ways to illustrate and remember him. His affair de amours possibly add to his mythical image. A man who drew from folklore, in a way he became a part of Punjabi folklore. His friends and those who knew him never tire of recounting stories around him, not all flattering though. Perhaps, the fact that Batalvi died at 36, as also that here was a handsome man who could recite, nay sing, his poetry did add to his legendary status. If ever there was a prodigy, he sure was one. Though acclaim such as the Sahitya Akademi award for 'Loona' at 31 came early, his detractors, especially those of the Marxist variant who felt social consciousness was missing in his work, were overtly critical of him. Imtiaz Ali, however, says, "He was bemoaning the loss of civilisation and society. In his poetry, there is sensitivity for the other."
In fact, 'Loona' stands as the very embodiment of empathy. Rabbi, too, asserts that criticism of Batalvi holds little water and he is relevant even today, for "few have used the Punjabi language with such flair, interiority and intensity". Perhaps it was this searing intensity blazing across his poetry which led to his early demise. Puja says, "When your emotions are so strong, when you feel so intensely, you are likely to burn out." Why, in one of his rare interviews, Batalvi himself said, "Life is slow suicide and the tragedy of every intellectual is that he is dying every moment."
But the man whom the world knows and understands as a lovelorn aashiq, the Devdas of Punjabi poetry, is remembered by Meharban as a doting father who would often play-act with his children. In the biography that he is writing about him, some more intimate details of what it was like to be his son would unfurl. Meharban is even ready with a script of a biopic. Yes, a film on him should be made. Shellee too bats for one, but insists, "It should not be a eulogy; rather, all shades of his personality must reflect."
Indeed, more songs in films can only spread the fragrance of his poetry far and wide. Shellee shares how people in the North-East and Bengal are interested in his poetry and would love to read his translations and listen to his songs in films.
Meharban understands the need for using cinema as a vehicle to further popularise his poetry. Only he is disturbed by those who proclaim that by including Batalvi's poetry in their movies or albums, that too by using his songs gratis, they are doing him a favour and adding to Batalvi's eminence, when the reverse is true. Undeniably, Batalvi's numero uno position in Punjabi poetry is difficult to question. Though there is a marked difference in the sensibilities and subjects on what these three poets have written, yet their names — Shiv Kumar Batalvi, Avtar Pash and Surjit Patar — can be taken in the same breath. Even criticism, to which Batalvi responded by writing an article, only added to his legendary stature. His admirers believe his recordings were deliberately destroyed. His detractors may have dismissed him as a 'poet of doom and gloom', but Puja is not a wee bit daunted by critics. "Let them be, for the ultimate judge are people."
To his burgeoning tribe of fans, she certainly has a piece of advice, "Do not just listen to his songs, read him too." In fact, her go-to moment of catharsis each time she misses the father she barely knew is, "I read his poetry to find him." On his death anniversary, she will perhaps once again return to his poetry to commemorate him.
"Pain," she asserts, "is the purest form of love, a beautiful emotion that reminds us we are human." Thus, 50 years or even a 100 from now, the poet, who died of liver cirrhosis, will remain as contemporary and modern, for any emotion that emanates from truth can never be negated or decimated.
"Gamman di raat lammi hai ja mere geet lamme ne. Na bhaidi raat mukkdi ae, na mere geet mukkde ne…" (The night of sorrows is long or my songs are longer. Neither the awful night comes to an end nor do my songs). Batalvi is even today a continual stream. About his song (geet), he wrote: "Eh taan mere naal janmeya naal bahishten jaana" (My song was born with me and will go to heaven with me), but both the man and his poetry are indestructible. Of course, outlasting death is not easy. As Friedrich Nietzsche said, "One has to pay dearly for immortality; one has to die several times while one is still alive." Only, he died a million deaths so poetry could live.