By
Abid Ameeq was an enigma for many of his admirers as well as sceptics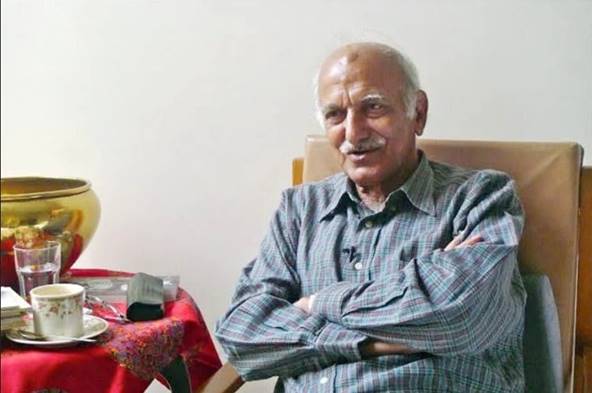 Prof Abid Ameeq was a left-leaning ideologue and political activist who taught English language and literature. He influenced several generations of intellectuals and writers through his spirited conversations. Challenging dogmatic thinking was his great strength. It earned him quite a few antagonists and adversaries. I had benefitted from his mentorship and guidance during my formative years.
In my last meeting with him before his death in 2022, Prof Khalid Saeed, another celebrated scholar with a more inclusive inclination, had encouraged me to write about Abid Ameeq who had passed away in 2021.
My first encounter with him was in the early 1980s. I was then a medical student at Nishtar Medical College, Multan. The city had been an epicentre of resistance against martial law, and there was constant surveillance and crackdown against political activists. Abid had just been released after a spell in prison. It was a summer evening, and I, along with a few fellow students had joined Abid after a weekly session of Urdu Academy in Gulgasht. There was an air of apprehension but he was undeterred in expressing his dislike for martial law. Those who had known him from before noticed that he had lost weight. He blamed it on a spell of gastroenteritis while in prison. While in captivity, he had been subjected to torture in the name of interrogation. Everyone avoided bringing that up. I was mostly quiet and did not expect Abid to notice my presence. I was pleasantly surprised when he remembered my name in our next encounter.
My interest in active politics was peripheral. I was more interested in literature and had attempted to write poetry. Coming from a remote rural place and being quite shy, I lacked the confidence to express my thoughts. I suspect that Abid picked that and took me under his wing. This relationship continued through face-to-face meetings and telephone conversations till about a decade ago when Abid became quite isolated and inaccessible. His health was failing, and he struggled to hold a conversation without becoming breathless. This lack of verbal engagement was a great loss for him.
Abid was exceptionally intelligent and perceptive. Through his keen interest in others and power of empathy, he was so in touch with others' inner world that one would suspect that he could read one's mind. He would incessantly introspect and vividly describe his own mental and emotional states. His experience was impinged by reliving of trauma during captivity and a form of epilepsy that affects the perceptions, thoughts and feelings. He was simultaneously fascinated and abhorred by the forced intrusions of smells, tastes, sounds, visions and bouts of anger and happiness because of epilepsy. These fragments of experience would blur the boundaries between reality and fantasy. Through the preservation of insight and conscious effort, he made his sanity in charge of his insanity. The enormous amount of effort involved in this soaked his energy and left him exhausted. He would lapse into short insane spells. The evanescence of experience of self and the outer world, including other human beings made Abid's behaviour unpredictable. Keeping up with him was like finding a path while walking through shifting sands in a desert storm. His responses were paradoxical and his conversations perplexing, unless you were patient enough to penetrate through this external veneer. If you were a doubting kind, you could easily take it for a façade to keep you out. This enigmatic existence won him admirers as well as sceptics.
Abid's interests were diverse: politics, visual arts, literature, philosophy and social sciences. His knowledge and understanding of contemporary Western literature and social sciences was deep. He was among very few scholars who had an equal grasp of Eastern literature. His favourites were Ghalib and Hafiz. Initially, he had written Urdu poetry but then started writing in Seraiki. He had published two books of poetry and a few articles. This, by no means, is a reflection of his potential and talent. His main expression was his conversations with friends and mentees. These could span hours and sometimes days. I believe that his primary interest was in human beings. He enjoyed the personal interaction so much that he hardly had any desire left to write.
His life was full of struggles and difficulties, but he was able to rise above them. He maintained his poise and dignity. This stemmed from a saintly perspective and insight into human existence.
His experience of arrest by police, confinement in prison, interrogation and continuous surveillance for a prolonged period had created unease within him. His acute awareness of the omnipresence of the state and the feebleness of the individual in its face created a sense of terror but did not shake his conviction in his right to preserve his freedom. His poetry provides a testimony to this tension and battles within his soul.
In his poem Bhukh Bhangra, he juxtaposes the desperate situation of deprivation against tyranny. I have attempted to translate the content.
Hunger's dance
What a pity, there are no ingredients in
the house to make stew;
no oil, no vegetable.
In the depth of our poverty we have no
flour to bake bread.
We haplessly run in circles searching
for a pinch of flour.
We have no penny to buy and no
courage to steal.
We welcome everyone who enters the
house.
They scornfully comment on our
miserable existence.
They disdain our squalour.
Onlookers entertain themselves by
watching our plight.
We are arrested and incarcerated and
subjected to shearing like helpless sheep in captivity.
When the sheep are sheared, they are restrained and immobilised, and the wool is for the benefit of the owner. Many of his poems depict similar sentiments.
His biggest pain was the loss of Sajida, his wife, who had been a silent anchor in his life. His poem about her is a fine blend of celebration and expression of grief.
With time he managed to put the effects of exposure to trauma behind him. He crafted his triumph against tyranny by maintaining the coherence of his spirit and not allowing his pain to define him. He venerated the beauty of the creation, including the human soul. Many of his poems laud and celebrate the pleasures of everyday life. In his poem Jaur we observe a jubilant mood. In two of his poems on Mann Boli, he describes the pleasures of being connected with the mother tongue. He recognises the terror but defeats it with his mental resolve in Nawan Drawa.
---
The writer is a poet and researcher. He is a senior research fellow at University College London, UK. He can be accessed at ayubawan@hotmail.com