By Sarah Sikandar
June 19, 2022
For one student, Dr Manzur Ejaz's online classes in Punjab's history and literature, unlock the altruistic possibilities of the written words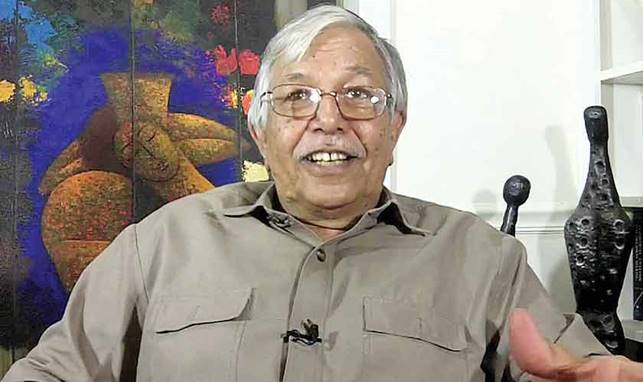 have never met Dr Manzur Ejaz. I've been seeing him every week for the past two years.
From the other side of my laptop screen, the setting behind him hasn't changed, only his attire rotates, between Virginia chill and summer warmth, as we decipher Heer Waris Shah week after week, stanza by stanza. The white bright walls with large windows and the ceiling fan behind him appear as enduring as Heer's heartache and Ranjha's devotion. In his heavy central Punjab accent and monotone voice, he recites Waris Shah's epic romance, devoting time and thought to each word, gushing over its beauty and the poet's genius. He rarely smiles, but when he does, it is on account of the impossible beauty of the script he tries to reveal to his students.
Dr Manzur Ejaz – one of Punjabi language's leading scholars and a prolific writer – is an authority on Punjab's history, language and culture. At the onset of the pandemic, he co-founded Meluha Punjabi University Online, a venture that has sustained beyond the lockdowns and seamed into the lasting world of Zoom classes. Besides being a prolific writer and translator, an economist, and the pioneer of Wichaar Publications and Wichaar webcast, he's a life-long activist for the promotion of the Punjabi language.
There are no prerequisites for Dr Ejaz's classes which range from Punjab's history and philosophy or Wichardhaara toliterature, classical and modern poetry and sociological and religious evolution. His students include Punjabi immigrants from the subcontinent in America, Britain and Canada. There are Sikhs and Muslims; retired people and professionals. The only requisite is a passion for and commitment to exploring the unending possibilities of what the Punjab has to offer.
"No object is in a constant relationship with pleasure," said French theorist Roland Barthes. "For the writer, however, it is the mother tongue." The Punjabi language isn't territorial in Dr Ejaz's Zoom world. It is fluid. Punjabiyat encapsulates both the regional and the spiritual – from Guru Nanak's journey of salvation to Bulleh Shah's nonconformity to Shiv Kumar Batalvi's longings. Expect the unexpected in one of the many Zoom meetings where students wait for Dr Ejaz to shed light on unexplored worlds and situations. He says it is because the Punjabi language has not benefitted from regular academic inquiry and its educational value has been undermined, despite being spoken by a large number of people in the world.
In his heavy central Punjab accent and monotone voice, he recites Waris Shah's epic romance, devoting time and thought to each word, gushing over its beauty and the poet's genius.
Meluha Online University is a misnomer. It defies traditional associations with learning, by becoming a safe space for challenging long-established ideas. It's not even a platform to promote a parochial understanding of identity politics. There is no room for bigotry, and there's a great chance you'll be snubbed if your opinions or knowledge are not nuanced or educated. Dr Ejaz expects better from his students, whom he sees as a continuation of tradition and not mere transmitters of facts. He respects research and empirical evidence.
Unlike some social media spaces with open access, Dr Ejaz's classes allow frank discussion of the text, but without unnecessary digressions and desperate correlations. Things jump quickly from Takht Hazara, Ranjha's native village which he abandons for Heer, to Dr Ejaz's own village in Sahiwal. Everyone jumps in, and a concoction of stories from Ludhiana to Amritsar and Lahore to Jhang builds up.
Now in his '70s, Dr Ejaz has witnessed the ebb and flow of Punjab's political and ideological landscape. A meeting with him can provide access to anecdotes about legends like Munir Niazi, Faiz Ahmed Faiz, Madam Noor Jehan and Baray Ghulam Ali's melodies which he experienced in person. He is equally well-versed in other literary traditions of the Punjab and the subcontinent, throwing in Ghalib as a side-note to Waris Shah.
Anyone with even a remote interest in the language and the culture should read his books in Punjabi and those translated by him into English. His latest Shahmukhi translation of Stephen Hawking's A Brief History of Time empowers and allows access to one of modern physics' phenomenal texts.
Punjabi Adabi Sangat, a weekly online meeting, meant as a space for young and new Punjabi writers to present their work, is jointly headed by Dr Ejaz. It is not, he often reiterates, a space for people to shower accolades. Rather, it should serve as a platform where literary works are critically analysed, and freely scrutinised without fear of judgment and distasteful engagement. He has no patience for either oversimplification of the text or naïve interpretation. Each poet, and writer, he often suggests, must be appreciated for his or her distinctive style before being assigned categories.
Waris Nama: Heer Waris Shah Explained, a 2009 book, arguably, is one of his most important contributions. While pop culture remains loyal to Romeo-Juliet-style renditions, Dr Ejaz's work shatters that perception. Waris Shah's 600-plus stanzas of epic romance, he says, is just not a romance. Often, students in his class are awed by the unexpected – the socio-political profundity of Waris Shah's words. He pushes the boundaries further by invoking the feminism of Heer's entourage when she is preparing to meet Ranjha the Jogi; or Ranjha's scathing criticism of organised religion in his altercation with the mullah; or the esotericism of jog that blurs religious boundaries; and, the collectivism of a caste-centric agricultural society.
In a global reckoning with the reclamation of native cultures, Dr Ejaz's continued service is a testimony that the fight is worthwhile - not only to reclaim the past but also to define a more inclusive future.