By Tania Qureshi
* Hussain's connection with the Walled City of Lahore cannot be forgotten as it is his birthplace and in these same
streets, he danced and swung in ecstasy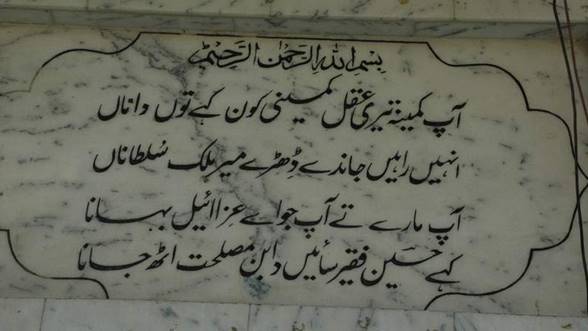 Let me start with the life of Shah Hussain who is the pioneer of kafi (stanza) form of Punjabi poetry.
Shah Hussain was given the valued name Shah which meant a ruler but he preferred to be called a Faqir meaning mendicant dervish thus shunning all worldly possessions.
Hussain's connection with the Walled City of Lahore cannot be forgotten as it is his birth place and in these same streets, he danced and swung in ecstasy or an unidentified trance which is still a mystery for many.
Hussain's bethak (sitting place) is inside Taxali Gate. He was born in 1538BC. His father Sheikh Usman was a weaver and belonged to the Dhudha clan of Rajputs. All his life, Hussain saw the weaving of clothes and the symbols used in his kafis are taken from the routine life of a weaver.
Near his house was a mosque from where he got his early education and learnt the holy Quran. Hussain's teacher was an eminent scholar Sheikh Hafiz Abubakar and Hussain had memorised seven chapters of the holy Quran at a very young age.
Now let us walk through a few stories of Hussain.
A renowned dervish of those times, Sheikh Behlool came across Sheikh Hafiz Abubakar and asked about Hussain. Later, Behlool called Hussain and asked him to recite the holy Quran during the month of Ramadan. Hussain had only learnt some chapters of the holy Quran and thus conveyed his inability to Behlool.
Behlool asked him to go to River Ravi with a pot and get water and told him that in case he came across a saint at the river, he must abide by the saint's directions.
Hussain started his journey to River Ravi and while he was filling in the pot, a saint appeared who asked Hussain to pour some water from the pot onto the saint's hand. Hussain did so and the saint splashed back the water on Hussain's face and asked him to go back. What happened with those splashes? As soon as the month of Ramadan started, Hussain was able to recite the entire holy Quran and thus became the Imam of the mosque.
Hussain's bethak (sitting place) is inside Taxali Gate. He was born in 1538BC. His father Sheikh Usman was a weaver and belonged to the Dhudha clan of Rajputs. All his life, Hussain saw the weaving of clothes and the symbols used in his kafis are taken from the routine life of a weaver
One day, Behlool asked Hussain to visit the shrine of Hazrat Data Ganj Baksh in order to achieve the stage of spiritualism. Hussain started spending time at the shrine and at night, stood in the waters of River Ravi while reciting the entire holy Quran. That is how Hussain reached the highest level of spirituality.
A turning point in the life of Hussain was when he was 36 and while reading the holy Quran with his teacher, Hussain got stuck upon a few verses and debated over the meaning with his teacher. That was the time when Hussain left everything and adopted a non-materialistic approach in his life and started another spiritual journey.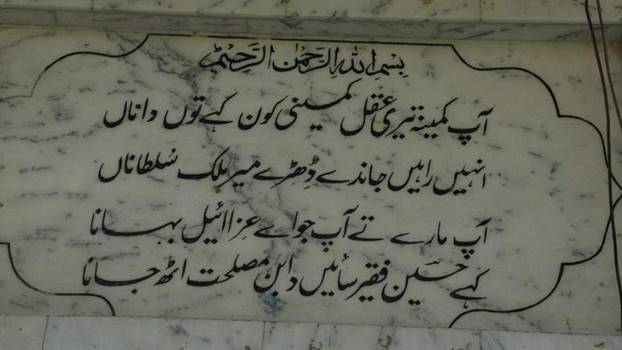 He was the contemporary of Akbar and Jahangir and was a close friend of Guru Arjun Dev Ji and Chhajju Bhagat.
There's an interesting incident of Hussain during the reign of Mughal Emperor Akbar. A local of Pindi Bathian, called Dullah Bhatti, led a revolt against Mughal rule and Emperor Akbar wanted to set a public example of Dullah Bhatti and ordered inspector Malik Ali Akbar to arrest him. During the same time, Akbar received complaints about the dancing and roaming of Hussain in the city's streets and thus he ordered Malik Ali to arrest Hussain. Ali was successful in arresting Bhatti but had failed to arrest Hussain despite searching all over the city. On the day of hanging Bhatti, a large crowd had gathered to witness the execution at Nakhaas Mandi (now Landa Bazaar). Hussain also came.
Ali arrested Hussain but the chains broke every time Hussain was tied up which astonished everyone. Later, Hussain was presented before Akbar. Upon knowing and seeing the humbleness and spiritualism of Hussain, Akbar, Emperor Jahangir and his court along with the females became the followers of Hussain.
That was the time when Mughal Emperor Jahangir nominated a writer from the court named Bahar Khan to compile the day-to-day activities and lessons of Hussain in a book titled Baharia.
However this book is not available now.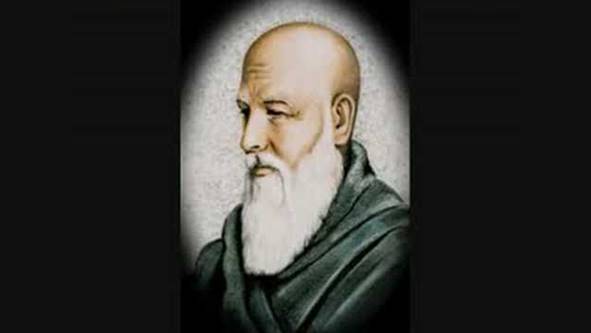 Then came a time when Hussain's life took another turn and he met a Brahmin Hindu boy from Shahdara, Madho Lal. The historical records give different accounts of Shah's first encounter with Madho Lal. If we talk about the author of Tahqiqat-i-Chishti, he writes that Hussain first saw Lal riding through the bazaars of Lahore on a horse.
Hussain was overwhelmed by the feeling of affection for Lal who was 16 years old and this bonding also became controversial in those times. It is said that Lal also developed some connection with Hussain and in some time, he embraced Islam and changed his name to Mehboobul Haq but he is remembered by his former name until date.
This connection developed to an extent that Lal became a part of Hussain's name and the two had been fused into one and became Madho Lal Hussain. It's said that Hussain celebrated Basant and Holi to please Lal.
A scholar on Punjabi Sufis, Lajwanti Ramkrishna, narrates that many people were becoming suspicious of the relationship between the two. Whatever the case might be, the story of the two "lovers" is mesmerising and unmatchable in the chronicles of Punjabi Sufism.
Now let us come to the message of Hussain through his poetry which is Kafis of Shah Hussain. Hussain's poetry is based on the tunes and rhythms of music. The style of Hussain's writing is very simple and touches the heart and soul but I'm sure that today's generation is unable to understand Punjabi language. Hussain's poetry is revolutionary because it highlights and narrates the struggle of the common man and condemns inequity on the basis of caste.
Some of the Sufi scholars and historians are also of the opinion that Hussain's love for Lal authenticates his truthfulness towards the philosophy of universal love which is much needed in the world at the moment.
The shrine of Hussain and Lal and the fusion of their names speak for their unity. It is also said that Hussain's love for Lal challenged the customs of conventionalists who had made religion a set of rituals, rigid rules, restrictions, denial of love and joy and negating the concept of emotions.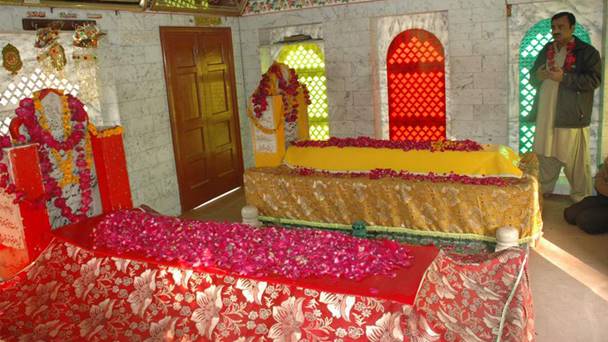 Hussain died in 1599 and was buried in Lahore and when Lal died, he was buried next to Hussain in the same shrine.
Today, the urs (death anniversary) of Hazrat Madho Lal Hussain is celebrated with passion at his shrine, adjacent to the Shalimar Gardens and is known as Mela Chiraghan. This yearly festival of lights reminds us of the universal love.
The festival has been a continuous affair for centuries. The urs and the mela were two separate events and were combined into one called Mela Chiraghan (Festival of Lights) by Ranjit Singh. During Ranjit Singh's rule in 18th Century, the emperor would lead a procession from his palace to the shrine barefoot, accompanied by thousands of Sikhs, Muslims and Hindus.
Mela Chiraghan is still regarded as the biggest festival of Punjab, both east and west and has been a symbol of love, devotion, harmony and defiance of social customs.
The writer can be reached at taniashahab2016@gmail.com
Published in Daily Times,
March
11
th
2019.