By Vasudha Dalmia
Yashpal's two-volume Jhutha Sach, which revolves around two key moments that directly shape Partition, closely connects history and fictional narrative.


Yashpal, Lahore, Jhutha sach


Vasudha Dalmia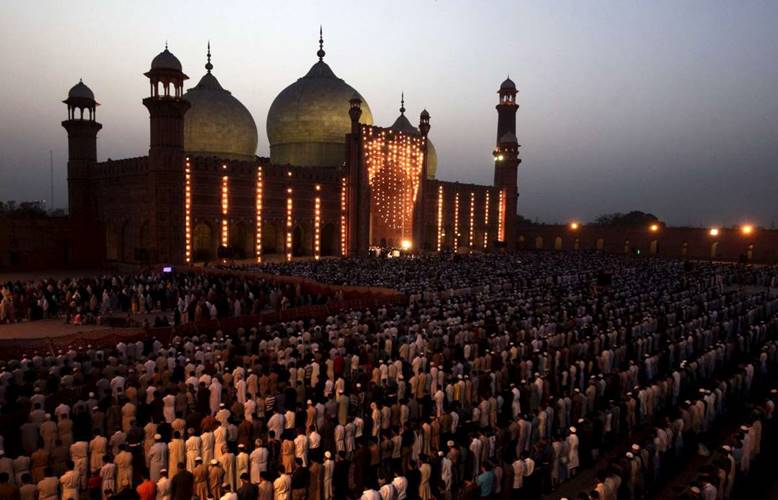 Badshahi mosque in Lahore. Credit: Reuters
The partition of pre-independence Punjab and the years thereafter, as they are played out in the centuries-old Lahore-Delhi nexus, form the backbone of the two volumes of Jhutha Sach (1958, 1960) or False Truth, Yashpal's powerful epic novel. The first volume focuses on communally-torn Lahore in the year immediately before Partition and a little after. The second largely on a post-independence Delhi, milling with refugees – together they add up to more than 1000 pages. The short sentences, their matter of fact tone, an almost dry reportage style, which, while providing vivid detail, does not dwell on descriptions, inner turmoil or emotional upsurge, yet manage to convey a milieu, a period, an urban landscape with a rapidity and a power on a scale unmatched elsewhere in the writings of the times.
Yashpal's "important note" at the beginning best describes his close weave of fact and fiction:
An attempt has been made in both parts of False Truth – 'Homeland and Nation' (vatan aur desh) and 'The Future of the Nation' (desh ka bhavishya) – to depict the contemporary (samayik) political atmosphere of the country in its historical reality (yatharth). In order to give shape to this historical reality and make it credible, the names of some historical persons have cropped up, but they are not historical persons, just characters in a novel. There are certainly some historical events or occurrences in the novel but the narrative as a whole is based on imagination; it is not history…
The political happenings in their 'historical reality' in fact colour the whole novel as much as they affect the course of the lives of its characters. Yashpal borrowed the files of a newspaper, possibly The Tribune, when writing the novel, which is peppered with precise dates of key political as much as of personal events, often also the day's headlines. Its force as a whole stems, in fact, from its close connection to history. Here I shall focus on the first volume, working out the close connection of history to fictional narrative, of the chronicle to the tale. As we shall see, there will be two key moments when the events around partition directly shape important turning points in the lives of the two key protagonists.
Anthony King in his study of the bungalow has offered a fine survey of Lahore's layout, which reflected the city's layered history. The reference is to Prakash Tandon's classic account of his family as embedded in undivided and divided Punjab, Punjabi Century: 1857-1947.
The 1935 map of Lahore shows four very distinct types of spatial pattern in the built up area of the city, which it is tempting to associate with different kinds of values, social relations and behaviour. The old walled city with its intricate, meandering network of streets and tightly packed houses, suggests a traditional society and culture; the 'civil lines' area to the south with its spacious bungalows, wide metalled roads and sparse development intimates the 'ruralised', middle class values and leisured lifestyles of the European governing elite; the rectangular grid system of the military cantonment implies the formal social organisation of the army; the more relaxed, yet still geometrical, lay-out of Model Town suggests the social life of the retired official whom Tandon describes."
This spatial separation both reflected and strengthened the social cleavages dramatised in the novel, though the segregation was not absolute and the characters in the novel break through the barriers in the course of their education. But by and large, the Lahoris of the old city, more mired in the old than the new, remained socially separated from those in the new neighbourhoods. These in turn may have been more progressive and modern than those in the old city, but for them too older social codes still lingered and carried weight. The very architecture of Model Town houses reflected the contradictions inherent in their pattern of existence:
Each house was divided into two parts by a huge vestibule in the middle. On one side were dining and drawing-room and an office room: on the other side the bedrooms, with dressing rooms and bathrooms. The front verandah overlooked a lawn surrounded by flower-beds and cypresses. Here male visitors were received. On the other side was a verandah, where meals were served except on winter evenings, and an enclosed paved courtyard, the women's domain, with kitchen and storerooms … In its own way the house was like the British bungalows in front and grand-uncle's house at the back.
Even more significant than the geographical and social divide was the religious divide. The divisive politics of the British Raj had made for the allocation of government positions according to the religion of the applicant. The world we see in our novel, of college, newspaper, law court, and publishing was thus an increasingly communalised world. The resentments fostered and the envy engendered by the special privileged position of high caste Hindus, whose dominance came to extend from higher government service to professions outside, medicine, law and engineering, further emphasised social and religious difference.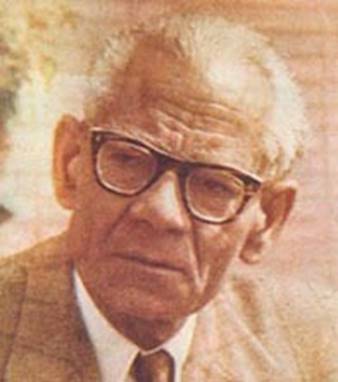 Yashpal. Credit: Wikimedia Commons
In late-19th century colonial Punjab, the Hindus of the province had found themselves wedged between two converting religions, Islam and Sikhism. Though a majority in India, Hindus remained a minority in Punjab. For them, the advent of Dayanand Sarwaswati, with his dynamic message of education, not birth, as determining social status, served as a catalyst for modernisation, change, identity formation as much as self-assertion. The upper layers of society, most of all the commercial castes, the Khatri, Arora and Sood, responded eagerly to Dayanand's call for social reform, education at large, particularly girls' education, and widow remarriage. The Dayanand-Anglo-Vedic College (1886), founded after Dayanand's death, to which was attached the school in which Tara and Puri's father taught, was established in order to counter the anglicisation of students trained in the British colonial university system. Intensely nationalist, it provided education in Hindi, Sanskrit and English to its students: English for adjustment, Hindi for communication, Sanskrit and Arya Samaj literature for moral upliftment and science for material progress. It was the Arya Samaj that supported and propagated Hindi as the national language; that is how it came to the Punjab. But even then, it tended to remain gender-specific. While Tara is proficient in Hindi, Puri works for the Urdu newspaper Pairokar.
The novel opens in the space below the constricted house of Master Ram Lubhaya in Bhola Pandhe ki gali, a lane inside Shah Alami, one of the 13 gates of the walled city of Lahore. The area has a large population of Hindus. The mother of Ram Jwaya, the elder more domineering brother, and Master Ram Lubhaya, the school-teacher, has died and the syapa, funerary mourning, is underway in the lane. An older, religiously more tolerant Punjab is also dying. Master Ram Lubhaya is a staunch believer in the Arya Samaj, he teaches in the city's famous DAV school attached to the college and he is bringing up his five children – of whom Jaidev Puri is the eldest, then comes Tara – in the beliefs he is so firmly entrenched in. Puri and Tara are the two major protagonists of the novel.
Kanak, the third and lesser character, is positioned at almost the other end of the social scale from the Puris. She lives with her parents and a younger sister in a modern house in Gawalmandi, a rich, recently built neighbourhood. Her father Girdharilal is a wealthy Urdu publisher.
The first chapters of the novel fill out the social and political context in detail and provide a series of flashbacks to fill in the early 1940s. Puri had gone to the Dyal Singh college with its progressive Brahmo ethos. The professors there disliked communalism and socially regressive ideas and in her first year of B.A., Tara, who also went there, had participated in inter-communal dining organised by the college in the parks surrounding Jahangir's mausoleum. In 1943, when he was in his second year of M.A., Puri was awarded a two-year prison term for work in a nationalist secret society. He was never to complete his degree. This is the first and only incidence of a major character being propelled by nationalism. It is worth noting that it does not recur in this novel of partition and nation building. In fact, the closer we get to independence, the more it recedes, the more anomalous it seems.
But back to the narrative – after some professional meandering following his early release, not because the country had gained independence but because the Allies had won the war, Puri who had built a reputation as a writer, managed to get work as a reporter for the pro-Congress Urdu daily Pairokar. Academically brilliant Tara continued to go to Dyal Singh college without her brother. With their entry into campus, the siblings had long crossed the narrow confines of the gali, crossed the borders of the customary and entered the world of the educated. Their intellectual capital would in fact enable both of them to enter new social worlds.
We now find ourselves in March 1947. Tara soon begins to tutor in the haveli of Dr. Pran Nath, who at a relatively young age has established a towering reputation as an economist. Educated in Oxford, he had accepted a professorship in Punjab University. He is single and has taken a liking to Tara, a matter which makes for some tension within his larger family and eventually makes for the loss of her job.
Puri is asked to tutor Kanak for the Hindi 'prabhakar' exam by her father who respects his writing talent. Girdharilal Datta is an old Congress worker who had once gone to prison for his work. This is how nationalism is referred to in this narrative, as a notion and a propelling power that lies in the past, as no longer an active force in the lives of the prime protagonists. As tutor, Puri on his own insistence, works in an honorary capacity, and it is as such that he and Kanak are mutually attracted, physically as much as intellectually. Tara guesses the nature of Puri's relationship to Kanak. In fact, both are trying to cross the social and in Tara's case also the religious divide. She has been engaged against her will to Somnath, a boy from a rich Khatri family whom the brother-sister pair find entirely unsuitable for her. Somnath Sahni has no academic ambitions, no interests that coincide with Tara's. He had made headlines in the local newspapers for having been caught cheating. The matter has been given a communal twist – for Somnath had assaulted his Muslim teacher when caught. Given that he is such a poor student, his parents are naturally against Tara studying any further and stealing any kind of a march on their son.
Tara's views on love and marriage find no echo at home. The gali ethos, with its caste consciousness and its set views on how marriages are arranged, does not tolerate new-fangled love, and certainly not between people of different faiths. When Tara and her mother speak of the family idea of arranging a favourable match for Puri with a girl in their community whose family is apparently ready to show the girl to them, Tara burst out with, "What kind of a meeting is that? No conversation of any kind. Nowadays, people meet each other several times before they get engaged, they continue to talk to each other."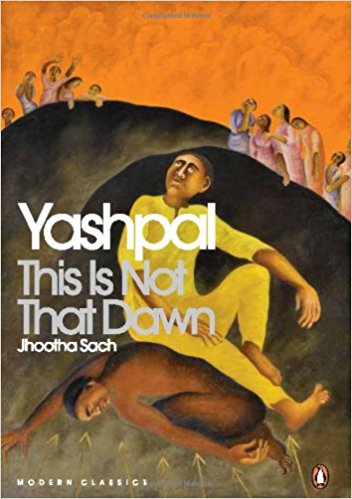 Yashpal
This Is Not That Dawn: Jhootha Sach
Penguin
Her mother scolds her "… this is not engagement, this is illicit love (ashnai). This can happen in houses in Anarkali, Gawalmandi and Mall road. What'll people in the gali and neighbourhood say if they hear of this?" Little realising that not only does Tara aspire to such a union, Puri's desires are also lodged in a house in Gawalmandi. He is attracted as much to Kanak's personality as to her open, easy-going life style; she can meet whom she will, she may study as much as she pleases, in contrast to his own sister. But he is also drawn to the power exuded by her publisher-father and their affluence. He dreams of owning her father's publishing concern one day.
Tara is consoled by Puri's assurance that he will not let the marriage happen. But she can't tell him that she has fallen in love with a Muslim co-student, Asad Ahmed, even as the communal situation in Lahore and in Punjab worsens. Studying for his M.A. in the Christian Foreman college, curly haired Asad is not only active in the students' federation, he belongs to the Communist Party. This love leaps across social and religious borders of all kinds; it is a novelty in the locality in which Tara finds herself, where there is no question of founding marriage on a romantic attachment.
History forms not only the nations-to-be it also shapes personal trajectories in times such as these. As Lahore is propelled into communal riots, the private becomes inextricably entwined with the public and the chronicle character of the narrative merges effortlessly with the fictional world of our protagonists. On the night of March 2, 1947, Sir Khizr Hayat Khan, the leader of the loyalist landowners' Unionist Party, increasingly veering towards the Muslim League, resigns from the Punjab legislature, in spite of holding the majority in the house. Punjab comes under governor's rule. The Muslim League stakes its claim to form the government. Will the Congress support the League?
On March 6, Puri hears that there has been a disturbance near Mochi Gate, not far from Shahalami. The shops around Shah Alami have shut down; there is curfew in the city. In the disturbances that follow, the Gali's beloved Daulu Mama, a vendor who sold sweets to children, has been stabbed. Puri is deeply moved by Daulu Mama's death. A subeditor asks Puri to write the editorial for his paper in his stead. Puri adds an op-ed entitled "Daulu Mama" to it. The people of Bhola Pandhe ki gali read Puri's emotional words:
Daulu uncle, you were uncle to so many children in so many lanes of Lahore. You left behind the many children to whom, all your life, you brought laughter. They weep bitterly now. Which tyrant snatched away the toy of so many innocent children? Did Daulu uncle have an enemy? Did he have any business with the unionist ministry or with the officeholders of the League? He was a human being, a gentle human being. His murder is murder of humanity… Whose way to office and state rule was he blocking?
Puri's editorial in Pairokar is much more damning; it has been written in a burst of youthful idealism:
To the trustees of the Congress and the League! … The Congress and the League were both born as institutions to help free the nation from bondage… If Muslims in eight provinces can believe in the Congress government, won't Hindus tolerate a cabinet formed by the League?
There are a few chances. Dreadful riots break out, first in Rawalpindi and then in Lahore. It is as if the countdown to violence, to Partition has already begun. Meanwhile, Puri's impulsive reaction to a key political event has a direct bearing on his fate as on March 7, he is ejected out of his job. This will impact Tara's fortunes too as we shall see, for Puri will lose his voice in the family and become both unwilling and unable to prevent her marriage. This is the first time history interferes at a key moment in the life of one of the siblings and in a way that ends up affecting both.
Tara's final exams have been postponed, there is too much communal violence in the city; but the date of her marriage is fast approaching, she's been engaged for two years, though she still resists. Puri no longer has any say in the matter; he is jobless and frustrated, driven to doing hackwork. And very soon, Kanak's father has put Puri himself in his place. "All round situation … uh … status … class connections." He may no longer visit Kanak. Social space cannot be so easily transgressed. Bhola Pandhe ki gali cannot aspire to Gawalmandi.
Tara too faces losses on all sides. Asad backs out of accepting her when she tells him that she has forsaken home and family and come to him. At this historical juncture in the life of the subcontinent, the Party does not allow marriages across religious borders, Asad tells her. Feeling betrayed by Tara's daring, humiliated and frustrated himself, Puri will longer back Tara. Emotionally, their ways part entirely henceforth.
From the last half of May, killings and incidents of fire increase in the city. Lahore is in flames. The city of old, where Hindu, Muslim and Sikh lived side by side, is also being destroyed in the process. There will be no way to retrieve the loss of that space. In the first week of the month, on June 3, partition is announced; the Muslim League accepts the Congress's offer that Pakistan be formed out of Muslim majority areas in Punjab and Bengal. Lahore's fate remains uncertain. How will Tara and Puri be impacted?
From the rooftops of Model Town, as yet safe from violence, Kanak and her sister's family can see the fire in the old city. Large flames leap out from the area around Shah Alami and lick the skies. We are nearing independence and partition. Kanak's family is soon ensconced in Nainital. Kanak has all the self-confidence of property, relative wealth and education; she can defy her family. They may reject Puri, but he too will leave Lahore at the end of July, after Tara's wedding, before the great Hindu and Sikh exodus, and Kanak and he will come together in a Nainital, away from the violence of Punjab. It is Tara who has virtually no space for action. Abandoned to her fate by Asad and her brother, Tara's marriage has taken place in a quiet ceremony on July 28, 1947. Her ordeal begins in earnest after that. The cheerful marriage atmosphere engenders hope and a resigned Tara awaits Somraj decked in all her finery. But he taunts her for hiding her face; he has heard that she did not want to marry him. How much shame did she show when she bared her face in demonstrations in Mall Road and Anarkali? With whom did she have a love relationship? Slept with whom? When Tara responds with grim rage, he throws her on the floor and taking his belt, lashes out at her, making an effort to take her violently. She rolls on the floor and tries to protect her face, not submitting to him. A terrible commotion breaks out in the lane below, as if the violence of his action is echoed by the violence in the old city. Somraj jumps up and thunders down the staircase. Tara cannot follow; flames leap up the staircase.
Tara escapes to the roof and springs to the next house, but there is man-high difference in height between the two roofs and she limps as she descends into the house. Her family hears the next morning that she has been killed in the fire. Dead-alive Tara is now truly a woman on her own. Ejected out of the Muslim house she drops into, running through the narrow lanes of a city in flames, she is fleeing from Somnath as much as the fire. This is the second time that history interferes in Tara's life. The fire has made possible her ejection out of the whole system of family ties and obligations. We have to remind ourselves that theoretically, she could have returned her husband's family, flames or no flames, but she runs. This is one resolution to being caught in the terrible web of marriage.
The streets of the walled city are teeming with violence. It is not long before a man on the street lays a hand on Tara's shoulder and drags her home. She tries to protect herself, the man's wife's screams abuse at him but Nabbu is rough and uncaring. He tears off her salwar, only the waistband hangs around her, she implores him to spare her. He throws her on the bed and then on the floor. She resists his violent efforts to take her. He ties her hands at the back and mercifully almost, she falls unconscious. Much later, we will learn that he had raped her and that she had contracted some kind of venereal disease. This is the month of Ramzan and the rhythms of normal life continue unabated, lending deeper poignancy to the anomalous, happening at the same time.
The next morning, Tara hears a Punjabi Qawwali in Asavari raga to wake up the fasting before dawn. Naked, wounded lying on the floor, she tries to kill herself. She wonders: What have I done wrong, for what am I being punished? For not wanting to marry Somraj? Or for going with Asad? Am I not even free to kill myself? Tajo Tayi, the Asavari singer, scolds Nabbu in front of the gathering of neighbourhood men and shuts him up. This is not jihad, Tajo Tayi says, "This is debauchery in the name of religion. Your tongue will shrivel up and fall off. "
Tara is saved from the prostitution into which Nabbu has sold her; neighbours take her to Hafiz Inayat Ali Sahib. He has been an officer in the intelligence department for 30 years and is now pensioned. Hafizji is pious and kindly. He recognizes that Tara is from a good home; she is educated, intelligent and good-looking. He tries to convert her, he would like to keep her in the house, marry her to his son who is sub-inspector in Amritsar. Tara realises that Hafizji and his family are good people but they are strictly orthodox.
August 18. She has completely bypassed the day of independence. It is the last day of Ramzan. From the rooftop of the house, Tara sees the green flag of Pakistan fluttering on housetops across the city, marking Lahore and Punjab as foreign territory. It is August 22, Amjad tells them there is a new law; all Hindus need to be reported to the police and the Indian Liaison Officer informed. It is a problem to keep Tara now, unless she agrees to convert. Otherwise, she would classify as an abducted woman. In the next days, he agrees to take her to a Hindu refugee camp.
The last episode of volume one is treated in graphic detail, without commentary, without mitigation of any kind, just dry fact piled upon dry fact, interspersed with Tara's thoughts. The very act of speaking the unspeakable, of finding words for the inexplicable, makes for a hardly bearable intensity of experience, both for those exposed to the violence as well as for the reader. This is Yashpal at his best and in these last pages of the first volume of his epic is encapsulated the plight of thousands of women, young and old, Hindu and Muslim, at this juncture of the subcontinent's history.
The flags, the soldiers proclaim threat as well as protection. Tara is thrust into the jeep which is to take her to the Hindu camp, two men get in with her. Fake policemen, fake promises, as she will find out. She realises before she faints from the roughness of her treatment that Hafizji's son Amjad has sold her. When her eyes open, she sees a courtyard, as if in a fog, and three women are fighting over her clothes. She realizes, when she can take stock of the situation, that one wears only a kamiz – this is Banti, the other just a salwar – Durga, and that the third is entirely naked – Satwant. There is another who is entirely naked, Lakhi; she had first refused to eat, when she finally did, she got such cramps and diarrhea that she was always in pain. Six women in all, they are imprisoned, the door to the roof is locked. There is no escape. They bathe under the water pump in the courtyard; they excrete by squatting on the drain. Their unclad state, their complete ignorance of where they are being kept and the shackles on the door make escape impossible. It could be a Beckett landscape; so devoid is it of scenic props, of any comfort. An old woman, a Kanjari, who traffics in women, comes with rotis every day. Banti befriends Tara; she offers her moral support, solidarity, and she pulls her out of her state of intense self-pity and despair. Banti has her faith to support her.
Tara tells them that she is single. She has been stripped of all protection; in the very act of being stripped, in her moment of extreme degradation, she strips herself of the baggage she carries: no family, no tyrannical brother, no husband who violated her very sense of self. It is a truth she maintain in the next months.
Days of relentless suffering follow. Tara thinks, if the old woman shows affection once more, she'll agree to go with her. It's an overcast day, still morning. The door shackles are rattled; can it be their jailer Gafur? The women run and hide in the one room with a door. An inspector, four policemen, some soldiers and an army officer enter. There are also two men in civilian suits and a white-khadi clad woman with no fear on her face. The woman is Kausalya Devi, representative of the Indian Government, who has come to rescue abducted Hindu women. One of the two men in civilian clothes is Asad. It is quite natural that Tara speaks for all of them, once again a part of her re-invention as a leader. They get clothes, Lakhi a stretcher. They move in a fleet. Asad gives Tara some news of her family, that they have in all probability left Lahore, Puri is in Nainital; that they had all thought her dead. Tara gives little information about herself. They reach the DAV college camp, the golden Om on the building glistens in the evening light. Lakhi is dead. Asad asks her shyly, hesitantly, whether she would like to become Muslim and stay in Lahore with him. He is proposing. But the force of events is too strong, even Asad retreats in Tara's imagination. Asad will come around five in the evening. The women are to be taken across the border immediately. There's no time to take decisions. Packed into a bus, they become witness to scenes of desolation, destruction and violence. The bus driver has seen a lot; he is the voice of the people. As he drives to and fro across the border, he sees what happens on either side. From his relatively safe perch in his bus, high above the road, he can see the sorry plight of the Muslims, carrying their worldly goods on their shoulders, as much as of the Hindus whose qafilas are also underway. There are terrifying scenes on the way. They cross the border to Wagah.
Sunset. The qafilas on both sides of the street sink to rest. The cars pick up speed. They reach a camp. Kaushalya Devi says " Get down. You've left your vatan, homeland behind, but now you're in your own desh, country, amongst your own people. Give thanks to god." Vatan and Desh. At the very moment of entering their nation, this particular group of Punjabis is leaving behind its homeland.
The driver adds, "That qafila is also leaving behind its homeland and going to its own country. The countries of human beings have become countries of religion … Those whom God had created one, the people of god with their superstition and cruelty (zulm) have made them into two."
The rupture in landscape, social fabric, family, personal lives, as exemplified by the fate of Tara, is complete. It is also a linguistic and literary break, with loss of culturally shared territory, of Punjabi, Hindi, and Urdu, existing side by side in undivided Punjab. Those who survive the mindless violence can begin again, but the cracks can only be covered, never entirely heal.