By Fauzia Rafique
WordPress : May 10, 2018
A shorter version of this article was presented at the Dead Poets reading Series on May 6, 2018. It was a privilege to hear Laifong Leung present the beautifully crafted poems of Michael Bullock (1918 – 2008), Tariq Hussain rendering the songs of Gord Downie (1964 – 2017), and, the highlight of the evening, Wanda John-Kehewin's presentation of the poems of Vera Manuel (1949 – 2010). The evening brought together many fabulous people including Heidi Greco, Randeep Purewall, Pamela Bentley, Joy Haskell and Rahat Kurd, with organizers Joanne Arnott, Kevin Spenst, Diane Tucker and co-founder Christopher Levenson.
I seek permission from Shah Madholal Hussain to present some of his work to you.
Shah Madholal Hussain was born in 1538 in Lahore (the city i come from), that's where he died in 1599, and that is where he is now buried. Last month, the 429th anniversary of his death was celebrated. A three-day festival called 'Mela Chiraghan' or the 'Festival of Lights' takes place in his honor each April in Lahore that is attended by thousands of people from all over Pakistan, and usually a public holiday is declared on one of the three days. He wrote only one book of over 160 poems, in that he crossed many boundaries of form and content where he also introduced a new form of poetry to Punjabi literature called 'Kafi' (a short poem of 4 to 10 lines that is written to be sung). Najm Hosain Syed, a Punjabi poet and playwright who has done valuable work on Madholal Hussain, in one of his articles has shown very well how Shah Hussain's poems though based on the rhythms and stories of folk songs transcend the folk song by imbibing a different content- most often a different feminine voice/persona. There are many editions of Shah Husain's book, and it always stays in print being one of the six or seven all-time best-selling Punjabi books. I have a few editions, but this is the one I use: 'Kalam Hazrat Madholal Hussain: 1k sau te treth Kafian' 'Poetry of Respected Madholal Husain: One hundred and sixty three kafis'. The collection is made possible by Najm Hosain Syed, and it is edited and published by author Maqsood Saqib who also runs a publishing house in Lahore called Suchet Kitab Ghar.
This is Shah Madholal Hussain's official photo: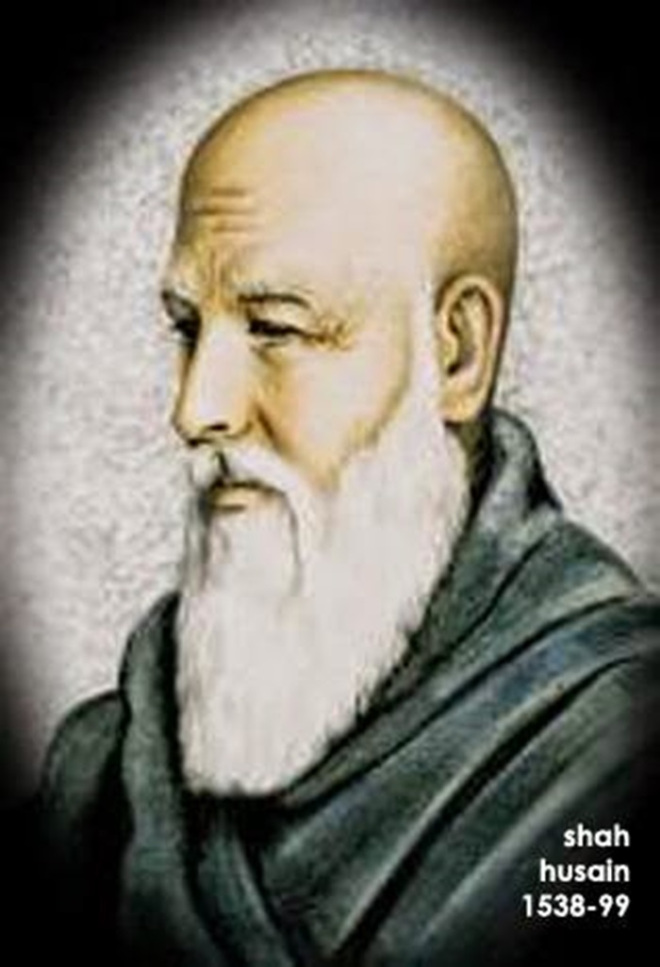 To tell you the truth, it gives me the creeps when I look at it. This is the image of a Muslim scholar- that he also was- but he had rejected this image along with all of its privileges when he was 36 years old, and for the rest of his life he wore red cotton clothes, no beard, and he sang and danced on the streets of Lahore. He would probably look more like this, without the hair of course:


This is a malang : mendicant dancing dhamal : spiritual-dance at the court of Shah Hussain.
Shah Hussain's 'official' image differs from what he chose for himself. He chose to be a
malang
, not a religious scholar; he chose to wear red, not white or green; he insisted on keeping his gay identity public instead of keeping it private as was/is the norm; he was a religiously tolerant person yet he is rumored to have converted Madholal and his family from Hinduism to Islam. Shah Hussain was the son of a weaver who began religious studies at ten and continued to study and train till he was in his mid-30s. Soon after, he found himself in disagreement with his religious teacher on the meaning of a Quranic verse where the world was called a game or a sport, the popular interpretation was to reject the world because of that while Shah Husain thought it meant for us to value life and to enjoy it. He renounced all teachings of the organized religion along with the status that awaited him, and became a rebel poet with a following of over a hundred thousand people. But he was not into those things either, he says:
'ik Shah Hussain fakeer hai, tussan na akho koi peer hai
'assan koorri gal na bhavndi'
'Shah Hussain is a dervish-beggar, don't call him a spiritual leader
'We don't like false statement/s'
In his poems, he identifies himself as a 'jolaha' weaver, a 'fakeer' dervesh/begger/malang, a 'choorrha' sweeper, but not as a dignitary, clergy or anyone holding conventional power. It is interesting that one of the few times he has included himself in the 'shahs' (Kings or descendants of Prophet Mohammad) is in a kafi where he uses the context of an individually-owned shop to depict life, and in the end after giving advice on how to run it successfully, he says 'eh Shahan de matt lae': 'take this advice of the Shahs'. His diction is not intellectual but folk, the images that come through in his poems are of common men and women. Shah Hussain was in full ownership of his low class origins, and even after qualifying as a scholar he refused to go up the ladder; instead, he chose to stay true to his low social class, his gay self, his exceptional understanding of this world, and all his creative and spiritual powers. As well, he may be the only sufi poet who rose to prominence from low class origins, all others were from 'nobility' hailing from families of educators, professionals, civil servants.
Shah Hussain is revered by a cross-section of population. At his burial place, one can see a strong community of men and women malangs who keep the lights burning throughout the year; and, at the time of the Festival all different interest groups converge- including religious and political leaders, city administrators, and people from elite to all different low classes. In that, Shah Hussain is interpreted by each interest group in ways that may suit them but interpretations that are projected by the system are those of the elites. That's why his 'official' photo offers an image that the 'respectable' moneyed people can find acceptable. Yes, the same kind of people that he had refused to associate with. He lived the life of a low class gay poet drinking and dancing on the streets in a long red cotton dress: a malang! But it must stay under wraps; and, that's one reason why most of the translations of his kafis are pretty un-usable for me because they are laden with the beliefs and preferences of his translators who invariably are middle class heterosexual male intellectuals who may never have done anything rebellious or offensive-to-establishment in their entire personal lives.
This is my favorite Shah Hussain kafi, it is so profound to me that i translated it and made it a preamble to my first novel Skeena that was published in both Punjabi and English. Here's the translation, and the original will come after.
Kafi 131
Swaying in ecstasy play on in the inner yard
all is near to those meditating
Rivers flow in this yard, thousands of millions of boats
Some are seen drowning, others have reached the shore
This yard has nine doors, the tenth is locked shut
No one knows the door, from where my lover comes and goes
This yard has a pretty curve, a hollow in the curve
I spread my bed in the hollow to love my lover at night!
In this yard, a wild elephant is struggling with the chain
Says Hussain the Beggar of His Beloved, (the elephant) is teasing the awake
And now, the original, in roman:
Jhumme jhum khail lai munjh vehrray
Jupdiaan noon hur nairray
Vehrray de vich nadiaan wugun, bairray lakh hzaar
Kaiti iss vich dubdi vaikhi, kaiti lunghi paar
Iss vehrray dey nau durwazay, duswain kuluf charhai
Tuss durwazay dey mehram nahin, jitt shawh aaway jai
Vehrray de vich aala soohay, aalay de vich taaqi
Taaqi de vich saij sjawaan apnay pia sung raatein!
Iss vehrray vich makkna haathi sangal naal khairray
Kahay Hussain Fakeer Saeen daa, jagdeyan koon chairray
There is a tradition in Urdu and Punjabi poetry where male poets assume a woman's voice to express the emotions of love, pains of separation, and the levels of devotion. They say, it's because only a woman's voice can express these emotions in top form. I think, it's one of the ways of a segregated male-dominated society to tell women how to love men, how to pine for them, how to sacrifice our lives for them, and how to show devotion to them. The tradition is called 'rekhti', and most known male poets have used this form, and so has Shah Hussain. But there's a difference between the women that come through in the 'rekhti' poetry and the feminine person that comes through in Shah Hussain's poetry because he did not 'use' or 'assume' a woman's voice, he simply acknowledged and celebrated his own feminine self by letting that self speak. Shah Hussain's feminine self is vocal, wise, intense and empowered. Falling in love is fully celebrated; if there's sorrow of separation, by the end of the kafi it's apparent that the Lover must reach the Beloved, and the feminine persona instead of remaining buried under the weight of sorrow as projected in 'rekhti', sounds more like Tracy Chapman in 'She's got her ticket I think she gonna use it I think she is going to fly away'.
Not only here but also in South Asia, the term 'sufi' is used without discrimination. Shah Hussain represents a distinct tendency in sufism called 'malamat' meaning 'shaming' where an individual chooses an anti-establishment stance in his/her personal and political life knowing that they will be shamed by their social and political environments, and they resolve to take that shaming, and to take it as a compliment and an honor. Most non-malamti sufis taught pacifism that suited the establishment/s and both sides benefited, but not the Malamati sufis. Shah Hussain was known to have given sanctuary to peasant rebel leader Dulla Bhatti who was later publicly beheaded by Mughal King Akbar. Though Shah Hussain did not give open support to Dulla Bhatti but he was present at the beheading where King Akbar first saw him. The Mughal King was apprehensive about Shah Hussain also because of his rebellious self and the growing number of his followers, and so a writer-historian was appointed to keep tabs on him and to record everything that he did, this account titled 'Baharia' after the name of its writer Mir Baharia, was later published and it attributes many supernatural and miraculous happenings to Shah Hussain.
Shah Hussain remains to be the most influential Punjabi author, and that is apparent in many ways, here are two examples of his direct influence. He wrote a six-line poem 'ani husainu jolaha' 'looki (that) weaver husainu', that allowed another malamti sufi poet Buleh Shah (1680 – 1757) to write a masterpiece simply by unpacking those six short lines, the poem titled 'ke janan main kon' 'how do I know who I am'; and, Shah Hussain gave such depth and character to folk heroes Heer and Ranjha that it became possible for Waris Shah (1722 – 1798) to write an all-time classic in the love story 'Heer Ranjha'. And, the ways in which Shah Husain has explored the passion of love remains unparalleled, as does his contemplations on life and death. He says,
'Shah Husain, hyati lorrein
te marn theen aggay mar wo'
'Shah Husain if you want your life
die before your death wo'
Sometimes, I feel it in my gut, sometimes it alludes me; but as an idea this is how i see it: when someone is dead, nothing of this world exists for them or matters to them, they are free of all its fake, unequal, man-made rules, boundaries, limits and determinations- and that's when it may be actually possible to experience and enjoy life. Yes, that'll be something.
At the end of my presentation at the Dead Poet's, there was an opportunity for me to say some more but nothing came to mind though there were a lot of things to share. These two incidents are a part of those things. Both incidents happened in the same day. In 2007, after more than three decades, I was making my way to the shrine of Shah Hussain in Lahore, there were many narrow unmarked lanes and I lost my way. There was a man who was preparing to make sweet jalebis at a little corner shop, i asked him, 'Shah Hussain da mazar kehrray pasay ae, Jee? Which way is Shah Hussain's shrine, Jee?' He gave me a cold stare, and said, 'Shah Hussain da durbar odhar ae: Shah Hussain's court is on that side.' That was a stern correction (and i never made that verbal mistake again). After finding the durbar, i went in, crossed some nice jewelry stalls to go to the chamber where Shah Hussain and Madholal are buried. There was a short staircase going up to it, I was about to take it when I saw a sign on the side that said that women were not allowed beyond that point. Wow! That was unexpected, i could not recall confronting it in the 70s; perhaps it was one of the impacts of General Ziaul Haq's Islamization of Pakistan in the 80s. I was standing there perplexed when I noticed a child of six or seven standing beside the sign, looking at me intently. I felt being caught in my anguish.
'Tuhanoon patta eh board te ke likhya ae? Do you know what this sign says?' I asked her.
'Na', she said.
'Likhya ae ke aurtan, yeni tussein te main, utay nahin ja sakday, It says women, meaning you and I, can't go up there.'
'Oh', she said, clearly disturbed.
'Eh insaf de gal ae? Is it fair?' I asked.
'Na', she said right away.
'Assein ais rule noon torr ke utay chaleye? Shall we disregard it and go up anyway?'
She gave it some thought, smiled, and nodded 'Yes'.
'Theek ae, tussein aithay khlowo, te main hunay ayi, Okay, you stay here, and i'll be right back', I said. Being a responsible adult i was not expected to bring an underage accomplice on an unlawful gate crashing mission. The next moment I was climbing the stairs; there I entered the chamber, saw the two graves, and I put my hands on the stone covering the physical remains of Shah Hussain. By then, about three caretakers had arrived from the inner entry, I was silently propelled back to the door. I retreated, stationed myself outside the door blocking it while my hands were clasped in front of me in a defiant yogic stance. The caretakers consulted with each other, and then one of them picked up a garland from the grave, and he gave it to me. I was delighted.
Coming down I saw my accomplice standing by the stairs ahead of the small crowd that had gathered to see what was happening; a young woman was now standing behind her. I raised my garlanded hand, she jumped and clapped in appreciation. Of course then, the garland was hers.
A few weeks later, I visited the shrine/durbar of Bulleh Shah in Qasur with some man-friends who I knew would be allowed to enter the burial chamber without me, so I went ahead and walked straight inside, and this time, I took a few flowers from the grave, the rest can be seen below:
thriving-on-the-culture-of-exclusion-punjab-auqaf
Randeep Purewall, a Punjabi poetry enthusiast, was quick to write an interesting report on my Shah Hussain presentation, and it's posted here:
no-ordinary-sufi
It was an absolute pleasure, thank you.