(January 16, 1926 – January 28, 2007)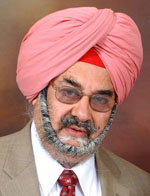 By Harjap SinghAujla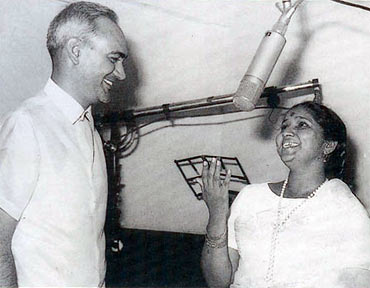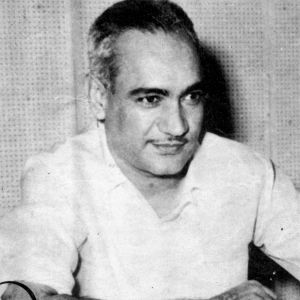 The early life of a very popular film music director O.P. Nayyar, hailing from Punjab, has remained a mystery to most lovers of his music. While alive, he hardly shared his background with his well wishers and admirers. But there is no doubt that his family migrated from the film city of Lahore first to the neighboring city of Amritsar in the later part of 1947 and subsequently he moved to Bombay. I was all along curious about knowing the past of this music wizard called O.P. Nayyar. I extracted most of the information about the early life of O.P. Nayyar from two other music directors, Sardul Singh Kwatra and S. Mohinder. Both were spending their golden years in America. Sardul Kwatra was living in Yuba City in California and S. Mohinder is settled in suburban Washington D.C. In the state of Virginia. S. Mohinder used to be a radio singer at All India Radio Lahore and Sardul Kwatra was learning classical music from a local Ustad Avtar Singh. According to S. Mohinder, in 1949 O.P. Nayyar briefly moved to the tinsel-town of Bombay to try his luck as a music director. Initially after crossing over to India, he wanted to pursue his passion for music and he became a music composer at the newly commissioned All India Radio Jullundur-Amritsar. While serving in Punjab, he received a phone call in 1949 from an established music director Master Ghulam Haider in Bombay to compose the background music of film Kaneez. Ghulam Haider had already composed the music of most of the songs. O.P. Nayyar gave his best to the first film in his life, but the film failed at the box office and with it sank the background music too. After this Master Ghulam Haider, who was born in Amritsar and became a music director in Lahore, decided to move back to Lahore, where he did not do too well and died in 1954. After Ghulam Haider's departure for Lahore, O.P. Nayyar was left with no God father.
According to music director Sardul Kwatra, O.P. Nayyar was a fun-loving and romantic youngman in Lahore. Like Sardul Kwatra, even O.P. Nayyar was in love with a young Muslim girl in Lahore. It was because of this compulsion that O.P. Nayyar became one of the last of the Hindus to migrate to India. O.P. Nayyar took inspiration from the Sialkoti Bhangra based and Ferozepori Giddha inspired folk music of his native Punjab. The famous Naya Daur (1955) duet "Reshmi salwar kurta jaali ka, roop saha nahi jaaye nakhre waali ka" was directly plucked from Bhangra Music. This song is also inspired from a famous Punjabi folk song "Sarhke sarhke jaandiye mutiayare nee, kanda chubha tere pair bankiya naare ni" rendered by legendry singers Surinder Kaur and Parkash Kaur. O.P. Nayyar was deeply inspired by the music of Lahore based pioneers like Ghulam Haider, Pandit Amar Nath, Shyam Sunder and Pandit Gobind Ram, but he eventually developed his own inimmitable style of music.
After the failure of the music of film "Kaneez", a heart broken O.P. Nayyar returned to Amritsar, but received a call from Bombay for composing the music of "Aasmaan" in 1952. By the end of 1951, he was back in Bombay. According to experts of music, he did a commendable job for film "Aasmaan", but due to a cut throat competition amongst India's finest music directors, the music of film "Aasmaan" was rejected by the cine-going public. That was the period when the new arrivals from Lahore wanted to make a nitch for themselves in a field already crowded with telent. This time he did not go back to Punjab. In 1953, O.P. Nayyar got his first big break in life, his music for film "Baaz", starring Guru Dutt, became a hit. His records sold like hot cakes. Then he started composing hit after hit in Guru Dutt starrer Aar Paar (1954), Mr. and Mrs. 1955 and his production "C.I.D" 1956. Sardul Kwatra himself was influenced by the wedding band music of Lahore and according to him the Shamshad Begum – Kishore Kumar duet "Meri neendon mein tum, mere khawabon mein tume" from 1956 film "Naya Andaz" was one of the finest pieces of music composed by O.P. Nayyar up to the end of 1960s.
O.P. Nayyar's music in Dilip Kumar – Vijayanthi Mala starer film "Naya Daur" was his biggest success during the 1950s. But his best music was in "Aar Paar" (1954) and "Mr. and Mrs 55" in 1955 was great too. He was the music director who gave tough competition to the front-runners Shanker and Jaikishan.
Although Lata Mangeshkar was so popular that she could make any film music a hit, yet O.P. Nayyar decided to avoid her completely. The front-runners Shanker and Jaikishan did exactly the opposite. They gave their finest tunes to Lata Mangeshkar for her most memorable songs. I personally think that the place of music director O.P. Nayyar would have been much higher in the filmdom of Bombay, if he had given chance to Lata Mangeshkar too. The biggies of the time Madan Mohan, S.D. Burman, Anil Biswas and Naushad all utilized the services of Lata Mangeshkar to the hilt.
harjapaujla@gmail.com