by:Dr. Jaspal Singh
South Asia Post: Issue 31 Vol II, January 15, 2007

Prof. Harbhajan Singh from Kala Sangian in Kapurthala district in Punjab is a well-known NRI Punjabi writer who left for the States some six years ago in search of greener pastures. In India he remained associated with the Naxalite movement of the seventies and for some time he was a whole time revolutionary totally committed to Marxism Leninism and the thought of Mao Tze Dong. Before moving to America he had published two collections of short stories, one collection of poetry, three novels and three collection of prose.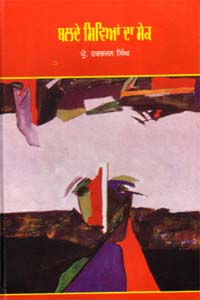 Now his fourth novel Balde Sivian Da Sek (Vishavbharti Parkashan, Barnala) has appeared. This novel has dual purpose first to deal with the Khalistan terrorism in India particularly in Punjab and second to understand and conceptualise the nature of American system and it's supporting organs. The novel begins with a cocktail party in an apartment at San Jose where four friends – Kuldeep, Bachitar, Mohan and Varinder Sharma live. The party is being hosted to celebrate the success of cultural programme writer from Sacramento. Bachitar is an asylum seeker and Kuldeep is pleading his case in the relevant department. All the others are permanent immigrants. Bachitar has a girl friend "Poppy" in India whom he intends to marry before bringing her to America. He often remains lost in her thoughts. Towards the end of the novel when Bachitar is able to secure a work permit in America, he receives the news of Poppy' murder along with the other members of her family at the hands of the Sikh extremists. The news completely shatters him, pushing him into deep depression. Mohan, the protagonist of the novel has similar problem in India. His maternal Uncle is a farmer in the Trai region pf Uttar Pradesh. Both his sons get involved in the terrorist activities and in course of time one of them is killed by the Police while the other is captured by the security forces during operation Black Thunder executed in the Golden Temple complex at Amritsar. He is savagely tortured by the Police.
Consequently Mohan's Uncle goes mad and his aunt commits suicide when she could no longer bear the brunt of the tragic events. In San Jose though Mohan is able to win over his beloved Rummi, her parents do not acquiesce in her decision to live with Mohan without marrying and have a child in cohabitation. When Mohan learns about the pathetic condition of his Uncle in India and the suffering that his own parents have to undergo, he decides to visit India. At the other end in America his girl friend Rummi is due to deliver her child any day and she becomes very sad to learn about the absence of her child's father at the time of his birth.
Now within this broad storyline, Harbhajan weaves sharp comments on the American system in which strange bedfellows move hand in hand. Out of the four protagonists of Khalistan in San Jose one is a genuine Khalistani, the second is an army deserter of 1984, the third is a smuggler from Amritsar who has remained a police tout for a long time and the fourth is a farmer policeman who has killed many Khalistani terrorists in Punjab. Now all of them are promoting the Khalistani cause in America. One of the characters in the novel dubs America as a 'sweet prison' where one has to annihilate himself in order to become a being from a non-being and by the time one achieves this status one is completely done for. Another telling comment about the American system comes from Kuldeep who along with Varinder says that when the Cabaret dancer passed by him she let off terrible stink. Kuldeep says, "Everything here is stinking. From junk food to the President. From relation to system. From work to bed. There is nothing but stink. And this stink gives an illusion of fragrance. Now this stink is selling at a very high premium. The agents are charging a million and a half rupees to get you across the electrified wires."
The generation gap in the Indian society in America is much larger than it is in India. When a character Basant Kaur scolds her daughter for living with Mohan before marriage the girl is provoked. She bluntly tells her mother that if she sleeps with her boy friend it is her personal matter. If she is pregnant before marriage, the mother should not bother. She adds that sex or pregnancy has nothing to do with marriage. At this the mother gets fits and after a few days she becomes a wreck both physically and mentally.
Kuldeep who towards the end of the novel becomes a successful lawyer and marries a Muslim divorced girl is stunned when she remembers his first wife who would often tell him to cook and eat at home since she is to go for dinner with her boss or her boy friend. He advises one and all that the boys born in America or Canada should never marry in India nor the girls born in India should ever marry those born in America or Canada. Such marriages are veritable disasters. How the business companies shut their shops in America and fine their workers in thousands is really unbelievable.
The whites in America have their own problem when their children mix up with the coloured ones. A white teenager falls love with an Indian boy and they have their maiden sex as well. The girl's family learns about it. They immediately plan to shift to some other place where they don't see 'dirty suck mean coloured immigrant bastards' around.
Bachitar overcomes his depressions. Good books drags him out of the abyss. He starts living with Gunighal, a progressive playwright and theatre man. Punjab tragedy always lurks at the background. They try to build a movement through theatre to understand the Punjab tragedy in a rational way. The post Operation Blue Star era and its madness is presented through plays and other cultural programmes which the extremist elements detest. Nevertheless they are able to drive their viewpoint home to the common people who then respond ardently. As a result alternative visions and dreams start taking birth in their minds and they become capable of crossing the dark tunnel of communal hatred and spite.
Harbhajan has selected one of the most important themes for this novel. But he deserts it in a huff. The sense of incompleteness piques the reader. The author cannot escape life this. He must bring his tale to a logical end where the structural forces devise a functional equilibrium. To achieve this he must write the second part of this novel.