RELEASE OF KALAM BABA NANAK
Shahmukhi Version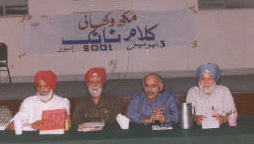 On April 3, 2001, Academy of the Punjab in North America ("APNA") and Punjab Heritage Foundation released the Shahmukhi version of Kalam Baba Nanak in Lahore. This historical ceremony was held at Lahore Press Club and was attended by a large number of Punjabi writers, intellectuals, journalists and many others.
The ceremony began promptly at 5:00 PM in the main hall of Lahore Press Club that was filled to capacity by a large audience. Mushtaq Sufi presided the meeting and Iqbal Qaiser performed the role of stage secretary.

In his opening remarks, Iqbal Qaiser introduced APNA to the audience. He noted that one of the main objectives of APNA is to publish important books of Punjabi in both Shahmukhi and Gurmukhi scripts to make all major writings in Punjabi available on both sides of the border. By publishing Kalam Baba Nanak in Gurmukhi, APNA and Punjab Heritage Foundation have reached an important milestone in their efforts to break communication barriers between the two Punjab's.
Jamil Pal presented his paper on the problems and obstacles that the publishers had to face in transliterating Kalam Baba Nanak. He said that it was quite difficult to type Kalam Baba Nanak in Shahmukhi scripts since the writing is very old and no proper software in Shahmukhi is available to accurately transcribe it.
Shafqat Tanveer Mirza presented his paper on Kalam Baba Nanak. He described in detail the linkage between Kalam Baba Nanak and the tradition of Punjabi spiritual literature. Col. Nadir Ali recited some parts of Kalam Baba Nanak. In his remarks, he pointed out that Kalam Baba Nanak is part of our literary heritage. After partition, the new generations in West Punjabi's have forgotten the highly important place of Kalam Baba Nanak in our literary tradition. He said that publication of Shahmukhi version of Kalam Baba Nanak would once again revive the understanding and appreciation of Kalam Baba Nanak in West Punjab.

Dr. Rashpal Singh, who had come from the United States to attend this function, said that we are running three Punjabi organizations in the USA, APNA, Punjab Heritage Foundation and Sikh Foundation and we are proud to say that we jointly work together on many important projects. The joint publication of Kalam Baba Nanak by APNA and Punjab Heritage Foundation is one such example. We are jointly working to promote our language and culture to bring all Punjabi's closer to each other.

Dr. Darshan Singh, Professor of Guru Nanak Chair at Chandi Gargh University discussed the unique features of Punjabi Literature and presented his views of Guru Nanak as a poet.
Karnail Singh Thind gave the main talk of the meeting. He spoke about the differences of various scripts in two Punjab's, the problems of translating Shahmukhi script, and other issues relating to Punjabi literature. Some of his statements made headlines in the West Punjab newspapers. He said that it is Punjabis of both sides of the border who ultimately die in any clash between India and Pakistan. If the tension between the two countries will continue, our next generation will not forgive us. We have spent the last 53 years in hatred, now let us try to live with love. He said that there is not much difference between Baba Farid and Baba Nanak's poetry. If today Punjabis could come to their senses, the relationship between the two Punjab's and the two countries could change overnight. He said you Muslim go to Mecca, but our Mecca is in your side of the Punjab. He also announced that Punjab Heritage Foundation has decided to give annual prizes of 50,000 and 10,0000 respectively to the authors of top two Punjabi books irrespective of the script they are written in. Hesaid that Punjabi is being taught in seven universities of East Punjab. Although Punjabi teaching in East Punjabi is in Gurmukhi, one paper in Shahmukhi script is mandatory for post-graduate studies in Punjabi Literature. He said that Guru Nanak has three "roops"; the Guru; the philosopher and the poet.
At the end, Mushtaq Sufi thanked the audience. After his remarks, the formal ceremony of Kalam Baba Nanak's "Mukh Wikhali" was performed. The function was highly successful in all respects. Not only that it was attended by a large gathering of Punjabis from all walks of life, it was widely reported in the media on both sides of the border.

---
BACK TO

HOME PAGE