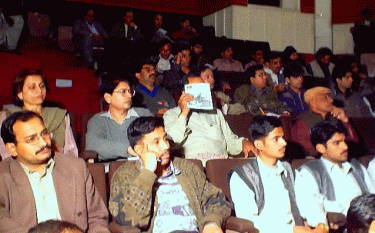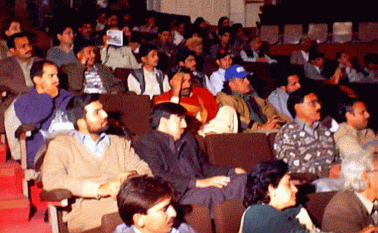 FUTURE OF PUNJABI

APNA's Punjabi Conference in Lahore: A Report by Zubair Ahmad

A

PNA's Pakistan Chapter held its first conference at Al-Hamra Hall, Lahore, on March 2, 2002. APNA's member's and other Punjabi activists gathered on this occasion from many different cities in Pakistan, including Lahore, Gujrat, Sialkot, Sahiwal, Multan, Okara, Jhang and many other places. The conference began with a two-hour meeting of APNA members, followed by a seminar on "The Future of Punjabi." Following are some of the highlights of the conference:

Member's Meeting

Dr. Manzur Ejaz, who had come from the United States to attend the conference, moderated this meeting. Here are some of the issues that were explored in the meeting, with a brief summary of the conclusions:

Difficulty in learning Gurmukhi script: It is not a difficult problem. APNA has made a primer to simplify the learning process of Gurmukhi script. A Gurmukhi Qaida is easily available in Lahore. APNA didn't face any difficulty in transliterating a number of books from Shahmukhi to Gurmukhi and vice versa. Our experience so far is that it is more difficult to transliterate from Shamukhi to Gurmukhi than the other way around since it is difficult to find people in East Punjab who can read Shamukhi script.

APNA has so far only produced literary books. We should also publish books on other subjects, e.g., education, social sciences and on other scientific subjects: Punjabi books must be produced on social and natural sciences. One way can be that in East Punjab books on various subjects have already been written in Gurmukhi script that can easily be transliterated in Shahmukhi script. This may not be the best solution since in those books much of the vocabulary and scientific terms have been borrowed from Hindi and Sanskrit. It will be better if we instead develop Punjabi vocabulary for scientific subject. APNA will support anyone who is willing to write books on scientific subjects in Punjabi.

Punjabi is far behind other languages in producing modern literature: The real problem is not the production of modern Punjabi literature, which has accelerated beyond our expectations. The problem is that it doesn't get a wide readership in all Punjabi circles in Pakistan due to lack of readership in Punjabi. The lack of means to exchange information and ideas is another problem. Otherwise, just in Lahore alone, at least five organizations are working for the promotion of Punjabi literature. The situation is not so desperate. We have done much but of course more needs to be accomplished.

Punjabi is a beautiful language but most Punjabis in Pakistan cannot read or write Punjabi: It is up to us to start learning Punjabi ourselves. We can't wait for the government to introduce it. We must develop Punjabi reading groups everywhere to learn Punjabi and introduce it to others.
We are living in an age of communication. It may not be productive to introduce Punjabi at primary level in schools. This will divert the energies of children who will then need to learn many languages. The general agreement among all experts in primary education is opposite to this. A child has the capacity to easily learn multiple languages. Providing primary education in the mother tongue is far more important than all other considerations. Only those countries have progressed that have provided education in the mother tongue. The countries we call "Asian Tigers" have imparted education in their mother tongues. This is the only sure and simple way towards mass literacy in Pakistan. Languages cannot survive without geography as Persian couldn't survive in India even after 800 years of patronage. Punjabi has the geography and cannot be wished away. We need to set our priorities straight and work for the development of Punjabi. We should have serious debates on this in all circles.
Why object to the influence of Hindi, Sanskrit or other languages on Punjabi? We should welcome the inclusion of words from other language sin Punjabi. Induction of words from other languages, if it happens naturally, is not a problem. If it is done artificially, excessively and unnecessarily, then it becomes a problem. The influence of Hindi and Sanskrit on Punjabi writings in East Punjab is just that. Not too long ago, a scholar from East Punjab read a paper in an APNA conference. Afterwards, someone from the audience stood up and requested that scholar to translate his paper in Punjabi. APNA is only opposed to unnecessary and excessive usage of vocabulary from other languages in Punjabi writings.
Finally, it was agreed upon by all members present in the meeting that they should all make an effort to organize Punjabi reading groups in their areas.
There was a tea break after the meeting. Kitab Trinjan, group had set up a stall of Punjabi books published by APNA and other publishers. These books were made available to APNA members at a discount.
Seminar on the Future of Punjabi
A number of prominent Punjabi scholars and activists took part in the seminar. The speaker's list included: Col. Nadir Ali, Mushtaq Soofi, Shafqat Tanveer Mirza, Maqsood Saqib, Itzaz Ahsan and Manzur Ejaz. Iqbal Qaiser, a famous writer and Punjabi activist, performed the duties of stage secretary.





| | | | | | |
| --- | --- | --- | --- | --- | --- |
| Manzur Ejaz | Itezaz Ahsan | Shafqat Tanveer Mirza | Iqbal Qaiser | Maqsood Saqib | Mushtaq Sufi |
Manzur Ejaz: Introduced Academy of the Punjab in North America (APNA). He said that APNA was established 12 years ago. It is a strictly non-religious and non-political international organization with members and chapters in 22 countries. APNA's members first educate themselves in Punjabi by reading classical literature and poetry in weekly or monthly reading circle meetings. APNA is now trying to establish similar study groups in various cities in West Punjab. APNA has published a number of Punjab books by transliterating these books from Gurmukhi to Shahmukhi script and vice versa. APNA believes that education in native languages is a critical prerequisite for economic development, mass literacy and meaningful development of social sciences.
Ch. Itzaz Ahsan: Stressed that West Punjabi's are alienated from their own selves. No nation can develop without adopting its own language. He gave the example of Europe, which was in the age of darkness as long as there was the domination of Latin language. Only after they adopted their own languages they were able to make progress in sciences and literature. Every nation has its own language. Japan, China and other countries have progressed because of adopting their own languages.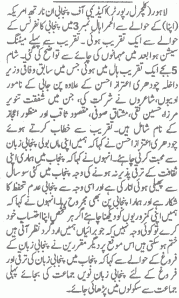 Punjab had for many centuries remained under constant attacks by foreigners, e.g., Persian's, Afghan's, Mughals and others. Punjabi's had always put up a strong resistance to these attacks as widely documented in the classical Punjabi literature. Nadir shah faced resistance at every step. King Baber could cross river Sindh only after failing to do so three times in the face of strong resistance by Punjabis. When Britisher's colonized Punjab, the land was distributed among a few favorites, as was the custom of prior invaders. They gave land to every one who helped them in sustaining their Raj. Then there were lotteries in 1950s in the form of settlements. The 1960s saw the emergence of permit lotteries. In 1970s there were lotteries to export labor to the Middle East countries. In 80s, there were the lotteries of heroine money and Afghan war. Pakistan came into being as a Muslim state but the ruling elite tried to convert it into an "Islamic State' hence we lost our identity. Punjabi's must develop their identity as Pakistani's and Punjabi's.
Maqsood Saqib: It is true that Punjab had remained under attacks throughout its past history, but it didn't stop it from developing its own culture and traditions. People were fully living their lives and had developed their own language. Take the example of Baba Farid's poetry that was written almost a thousand year ago. Punjabi language during his time was rich and refined. This means that a rich Punjabi culture and language had already developed a thousand years ago. Not only that, this culture and its traditions had such vibrancy and continuity that successive generations of Punjabi's produced many towering men of learning as Baba Nanak, Shah Hussein, Bulleh Shah, Waris Shah and numerous others. The development of language is linked with people and their continuity in life and in their traditions. When Britishers came in Punjab, the land was measured and it got distributed. Britishers realized that land could be turned into a commodity. There came into being courts, land revenue departments and police stations. With Britishers also came the bureaucracy who has come from India where Britishers were ruling for the last two centuries. Then there was also the question of language. The bureaucracy of that time decided to impose Urdu language on Punjabis. Among them, Mr. Wilson was the only Commissioner who supported Punjabi. They didn't realize that teaching Urdu to Punjabi children is like teaching Bangali to Punjabi people.
We made Pakistan on a land but have laid down its basis on metaphysical. It is true that much work is being done in Punjabi but what is being done against Punjabi is far more.
Shafqat Tanveer Mirza: We have yet not been able to settle for our identification. Three different scripts are used when we Punjabi's meet and try to do something together. The main problem is of history for us. We start our history from 1947 or from Mughals or from Pathans. If we start from earlier times we are labeled as Russian or Indian agents. The Punjabi establishment does not own Punjabi. The whole problem is to own or disown. If we could own Puran Bhagat then we could also understand Tilla Jogian and Balnath. We could also understand that at Eminabad Baba Nanak had spent his nights and was imprisoned. We could then also understand Porous. The Iranian have accepted Porous long before us. We are caught in between the dilemma to own or disown. The Chinese traveler Hinsung had written that Lahore of 7th century was a big city. We could name our roads and cities on the basis that here in Lahore Baba Nanak had prayed for people. Here Bulleh Shah has passed chilla. The Lahore of 200 years back has disappeared. The first thing is history, second is geography and third is commitment. A while back, no body knew the poetry of Shah Hussein. Now he is the pride of Lahore after Data sahib. We have brought him from the past and connected him with the present. We can't talk about issues without fully understanding our history, our people and our tradition. We need to have our identification. The second thing is of political betrayal. With a conspiracy Bengali and Punjabis were pitched against each other in 1971 at the time of fall of Dhaka.
Col. Nadir Ali: Recited two of his poems about Punjabi.
Mustaq Soofi: He disagreed with some of the ideas earlier presented by Maqsood Saqib and said that by blaming Britishers we can not solve the problems we are facing today. Britishers rejected not only Punjabi, but also many other native languages like Bengali and many others. The question of why Punjabi finds it self in its current dilemma is much deeper. With the question of Punjabi language comes the question of Punjabi aristocracy. Although Britishers didn't adopt Punjabi language, they adopted Bengali in Bengal. The real issue is that Punjabi aristocracy was not willing to implement Punjabi. The whole thing should be seen in its proper historical perspective. The fact is that people were using and writing their languages but Punjabi aristocracy was not willing to accept it.
A debate is going on in the West about languages after the IT revolution and globalization. There are a number of languages that are facing the risk of dying. In a way this is the process of history. Why should we protest and try to keep our language alive? Because a language is not just a convenient mode of communications. It is actually our unique perspective of looking at things. Our language is our tool to understand things in our unique way. The death of one language is the death of this important tool. As an example, the concept of tree in Punjab is quite different from America. Language is a specific tool to develop our sense of the reality.
He also gave his views about electronic and print media. He praised the role of Punjabi singers for the promotion of Punjabi language. He praised Indian and London based groups and highlighted their contributions. He said that it is necessary that our language should remain in circulation. Quality will come later on. The position of print media is bad. In music the written words are not required while in journalism people must be able to read Punjabi.
He also criticized the debate that is going on in various Punjabi magazines about pure and simple Punjabi. He emphasized the need to have a Punjabi journal and said that with passage of time these problems will be automatically resolved. In private sector we could run a Punjabi magazine. The experience of daily Sajjan, although it didn't survive for too long, was not a complete failure. He said that our Punjabi intellectuals should not forget that we have to live here. This is a class society. We must communicate with those who are running the system. We can't succeed without convincing them. We should try to convince them that without Punjabi language Pakistan could be in danger. Adopting and developing Punjabi is beneficial for Pakistan.
In the end Manzur Ejaz thanked the audience on behave of APNA.

---