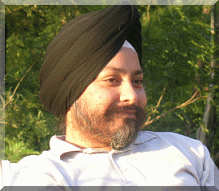 S P Singh, a senior journalist working in East Punjab and a regular contributor to APNA, has launched his personal website www.Penmarks.com. He introduces the APNA visitors to his website through this brief piece.
---
1. May 7, 2006: Pakistan wants trade? Fine, I have my half-brick! When can we start?
2. May 22, 2006: As India grapples with 'Naksal' problem, Balbir Parwana's book creates new waves
3. June 14, 2006: Pakistan delegate's tourist delight: cremation grounds!
4. July,12 2006: Communal and us? Radhe Shyam, Radhe Shyam
5. July,26 2006: THE TALE OF THE MUDDLE EAST
6. August,17 2006: Aisi Azadi Aur Kahan! Bus Yahan and Wahan. Same 2 Same
7. August,27 2006: Play The Shehnai, a Bharat Ratna has died!
8. May,04 2007: Listen to the cries at the gates
---