West Punjabis were the foremost losers of the script divide as almost all the Punjabi writers who migrated to East Punjab were well-versed in both Gurmukhi and Shahmukhi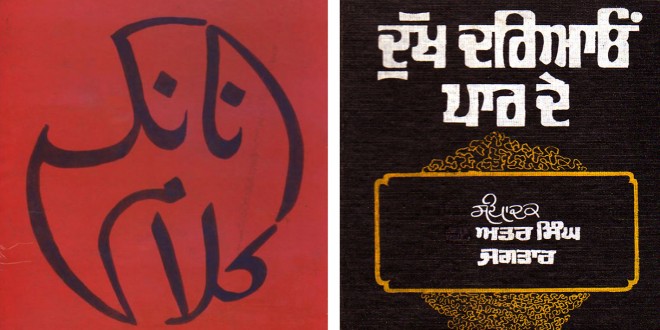 One language, two scripts, many religions and divided land; this is how the Punjabis had been decisively atomised by history. When the red clouds of partition cleared and Punjabis tried to make sense of all the blood and dust, literature became their only refuge. Laments were written and stories told, narrating a collective sense of grief and shame but partition of the scripts didn't even let them cry together. West Punjabis were the foremost losers of the script divide as almost all the Punjabi writers who migrated to East Punjab were well-versed in both scripts, Gurmukhi and Shahmukhi as Urdu and Farsi were compulsory subjects at primary level in public schools of the pre partitioned Punjab. On the other hand majority of the Pakistani Punjabi writers could only read and write in Shahmukhi.
So distances furthered, common literary heritage faced existential threat and coming generations of Punjab got alienated from their collective ethos.
But the language of Baba Farid, Guru Nanak and Damodar Dãs has something special about it. In the darkest of times and against all odds, it has had the resilience to survive. Soon after partition, this situation was realised and damage control was initiated. Darshan Singh Awãra's Baghavat (Rebellion), Mohan Singh's Savey Pattar (Green Leaves), Amrita Pritam's NaviN Rutt (The New Season) and Ahmad Rahi's Trinjan (The Joint) were the first few books to appear in both scripts and across borders.
In East Punjab systematic transcription of 'Pakistani Punjabi Literature' (PPL) started in the mid 1970s with the publication of  Dukh DaryaoN Pr Dey ('With angst from across the river': anthology of poems by 61 West Punjabi poets) edited by Attar Singh and Jagtar in 1975. The transliteration of this collection was done by Jagtar. He did transliterate a number of West Punjabi writers afterwards.
A decade later Punjabi got another group of passionate workers in the shape of Jatinderpal Singh Jolly, Karnail Singh Thind, Prem Parkash and later Talwinder Singh. Jolly was the Professor in School of Punjabi Studies, Guru Nanak Dev University. He completed his doctorate on 'Pakistani Punjabi Literature' (PPL) and transliterated many works of West Punjabi poetry and fiction. He used to transliterate books with the help of his wife Jagjit Kaur. He transcribed Afzal Randhawa's book of short fiction Rann, Talwãr te Ghorha(Woman, Sword and the Horse) which found a place in the university curriculum in East Punjab. Sufne Leero Leer (Shattered Dreams), poetic compositions of Pakistani poets about partition was another major transliteration he did. He used to credit Pakistan Television (PTV) for helping him learn Shahmukhi. Untill his death in 2009, he was actively pursuing new publications and authors.
But the language of Baba Farid, Guru Nanak and Damodar Dãs has something special about it. In the darkest of times and against all odds, it has had the resilience to survive.
Amritsar born Talwinder Singh (1955 – 2013) was an awesome friend of the West Punjabi writers. He was a versatile writer and had served as the office holder of many Punjabi literary organisations of East Punjab. His transliterated works included selected short stories of Anwar Ali titled Gurh di Bheli (The Sugar Lump) in 2006 and Zubair Ahmad's Meenh, Bohay tay BãriyãN (Rain, Doors and Windows) in 2008.
Ironically during his last trip to Lahore, he was stopped from crossing the Wagah border in spite of a valid Pakistani visa and the gifts and books he was bringing for his friends had to be left in cold hands. Later, Indian authorities returned the favour by rejecting visa requests of his West Punjabi friends whom he had invited to attend his daughter's wedding.
Prem Parkash, a renowned Punjabi writer, also introduced Pakistani Punjabi Literature (PPL) on the pages of his prestigious magazine Lakeer. Faiz Ahmad Faiz and Habib Jalib's Punjabi poetry was also transliterated. Balraj Sahni transliterated many poems of Faiz and Amarjit Chandan the Punjabi poetry of Habib Jalib and published it from Jalandhar in 2003.
Jinder, fiction writer and editor, is the new unifier of Punjabi literature after the sudden deaths of Jolly and Talwinder in road accident. His latest efforts include " 1947, Ujaaday Di Dãstãn" (1947: a story of devastation), a collection of short stories penned by Pakistani Punjabi writers about partition. He has also published Khalid Farhad's Vatãndra and Malik Mehr Ali's Dhaa Laggi Vasti in Gurmukhi. Latest issue of his magazine Shabd (The word) is dedicated to the fiction writers of West Punjab. As Pakistani Punjabi Literature is part of post-graduate Punjabi syllabus in East Punjab and many dissertations are done on it, there is hardly any notable West Punjabi book which is not published in the Gurmukhi script.
In West Punjab these efforts were reciprocated by Sibtul Hasan Zaigham, Ahmad Salim and Afzal Ahsan Randhawa. Then came Ilyas Ghuman, Iqbal Qaiser, Maqsood Saqib, Afzal Saahir, Javed Boota, Kitab Trinjan and APNA (Academy of the Punjab in North America). APNA published fifteen transliterated books from Lahore, out of which twelve were transliterated from Gurmukhi to Shahmukhi including works of Baba Nanak, Puran Singh, Balwant Gargi, Nanak Singh, Kartar Singh Duggal, Shiv Kumar, Pãsh and Surjit Patar. APNA also printed Mushtaq Soofi's Taa and Najm Hosain Syed's collected poems into Gurmukhi. Fictional works of Santokh Singh Dhir, Kulwant Singh Virk, Waryam Sindhu, Gurdial Singh, Dalip Kaur Tiwana, Davinder Satyarthi, selected poems of SS Misha and complete poetry of Pãsh were made available by Suchet Kitab Ghar.
Kitab Trinjan introduced us to Amarjit Chandan's essays and poetry and published selected poems of Lal Singh Dil. Akhtar Husain Akhtar's monthly LehrãN was the first to publish East Punjabi content and then Safir Rammah's Sãnjh became the only magazine published in both scripts in separate volumes with identical content, from Lahore and Ludhiana.
I hope that these bridges stay intact, the friendship lives on, the publishers on both sides start respecting copyrights and we the bare-footed, meshed hair Punjabis keep rejoicing every message transmitted from across our five rivers in the name of Bulleh Shah "PayroN Nangi, SirroN Jhandoli, Aaya Saneha PãrouN; Annhi Chunnhi Di Tikki Pakkay, Dayla Sandal BãrouN".