Celebrating Sajjan, a Punjabi newspaper that was closed down twenty two years ago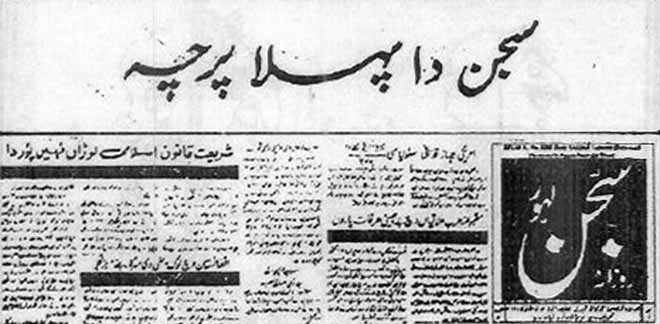 It seems unreal — a legend, a folklore or storyline of a cliff-hanger — that a Lucknow-born, Urdu speaking renaissance man leads a group of passionate volunteers to launch their first ever mother language Punjabi newspaper in the Farsi script. It was the unparalleled dedication and commitment of those young enthusiasts which changed the language scene in Lahore and veteran journalist and activist Hussain Naqi was the man. What a name they opted for: Sajjan (Friend, Partner, Soulmate), this Punjabi word makes me believe in love and life in the darkest of times.
Sajjan was launched on February 3, 1989 from Lahore with a meagre amount of Rs1,76,606 from ordinary Punjabi lovers. All the staff except a few office workers was voluntary and without allowances or perks. Many of them did day jobs in far-off cities, travelling hundreds of miles, spending from their own pocket and landing back in the Sajjan office every evening, working till late. For about 21 months they did this just for the sake of their mother language.
Ajeet Cour, a Lahore born, short story writer based in Delhi wrote about the endeavour, "I came to know about Zafaryab Ahmad, Jameel Paul, Iqbal Qaiser, Siddiq Babar, Abbas Ali Siddiqi, Ilyas Ghumman, Zubair Ahmad and other Punjabi enthusiasts who are working voluntarily for Punjabi newspaper Sajjan. In just eight months they are printing 30,000 copies and each copy is being read by forty odd people so their circulation has reached millions. Looking at their sincerity, dedication and passion, I wish to bow my head in respect."
This effort will have entered the history books if ancient Harappans were still alive or the land of five rivers had not gradually dried up. Thanks to Iqbal Qaiser's RãtãN HoiyãN VadyãN (Nights have got longer): Rvel publications, Lahore, 1992 that this love story is not all lost yet.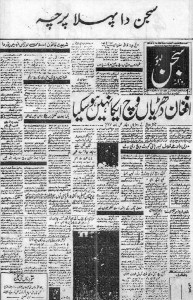 First newsprint of Sajjan.
Qaiser has done a great job by compiling the details immediately after the newspaper was closed down when all the memories were fresh and wounds open. He has not only collected day to day events but has also provided photographs, contributions and brief biographical sketches of all involved in this effort. They were from all over Punjab: Lahore, Kasur, Vehari, Sialkot, Toba Tek Singh, Sahiwal, Gujranwala, Faisalabad and Khushab to the name the few. But friend Akram Varraich and his Wazirabad topped the list; there were above twelve volunteers from that one city. Mushtaq Soofi took leave from PTV to work at Sajjan's editorial board and Zafar Jamal was there each evening after finishing his day at college. Najm Hosain Syed, Shafqat Tanvir Mirza, Cartoonist Feeqa, Painter Ahmed Zoy, Maqsood Saqib, Waseem Dukhya and only female volunteer Najma Parveen Najmi along with many of their comrades were Sajjan's support system.
Qaiser elaborates how the Punjabi elite shunned them when they knocked at their doors for support. He has named and humiliated them from Fakhar Zaman, Hanif Ramay, Meraj Khalid, Aitzaz Ahsan, Abida Hussain to the Sharif brothers. Eventually they turned to ordinary public for help and the response was awesome: a housewife sent Rs100, a school boy promised to buy Sajjan from his pocket money, a painter offered to paint banners for free, theatre director Huma Safdar and short fiction writer Zoya Sajid donated their gold jewellery and a gentleman from Karachi even offered to sell his kidney to help.
Sajjan was launched on February 3, 1989 from Lahore with a meagre amount of Rs1,76,606 from ordinary Punjabi lovers. All the staff except a few office workers was voluntary and without allowances or perks.
Back in those days, they had no telephones, no tele printers and no advertisements and within first four months initial funds were exhausted: "Very JãN Da Kull Jahãn Hoya, Sajjan Ik Nah Aadmi Shehr Da Ay" (Whole world has turned against me; I can't find a single friend here). Therefore, it was decided to print and appeal to its readers for their suggestions and help. Response was overwhelming, so price of the newspaper was increased, Sajjan committees were formed in all major cities and a street theatre play written by Raja Rasalu was launched to collect funds.
In those hard times alongside Benazir Bhutto's federal government it was Sindh provincial government who came to their support offering them advertisements till the end. If there was one discouraging hand it was the provincial government of Punjab. On the first anniversary of Sajjan one of the banner carried a slogan coined by Aslam Dogar Shukriyya Punjab Sarkaar, Ik saal wich Ik Ishtehaar (Thank you Punjab government for your generosity of giving us one ad in one year).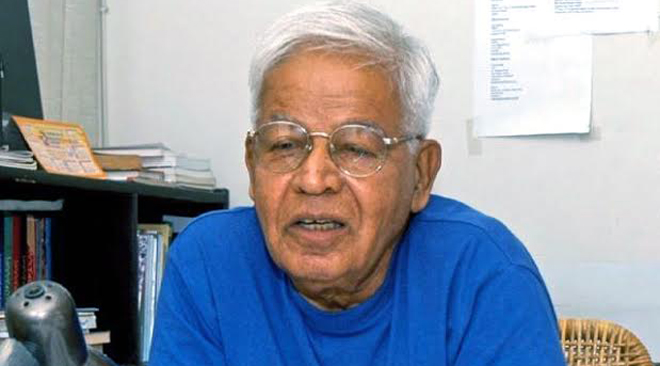 Veteran journalist and activist Hussain Naqi.
Sajjan also got support from National Press Trust and Syed Ajmal Hussain memorial trust but it was not enough to sustain the newspaper. The Marquezian moment was soon approaching and closure seemed inevitable. We experience a grievously sad scene when the final decision was made to seize its publication. Raja Rasalu is dragging himself downstairs, Iqbal Qaisar and Mustajab Gohar are sitting silently on the corners of the sofa and tears are flowing down their eyes and the reporting table is empty.
Was Sajjan an idea that never dies or failure of a community as a whole or success of the impossible? Will there ever be another Sajjan; who knows?
Sajjan was closed down twenty two years ago but we can still breathe the love and passion which was instilled in the air by those selfless Punjabis at the expense of their own lives, families and careers: "Tainu Hor Mandda Kee Bol ãN, Vay Taira Kittay Neoh Lag J ã'ay" (Let me wish you the worst, May you fall in love).