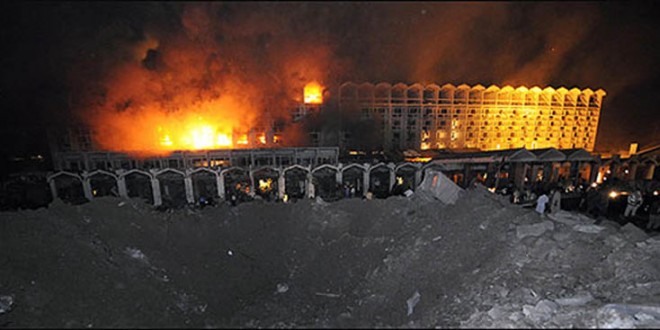 — Aamir Qureshi / Getty Images
Those were the days in Russia when St. Petersburg cuddled Osip Mandelstam, Anna Akhmatova, Marina Tsvetaeva, Nikolay Gumilev and Boris Pasternak in the glowing warmth of creativity and friendship. Language was the only deity and words the sole healers; poetic scene was all lush and green. But then came Stalin.
What happened after that is depressing, painful and disturbing. Brodsky's Peter became Leningrad, Mandelstam died at a labour camp, Tsvetaeva committed suicide, Pasternak was forced to decline the Nobel Prize, Nikolay Gumilev was killed by the firing squad and Akhmatova queued for years in front of a stone prison, pleading and carrying food for her son.
On one such day when the lips were blue with cold, out of hundreds standing there, an old lady recognised her and asked "Can your describe this?" and the Muse of Keening responded:
"Seventeen months I've pleaded
For you to come home.
Flung myself at the hangman's feet
My terror, oh my son.
And I can't understand
Now all's eternal confusion
who's beast, and who's man?
How long till execution?"
(From Requiem, translation: A.S. Kline).
It was the most brutal era in Russian history — state manufactured propaganda, poets were caged and killed and writers exiled. Elegies were written, life was lived for the sake of an obituary and poems only survived inside the hearts. Those found carrying an 'unwanted' verse were sent to labour camps. In the face of such brutality, poetry faced the ultimate challenge. When creativity becomes responsibility and poetry stands equal to truth, poets may be dejected but they do not surrender;
"Here's a woman-she's sick, bereft /Here's a woman with no one left. Husband's dead, and son is in jail, /when you pray, tell God my tale."
Akhmatova kept sobbing; "Like the wives of those the Tsar put to death /I will stand outside the Kremlin and howl."
This was the poetry which Seamus Heaney credited while composing Bloody Sunday's and Good Friday's "Yet there are times when a deeper need enters, when we want the poem to be not only pleasurably right but compellingly wise, not only a surprising variation played upon the world, but a re-tuning of the world itself". This is exactly what Osip Mandelstam did 79 years ago in his poem The Stalin Epigram and his life was seized; "Our lives no longer feel ground under them /At ten paces you can't hear our words/ But whenever there is a snatch of talk / it turns to the Kremlin mountaineer, /the huge laughing cockroaches on his top lip./ He rolls the executions on his tongue like berries." (Translation by Brown and Merwin)
Mandelstam believed that poet is a born democrat and his poetry must articulate the truth of his time, unedited and without any fear.
When so much is happening around, poetry can't stay on the sidelines. It has to confront not only its own lyrical sweetness but the standard tools of writing. This is the time when a new poetic idiom, a new world of expression, which may contain the destabilising nature of truth and rawness becomes a necessity. In the words of Wilford Owen, the English war poet, "Above all I am not concerned with Poetry. My subject is war, and the pity of war. The poetry is in the pity."
This narration of blood and loss can only be narrated by those artists who are capable of capturing the world in its totality and the poetry which not only contains an atmosphere but a meaning as well. When The Paris Review interviewer asked Pablo Neruda about political poetry he replied, "Political poetry like love poetry can not be forced because it then becomes vulgar and unacceptable. The political poet must also be prepared to accept the censure which is thrown at him, the blame of betraying poetry, or betraying literature."
In Pakistan, lots of anti-terror poetry has been composed since 9/11 and the labour is still on. Each new collection carries this theme, which should be an encouraging sign for the doubters like me that contemporary poetry has finally linked itself to its time and age. But while reading first few lines of any such poem all aspirations shatter and each verse shamefacedly admits that I am forced, soulless and superficial if not utterly fake.
Bulk of such poetry seems to be written by one single individual who is writing with different names and just for the sake of fashion like demand market poetry of Jashan-e-Azadi and all the religious events, full of clichés and without any intellectual or emotional richness.
On our travel from St. Petersburg to Lahore one needs a generous heart to say that Pakistani poetry and its art stood equal to the challenge imposed on it by guns and the gunners. On hearing that Joseph Brodsky is also captured and sent to a labour camp Akhmatova said, "What a biography they're fashioning for our ginger-haired boy!" She knew more than others that the great literature is always biographical; it details not only an individual but his time and history.
Has the Pakistani poetry of the last decade even been biographical enough to create a new poetic idiom? Why this ruthless and brutal decade failed to produce a single Seamus Heaney, Wilfred Owen or Yannis Ritsos. Brutality of the partition did produce Faiz and Amrita Preetam's master pieces but when societies like ours start seeing a poet not as a saviour but an outcast, they will only get what is being thrown at them.
When I feel buried under the mountain of fake garbage, a soulful couplet arrives from Shoaib bin Aziz, an aboriginally local, fresh and enriching, affirming that local is capable of articulating the global. With the brevity of a lyric this couplet captures the decade of terror and tyranny with a grievous mix of prayer and lament; let's join him " Meray Lahore par bhi ik nazar kar/ Tera Makka rahay aabaad Maula."