As WW1 centenary commemorations end, here's the second and last part about the unique insight this war provided into colonial duplicity and local suffering, and the Punjabi folk lore it generated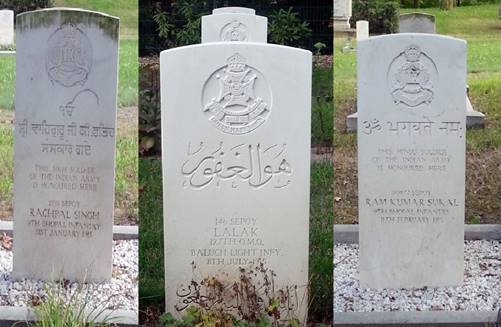 Graves of Indian soldiers who died in WW1, POW Camp in Berlin. Zehrensdorf Indian Cemetery. Wünsdorf, Germany. — Photo by Ali Raza

Only the dead have seen the end of the war, said Plato. I thought that my war lament had ended with my August 3 feature 'From the War Front' but it didn't. Ghosts of the forgotten soldiers wandering in foreign lands, pleading to be remembered, kept haunting me and the inconsolable Punjabi folklore never stopped grieving: ChithyaaN Bayrang Bhayjda, KehRi ChaoNi Lawa Liya NãvaaN (I am receiving under stamped letters; I don't know where had he got recruited).
Why would someone write two pieces about a foreign war and about those individuals who had been forgotten even by their own families? A war that provides unique insight into colonial duplicity, misplaced loyalties, local sufferings and even post-colonial militarised attitudes deserves to be fully analysed. This was the war where highly sophisticated propaganda techniques were used to make locals believe in it.
War Loan posters by Punjab War Loan Committee in Urdu stating "Mulkee Khidmat Sachi Ibadat Hay" and "Qaumi Khidmat Ka Nadar Ma'oqa" details the extent of this spin. Punjab War News Association was established in 1915 and colonialists funded newspapers and special periodicals as their publicity organs. Haq (its circulation in Urdu, English and Gurmukhi reached over 77,000 by 1918) and magazines like Jatt Gazette and Punjabi Bhain (Punjabi Sister; it was published to convince Punjabi women of war 'benefits' and 'patriotism') demonstrate the dark art of British Raj.
Why the rugged and barren Salt Range that provided majority of the war recruits and the fertile Multan Division is not anywhere on that 'honour' list confirms the economic side of the recruitment. My own village Padhrar (Soan Sakesar Valley, District Khushab) provided 291 recruits out of some 600 total males of military age. Those illiterate peasant boys who didn't even know how to read a map got recruited for as low as eleven rupees a month and sent across the black waters to kill and get killed: Sutta Uthya Makai KoloN: Rabb Karray Laam Turuttay MuR Aaway Bambai KoloN (He woke up sleeping by the corn filed, I pray for the war to end so he comes back from Bombay before sailing abroad).
Although officially conscription was never introduced in the Punjab but Michael O'Dwyer, the then Lieutenant Governor of the province (Irishman, who was assassinated by Shaheed Udham Singh in 1940 for his endorsement of Jallianwala Bagh massacre) was brutal in his pursuit. On May 4, 1918 in a meeting in the University Hall, Lahore, O'Dwyer doubled the annual offerings of recruits from the Punjab increasing it from 100,000 to 200,000 a year and insisted that nine-tenth of these would be for combatants and that it would not shrink from introducing conscription, if the men could not be got in any other way: Boota Pakya AmbiyaaN Dã/ Tur Gya Laam Tay Channa, Dahda Rãj FarangyaaN Da (Mangoes are ripe but my darling has gone to the war, [ah!] this ruthless British Raj).
In all the collected War folklore from the Punjab, these soldiers are silent but they spoke their hearts out in the prison camps of Berlin.
Each district was awarded a quota and an army of local landlords, pirs (spiritual leaders), tehsildaars, police inspectors, numberdaars and patwaris was sent out hunting. Even a proxy system developed in the Punjab, whereby a prosperous villager would buy a poor neighbour's son and donate him to the recruitment centre as his own contribution. In some cases women of the unwilling men were humiliated and kidnapped. In Multan the water supply to the land of many villages was discontinued because they were unable to reach the recruiting target. There were divisional and district recruiting officers and provincial and central recruitment boards helped by unofficial private recruitment parties.
O'Dwyer was aided and assisted much more than his expectations by his local agents spread all over the Punjab. His main aids were Sardar Gajjan Singh of Ludhiana, Malik Amin Khan of Attock, Chaudri Lal Chand of Rohtak, Sayyad Mehdi Shah of Lyallpur, Umar Hayat Tiwana of Shahpur, Maharaja Bhupinder Singh of Patiala and Sardar Raghbir Singh of Amritsar who used all methods to get the required bodies for the empire.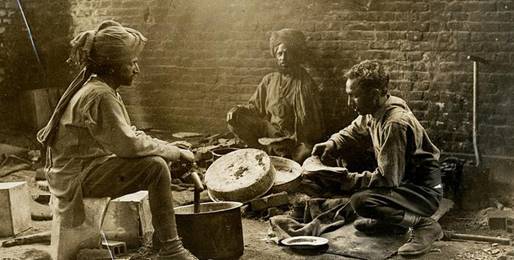 As WW1 prolonged and fight intensified, recruitment demand increased and coercive intimidation soared. Moreover, soldiers at the war front had already started discouraging new recruits. Havaldar Abdur Rahman of 59th Rifles from France writes to Naik Raj Wali Khan of 31st Punjabis, Balochistan on May 20, 1915: "For God's sake don't come, don't come to this war in Europe and tell my brother Muhammad Yaqoob Khan for God's sake not to enlist. If you have any relatives, my advice is don't let them enlist. I write so much to you as I am pay Havaldar and read letters to the double company commander. Otherwise there is a strict order against writing on this subject. Cannons, machine guns, rifles and bombs are going day and night just like the rains in the month of Sawan. Those who have escaped so far are like the few grains left uncooked in the pot. In my company (out of 100 men) there are only ten men left; in the regiment (out of 2500 men) there are 200."
This coercion was resisted in the Punjab mainly in Shahpur and Dera Ghazi Khan Districts. Villagers of Mardwaal, Rangpur Bhagour, Lak and Midh Ranjha challenged colonial agents. A tehsildaar (Syed Nasir Hussain Shah) on a mission to get the recruits from Bahak Lurka (Bhalwal) was killed brutally and his assistant injured. An effort was also made by the villagers to register and report these forced recruitments. There are hundreds of petitions in the Punjab archives, Lahore addressed to the deputy commissioners across the Punjab complaining that their boys had been forcibly taken away by the recruiting parties. Most pleaded to the 'Sarkaar' for the safe return of their sons.
Soldiers on the war front were paid much less than the British, Australian or Canadian soldiers. Besides, they faced racial hostility as well. This became more evident after the surrender of Kut (Kut-Al-Amara) by the British army in 1916. General Charles Townshend who commanded Indian troops in the 1915-16 Mesopotamian campaign and led the Kut surrender wrote: "Indian troops are utterly unfitted for modern conditions of war under periods of great stress. In stress or siege they lose spirit quickly. The British soldier is simply splendid, the more trouble increases, the more cheery he gets."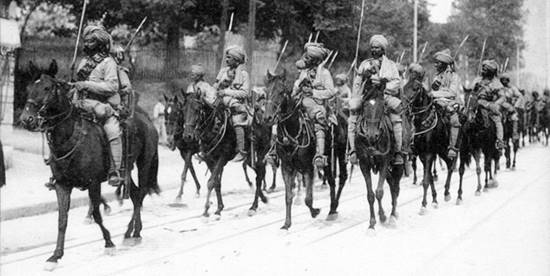 Sisir Sarbadhikari, a Bengali ambulance driver who was also captured in Kut, narrated this racism in his WW1 memoir In Abhi Le Baghdad [On To Baghdad; Calcutta, 1958]. He wrote: "white or British soldiers are behaving very badly with the black or Indian sepoys; they're even beating them! They say that it is because of the Indians that they lost at Kut! It's unimaginably vile. The astonishing thing is that even when complaints are taken to the British officers, they do nothing. The whites are sitting in comfort in the lower deck; every one of them has space to sleep. We're on the upper deck — there's no roof over our heads, and we scarcely have enough space to sit" (Translation: Amitav Ghosh).
In all the collected War folklore from the Punjab, these soldiers are silent but they spoke and spoke their hearts out in the prison camps of Berlin. Germans allowed these Indian soldiers to record their feelings in their native languages to collect samples of dialects for linguistic and racial research.
One of the most grievous and touching recording is that of a twenty four year old Punjabi prisoner Mall Singh recorded on December 11, 1916. He reads his Punjabi poem like a lament or a VaiN (mournful cries).
Mall Singh's recital pauses can make any heart sink; he talks about himself as someone else:"Aik aadmi see, Sair makhaN khaanda see, Do sair dudh peenda see, Uss nay AngraijaaN kee naukri kee, Oho Aadmi Europe Ki LaRai main Jao Ga, Uss aadmi nu Germany nay qaid kar liyya, O India Jaana chahnda hay, O Hindustan jao ga, Us ko oho khaana millay ga, abhi tin barras ho ga'y haiN, daidh do saal o aadmi, Ithay hor reh gya taaN, oh aadmi marr jao ga" (There was a man, who used to eat butter in his India, He also drank milk, He joined the British Army, and went into the European war, Germany captured this man, He wishes to go to India, He wants to go to India, He will get the same food he had in former times, Three long years have passed, If this man is forced to stay here, for two more years, he will die. (Translation: Santanu Das).
The ordinary boys of the land who joined someone else's war on behalf of their employer and died in the bloody battles of Gallipoli, Ypres, Neuve Chapelle, Loos, Kut and evaporated in the barbaric death marches of Mesopotamia have yet to find the peace. They are pleading to be remembered as ordinary human beings who went into this war employment forced by their un-education and deprived economic classes. These peasant boys of their mourning mothers were born to die homeless: Neer AkhyaaN Di Sukk Gai Ay / Gaddi Teri Chann Dhola, Jaa Basray Ruk Gai Ay [My eyes have dried-up and your train has ended up in Basra, my darling (never to return)].