In an old Irish folk tale, a questioner asks Finn McCool: "Tell us Finn, what is the best music in the world?" After a long pause, Finn replies: "The music of what happens". The man, who composed, analysed and amplified not only the music of what happens but the music of what might happen died on August 30 in Dublin at the age of 74.
Seamus the famous as he was known among his friends was the greatest poet Ireland has produced since WB Yeats. He was so famous that Dublin literary circles used to joke that Heaney doesn't have a postman but a postvan for the delivery of his posts. He was a master poet, a Nobel laureate and the unrooted son of Bellaghy.
He was a legend in the world of literature but a farmer's son at heart. "I live in the city and Heaney lives in the countryside, in the memory and elsewhere," he told a reporter once."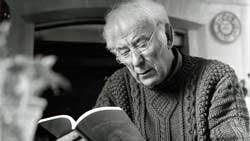 Heaney was born at a Mossbawn farm in Bellaghy, Co Derry (Northern Ireland) on April 13, 1939, the eldest of the nine children of "an ever growing family" as stated in his Nobel lecture. He attended St. Columb's College in the city of Derry; the move which he would describe as "from the earth of farm labour to the heaven of education". In 1957, he joined the Queen's University, Belfast and later taught at the same campus embarking on a lifelong academic career which included Professorship of Poetry both at the Harvard and the Oxford.
Heaney was awarded the Nobel Prize for Literature in 1995 "for works of lyrical beauty and ethical depth, which exalt everyday miracles and the living past". When asked how it felt having his name in the Irish Nobel pantheon featuring William Butler Yeats, George Bernard Shaw and Samuel Beckett, Heaney responded: "It's like being a little foothill at the bottom of a mountain range. You hope you just live up to it. It's extraordinary."
Although he accepted that Nobel Prize is a life-changing event, he was never affected by that status like his close friends and fellow Nobel laureates Josephy Brodsky and Derek Walcott. Replying to a question just after the Nobel announcement, he responded: "This is the way I have lived since I began to write since last thirty years so my writing plans haven't changed, my circumstances have changed with so many interviews." He was awarded the Commandeur de L'Ordre des Arts et Lettres (Commander of the Order of Arts and Letters) from the French ministry of culture in 1996.
His other accomplishments include: Golden Wreath of Poetry (2001), TS Eliot Prize (2006) and two Whitbread prizes (1996 and 1999). He won honours from Trinity College Dublin in 2012 when it named one of Ireland's most prestigious academic appointments after him — the Heaney Professorship in Irish Writing at Trinity College Dublin. Heaney had twelve collection of poems to his credit these include 'Death of A Naturalist', 'Door Into The Dark'. 'Wintering Out', 'North, Fieldwork', 'Station Island', 'The Haw Lantern', 'Seeing Things',' The Spirit Level', 'Electric Light', 'District and Circle' and 'Human Chain'.
I met him last year at the Dalkey Book festival where he had a poetry reading session. This was one of his last public appearances. It was a full house and he mesmerised the audience with his delivery and his poetry in his so loving native Northern accent. He looked tired and fatigued. Among the attendees was Bono the U2 singer who regarded Heaney as "a great, great poet who changed his life".
No poetry reading was complete without him reading his masterpiece 'Digging' from his debut collection 'Death of a Naturalist'. In the poem he recalled his father and his grandfather cutting turf and scattering new potatoes. He remembered the "cold smell of potato mould", "the squelch and slap of soggy peat", but lamented that he had no spade to follow those men winding with a remarkable poetic prophecy:
The cold smell of potato mould, the squelch and slap
Of soggy peat, the curt cuts of an edge
Through living roots awaken in my head.
But I've no spade to follow men like them.
Between my finger and my thumb
The squat pen rests.
I'll dig with it.
He wrote his first poems under the pseudonym of "Incertus" which means uncertain and "uncertain I was" he once said: "It was after reading Ted Hughs and Patrick Cavanagh that I thought that this material of my own from my county Derry is workable." He moved from North to South in 1972 and that's where he committed himself to poetry and allowed himself to be called a poet. "To me it's a very large word 'Poet' and to think and allow yourself to be called poet is to consecrate yourself. I think it's very serious," he said in an interview.
Poetry for Heaney was about time, place and memory. The troubles in the North did influence his poetry which he discussed in detail in his Nobel lecture. His two remarkable poems about his second cousin Colum McCartney who was killed by a group of loyalist paramilitaries in random sectarian assassinations in 1975 sums up the twenty years of killings and the caste system Heaney went through during his stay in the North. Heaney missed the funeral due to a Literary festival which he lamented in his book Station Island's poem "Station Island, VIII" in the voice of his cousin who then directly accuses him of having aesthetically prettified his death in the earlier elegy ('The Strand at Lough Beg'; Field Work)
You confused evasion and artistic tact.
The Protestant who shot me through the head
I accuse directly, but indirectly, you
who now atone perhaps upon this bed
for the way you whitewashed ugliness and drew
the lovely blinds of the Purgatorio
and saccharined my death with morning dew.
('Station Island', VIII)
He was unapologetically Irish and despite his love for rural south Derry, boglands and "the north", he spent much of his life in Dublin. Ironically, as he himself admitted, there is not a single poem inspired by the city of his residence. In 1983, he expressed his strong national identity in a fall-out with poets Andrew Motion and Blake Morrison who included him in The Penguin Book of Contemporary British Poetry. Heaney responded in An Open Letter, a 198-line poem: "Be advised, My passport's green. No glass of ours was ever raised, To toast the Queen," and then almost 30 years later, Heaney did in fact raise a glass to toast the Queen during her historic visit to Ireland in 2011.
Heaney once quoted what he had translated from Oedipus at Colonus by Sophocles when his friend the great Polish poet Czes?aw Mi?osz died in 2004. Telling the story of the old king who dies and vanishes into the earth, the play's messenger says, in Heaney's words: "Wherever that man went, he went gratefully."
Mahmood Awan is a Punjabi poet who works and lives in Dublin. He can be reached at mahmoodah@gmail.com