Lahore Lahore Aye: The old Radio days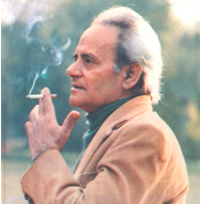 By A Hamid

The old Lahore radio station no longer exists except for those of us who spent our early youth in its studios and corridors. It lay in an old house next to Shimla Pahari at the back of Governor's House. I had visited it two or three times before Pakistan. There are only two people whom I can recall from that time. One was music composer Jivanlal Matoo and the other Akhtari Bai Faizabadi (later Begum Akhtar). Also Matoo's wife, the sweet-voiced Madhuri, who was a classical singer. But their faces are now wrapped in the mist of time.

After moving from Amritsar to Lahore in 1947, the radio station became one of my hangouts. I had by now begun to write fiction. Off and on, I would be asked to draft a speech, feature or even write a play. I had several friends at the station, among them, Shad Amritsari, Akram Butt, Razi Tirmizi, Saleem Shahid and Aklaq Ahmed Delhavi.

What a place it was! Those who wrote for it or appeared in its programmes included literary greats as Imtiaz Ali Taj, Abid Ali Abid, Rafi Peer, Hafeez Jullandhari and Tajwar Najibabadi. And what an array of artists the Lahore station had: Mohni Hamid, known to all children of the day as Apa Shamim, Sultan Khoosat, Mirza Sultan Baig and Salim Tahir. And then there were the legendary announcers Mustafa Ali Hamdani, Azizur Rehman and Akhlaq Ahmed Delhavi.

The station had two entrances, but one was always kept locked, which was where Bashir the betel leaf man was headquartered. He knew everyone who worked at the station by name. The other gate was for visitors and staff, guarded by a man named Sher Muhammad. Artists and actors used tongas to get to work, while the station director owned the only car which would be parked in the front porch. The road that ran in front of the station remained practically deserted all day long. Lahore was a very quiet city in those days.

All programmes went live. Qadeer Malik and Altafur Rehman specialised in providing sound effects. Great musicians like Bade Ghulam Ali Khan, Umeed Ali Khan, Barkat Ali Khan, Roshan Ara Begum, Bhai Lal regularly performed from the Lahore station. The canteen was housed in what was the garage, which was where we would sit on benches drinking tea. The annual two-day spring concert was the high point of the year, with the first evening devoted to light and the second to classical music. During the rainy season, the jaman trees that stood on the lawns would bear fruit profusely. I recall Sufi Ghulam Mustafa Tabassum picking up the fallen fruit from the ground, wiping it up with a handkerchief and exclaiming, "Yaar, they are really sweet". He would sit in a small room which was where a chair was also laid out for me when I was engaged as a staff artist. That was a great privilege. Sufi Sahib would sometimes recite a Persian couplet and then explain what it meant. What I learnt from him I have never forgotten. It was here that I met for the first and last time Rafiq Ghaznavi. He was a distinguished looking man and a charming conversationalist. By then he was past his prime and his temples had greyed.

Saleem Shahid, whom both Anwar Jalal Shamza and I knew, was posted to the station as assistant director and we began to spend much of our time in his room. He was born a Hindu but had converted. In winter, he would have a log fire going in his room and we would sit in its warmth, sipping tea and smoking. I recall our group going to Regal to watch Tennessee Williams' A Streetcar Named Desire starring Marlon Brando and Vivian Leigh. Shad Amritsari's room was on the first floor, which was where I saw Umrao Zia Begum, Master Ghulam Haider's wife, for the first time. When I was a child, her naa't, Mera Salam lai ja, Yasrab ko jaanay walay was very popular. Her dholak duets with Shamshad Begum were also very popular, all broadcast from the Lahore station.

And how can I forget Ayub Romani, the tall, handsome Kashmiri from Lahore who was the life of the station. He had learnt classical music from the great Bhai Lal Amritsari and though he did not sing himself, so respected was he by musicians that they would often come and ask for his advice. The fact is that only those people used to join radio in those days who had a longing for the arts and who had fire in their belly. It wasn't just a job for them but something much more. What they earned wasn't much, but they would not have traded their job at radio for anything. Ayub Romani once told me a story about Ustad Barkat Ali Khan. Khan Sahib on return from Calcutta brought a woollen shawl for his wife. "I made the fatal mistake of asking what I owed him," Ayub recalled. "That brought tears to the great Khan Sahib's eyes and he said, "Ayub Sahib, I took you for my son, but you turned out to be an afsar". So moved was he by the memory of that encounter that tears welled up in his eyes, which he quickly dried with a handkerchief that he pulled out of a pocket and said to the peon, "Son, go and get us a full set of tea".

And how can I ever forget Abdul Shakoor Bedil, our Tea House companion and poet? He was at Government College when I met him. By the way, he was the elder brother of the famous film music director, Khayyam. Shakoor had a fine voice and being mystically inclined, he liked singing kafis. He also lent his voice as playback in a couple of movies made after independence.

He started out as a sharp dresser, known for his well-tailored suits, but then a change came over him and we would only see him in homespun cotton. He had also taken to praying regularly in the small mosque next to the station.

He left Lahore because his children had moved to Karachi. On a visit to Karachi, I went to the radio station to look up my old friend Inam Siddiqi, who phoned Shakoor, "Khawaja Sahib is here from Lahore," he said. In minutes he was there. I noticed that he had greyed. We embraced and talked about the old radio days in Lahore. When I was leaving, he sighed and said, "Khawaja Sahib, this world is so transitory. One can only pray that God will be kind to us and forgive us our trespasses." I asked him to read me some of his poetry, which he did. I returned to Lahore and when someone told me some time later hat Abdul Shakoor Bedil had died, his words began to ring in my ears. Was that his way of saying goodbye, I wondered?

A Hamid, distinguished Urdu novelist and short story writer, writes a column every week based on his memories of old Lahore. Translated from Urdu by Khalid Hasan.