Lahore Lahore Aye: The Lahore of 1947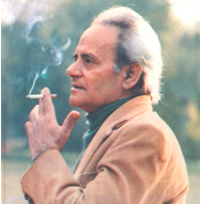 By A Hamid

The Lahore of 1947 was an entirely different city from the one in which we live today. When my family arrived as refugees from Amritsar at Lahore Railway Station, Muslim League volunteers received us on the platform. There were huge quantities of food that had been brought for the arriving refugees. We were asked to exit the station from a side gate. When I asked why we could not go out from the main one, a volunteer replied, "Because the Sikhs have been firing at it from the Shaheed Ganj side." "We fled from Amritsar after Dogra troops moved into the city, but it seems we've not been able to escape the enemy."

Outside the railway station, two bodies lay on the road, a common sight in those days. Where so many hotels stand today, was open area with 'mobile' barbers plying their ancient trade on one side of it and some teashops and eating places doing a brisk business on the other. Cots and bedding could be hired for the night at these roadside places by those who had nowhere else to stay. My father had remained in Amritsar because he did not wish to abandon our ancestral house. People like him were still unaware of the political reality that had overtaken us all. In the end they were forced to come to terms with it. While most of those who had arrived with us were escorted to a refugee camp, my family took a tonga to Wassanpura where my older sister lived. There were green fields all around that neighbourhood in those days. What is Shadbagh today did not exist.

I would go to the railway station every other day to see if any member of the family was on the train from Amritsar. It was always a harrowing sight. Trains that would come from Ferozepur contained mostly brutally murdered Muslims. I once saw blood dripping from some of the carriages. The dead bodies would be pulled out and loaded on to carts and taken away for burial. On one platform I once saw groups of Hindu and Sikh men and women. They looked terrified, but mercifully no harm came to them and they got on a train bound for Amritsar.

We eventually moved from my sister's Wasanpura house into a decrepit place in Faizbagh. On the lower storey lived another refugee family. We had no personal possessions at all and the entire family slept on the floor. Mother still had some money from her savings in Amritsar, which we spent on buying food.

Half the houses in Krishanagar lay abandoned. Qilla Gujjar Singh, where many Amritsar refugees had settled, was still largely empty. You could get into any unoccupied house that you liked. Their non-Muslim owners had fled and left everything behind. Looting was rampant. We would listen to the radio playing in a neighbour's house, our ears glued to the wall. The majority of Amritsar people had begun to move into the Gawalmandi area, but we preferred Faizbagh because we liked the green fields that lay around it. Gawalmandi streets were quite clean then, not as they are today. Outside Gandhi Park, labour leader Bashir Bakhtiar's brothers had got themselves an oil-compressor unit. A number of teashops and eating places had also come up in Gawalmandi, all run by Amritsaris. That was where my restaurant-going days began. I had yet to move to Pak Tea House.

I would sometimes go the office of Zamindar on McLeod Road, which was where I saw Maulana Zafar Ali Khan for the first time. He had grown very old. That is also where I met Haji Laq Laq and Ashraf Ata. Zahoorul Hasan Dar, my Amritsar friend, had found a job in Zamindar. As you entered the newspaper's office, to the left was Maulana Akhtar Ali Khan's room. He was the Maulana's son and the editor. Abbot Road, despite Nishat and Capital cinemas, wore a forlorn look. Rattan cinema had just been built, but its Hindu owner had fled to India without ever having seen it being formally opened. The moviemaker Dilsukh Pancholi lived in front of Capital cinema. The old radio station lay next to Shimla Pahari, and not far from it in an old house, the government set up the army recruiting centre. The newspaper Imroze was housed next to Nishat cinema in a printing press that used to belong to a Hindu who had left. This press was allotted to a journalist who had no experience or knowledge of how to run a press. Half the premises were occupied by a transport company. Maulana Chiragh Hasan Hasrat, the Imroze editor, always treated me kindly whenever I went there. Abdullah Malik was a handsome young man then and Hamid Akhtar had a full head of hair. They were both on the Imroze staff.

The Mall had little traffic. I always felt, when there, as if the curfew hour was about to begin. The Civil and Military Gazette and its printing press were housed in a veranda-fronted building. The nameplate of Rudyard Kipling was still nailed to one of the doors. Down the road towards Lower Mall, next to Coffee House, was Sunrise Building, one of whose large shops had been allotted to the famous Sheikh Sadiq Hasan family of carpet merchants from Amritsar. Carpet weavers who used to work for the family in Amritsar could be seen lounging about in front of Sunrise Building, hoping for employment when the family resumed its old business in Lahore. The Sheikhs had also been allotted a large house close to the Secretariat that used to belong to a Hindu carpet merchant. There were more carpets stocked in that house than the family ever had in Amritsar.

In front of the Coffee House was Commercial Building. The Edulji wine store occupied the right corner, next to a toy store where Saadat Hasan Manto would often come to chat with the owner. Most Commercial Building shops were now owned by people from Amritsar. The nearby Tollington Market was where much of Lahore's Christian community shopped. The majority of people bought their vegetables and fresh produce, not from stores, but wheelbarrows that were to be found everywhere. Punjab University and the Oriental College did not have many students. I would see them in small groups, boys and girls, sunning themselves on the university's lawns. The Punjab Public Library at the back of Tollington Market was a nice, quiet place. No street noises disturbed the concentration of its scholarly visitors. Some non-Muslims had refused to leave Lahore. I can still hear the voice of this old woman I saw in Gawalmandi, her head stuck out of a first floor window, screaming, "I am never going to leave Lahore. People say we are going to be killed, but I am staying right here. I will not abandon my home."

And therein lay the great human tragedy of 1947.


A Hamid, the distinguished Urdu novelist and short story writer, writes a column every week based on his memories of old Lahore. Translated from the Urdu by Khalid Hasan.