Lahore Lahore Aye: It was always tea-time in Lahore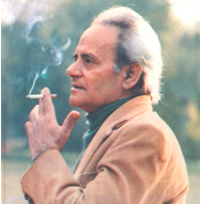 By A Hamid

My old Lahore is Lahore as it was on the eve of partition and in the first few years after independence. The pre-Pakistan Lahore is vivid in my memory. I remember walking through the narrow bazaars of Shah Alami where the agreeable smell of foodstuffs and produce was always in the air. So narrow were some of the streets that I once saw a tonga getting stuck in one of them. The scene changes. I am standing outside Lohari Gate. A slim young man with blond curly hair wearing a brown suit shakes my hand: he is the Hindi poet Raj Baldev Raj.

As you entered Anarkali, to your left was a Sikh-owned sweetmeat shop whose lassi was much prized. The only hotel in Anarkali I remember is Nizam Hotel and its big sign. Close to where the Lahore Hotel stood, there was a Hindu-owned hotel whose name I do not recall. Actually, it was more a dhaba than a hotel. There were tiny wooden cabins where customers sat and where I once saw the famous humorist and newspaperman Haji Laq Laq. In Gowalmandi Chowk, if one approached it from the Islamia College side, there was another hotel with a sign that said, "Drinking permitted on the premises." I never went inside. Another place I remember was a teashop on Fleming Road where tea used to be prepared on coal-fired braziers, the owner sitting cross-legged on a jute mat. There were a couple of tables and chairs inside the shop. The magazine Shahekar, where Raj Baldev Raj and I worked, had its office in a street facing that teashop and it was convenient for us to come here for a hot cup. The mixed tea –called dhood patti these days – served there was delicious.

I can recall every Lahore hotel and restaurant from the early days of Pakistan. Let me begin with Pak Tea House. When I first saw it, I noticed that its sign had been crudely painted over. The word India had been replaced with Pak. I don't know how Pak Tea House became the hangout of Lahore's writers. In late 1947 or perhaps mid-1948, four brothers - Alim, Siraj, Sadiq and Hamid - who were refugees from India got India Tea House and Cheney's Lunch Home allotted in their names. Sadiq got the Cheney's Lunch Home, though it was Hamid who ran it, while Siraj and Alim ran what they renamed Pak Tea House. Alim was the keeper of my secrets because some girls used to phone me here. He was a man of literary taste and if Nasir Kazmi or Shohrat Bokhari arrived late some morning, I would drink my first cup of tea with Alim, which he would prepare with great aplomb. A small radio on the counter used to be tuned to the listeners' request programme from the Lahore station.

Off and on, some professors from Government College and a few students, including girls, would drop in for a cup. Everyone minded his or her own business and if a girl came looking for her friend, nobody showed any sign of jealousy. The regulars included Ashfaque Ahmed, Munir Niazi, Anjum Roomani, Qayyoom Nazar and Sajjad Baqar Rizvi. We would spend most of our time here, only going for a walk through Anarkali or down the Mall now and then. The violence of partition was still very fresh in our memories and people would talk about the horrors they had seen. I remember Nasir Kazmi saying, "There used to be a shady neem (margosa) tree in our courtyard in Ambala and it would bear fruit in spring that we would eat with great relish. On the roof-top, I had pigeons of every variety. Before we left, I set all the birds free, but when I took a last look at our home before turning the street corner, I found all of them perched on the parapet."

Coffee House across the street had its own crowd, mostly made up of lawyers, politicians and journalists. The atmosphere was intellectual and journalistic. Conversation used to revolve around politics and newspapers and their editorial policies. The leading lights of Coffee House were Maulana Chiragh Hasan Hasrat, Abdullah Butt, Riaz Qadir, Jamiluzzaman and Meem Sheen. Sometimes, Hamid Nizami would saunter in. Before Pakistan, it was India Coffee House but India had been painted over with the word Pakistan.

While Nasir Kazmi would walk across from Tea House to chat with Riaz Qadir, I would stay away because - having known the far superior coffee of Rangoon, Pondicherry and Singapore - I did not like the coffee with the burnt taste it served. Abdullah Butt's wit was famous. He was a sparkling conversationalist, as was, of course, Hasrat. Once when Hasrat's order had been delayed inordinately, the manager asked him if it was the white-bearded waiter he had placed his order with. "Maulana," replied Hasrat, "when I placed my order, his beard was black." The Coffee House is long gone and it is only the memory of the place and those who frequented it that a few of us still retain.

Then there was the Nagina Bakery which was the hangout of Lahore's intellectual heavyweights such as Maulana Salahuddin Ahmed, Dr Syed Abdullah, Dr Ashiq Hussain Batalvi, Bari Alig and Abdullah Qureshi. It did not survive for long after partition. The famous Lahore restaurant Lorang's on the Mall was a cool and sophisticated place. It served the best tea in town and was one of Hamid Nizami's favourite haunts. Its closure was a sad day for the city. Shezan was an aristocratic place and so was its clientele. The Pak Tea House crowd stayed away from these places. Anwar Jalal Shamza lived right behind Shezan and he it was who had designed the Shezan lettering that is still in use. The S was identical to the S with which he signed his paintings. There was also Stiffles, which was a popular bar before partition. It is the same site that made way for Casino and Lord's in the 1950s and 1960s. In the Regal Chowk, there stood the famous Standard, owned by a Hindu gentleman everyone called Paul. Across the road was another popular restaurant of the 1960s: Gardenia. Where Wapda House now stands, once stood Metro, where there was ballroom dancing on weekends. The famous cabaret dancer, the lovely Angela, used to perform there. To beat the prohibition, beer was served in teapots. None of the restaurants that I have written about are any longer in existence. Today there is not even one decent tea place in Lahore, which says something about the city and how it has changed. Who would say it has changed for the better?

A Hamid, distinguished Urdu novelist and short story writer, writes a column every week based on his memories of old Lahore. Translated from Urdu by Khalid Hasan.