Lahore Lahore Aye: Reliving old times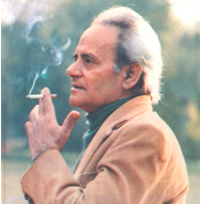 By A Hamid

There used to be a laundry in this city on Hall Road. The year I think was 1948 or 1949. There was a lot of glass in that place, owned by a middle-aged man with a beard. I don't think he had much by way of hair on head. His name I no longer remember, but there was always a smile on his lips. He flitted around his shop like a firecracker that has been shown the flame. The ironing was done behind a curtain in the shop's rear. For some reason we called him Maulvi sahib. He was my friend Anwar Jalal Shamza's discovery. We were both rather sharp dressers and most particular about the crease in our trousers as much as our starched shirts. I don't think I have worn better-ironed shirt than the ones Maulvi sahib's magic hand returned. A shirt laundered by Maulvi sahib was so perfectly starched that one could wear it for days without a single crease appearing anywhere.

Maulvi sahib spoke Urdu and was a poet. He also wrote a lovely hand. On the bill that he would prepare, there would always be a verse, written in the Naskh calligraphic style. He would read it out before handing us the bill and ask with a childlike smile, "Well, how do you like the verse?" I used to live in Park Misri Shah and I would bring my laundry all the way from there to the Maulvi sahib's place. I think we paid no more than four or six annas for an item of clothing and there were never enough customers at the Maulvi sahib's laundry, but he always looked happy. Sometimes, he would say to me, after scribbling a verse on plain sheet of paper with a pencil, "I will get your laundry while you read this." On the walls, he had hung framed verses of Iqbal, Rumi and Hafiz. The laundry no longer exists, nor the building where it operated from. Whenever I pass that way, I think of the Maulana and remember the care and artistry with which he used to do our shirts and the verses he used to regale us with.

Shamza lived in a street off Beadon Road, just at the back of Shezan restaurant. His flat was on the fourth floor, on whose wall hung his paintings. He it was who designed the sign that hangs outside Shezan and appears on their beverages. To this day, it is unchanged. That is how he wrote his 'S'. One day he said to me, "I have sold my signatures today." Whenever I pass by Shezan – only one of which has survived – I think of Anwar Jalal who lies in a far-flung English graveyard. The two of us would walk to the Mall and sometimes at the fruit juice stand run by a Pathan gentleman, we would see Saadat Hasan Manto sipping a drink. We would greet him respectfully and he would ask us how we were. We would listen to his entertaining conversation for a while and then take our leave.

Lahore was a city without scooters and rickshaws in those days. The tonga was the principal means of going from one place to another. Not many of them were to be seen on the Mall either. The footpaths that lay on either side of the Mall had few pedestrians. The trees, which are now permanently coated with dust used to be lush green, their leaves shimmering and dancing in the sun. When I look at them today, I find it hard to believe that they are the same green beauties I used to admire and walk under in 1949-50. I no longer recognise them and I am sure they no longer recognise me.

On our way to Pak Tea House, we would stop at Ashfaq Ahmed's Dastan-go, the magazine he used to publish. We never stayed long as it was our custom to have the first cup of the day at Tea House. That was how our day began. On arrival, we would order a half-set of tea and feel truly happy when it was served, as if we had just come upon a treasure. We smoked but only sparingly, savouring every puff that we inhaled. The linkage of smoking with cancer still lay far in the future. Ashfaq was not a Tea House habitué as we were, but he would turn up there once a day. Like the rest of us, his only means of transport were his feet, but after he bought his first bicycle, he would use that to ride from his home on Mozang Road to the Dastan-go office. He later shifted to Samnabad where he lived for many years before moving to Model Town.

Shamza and I would also peep into the General Post Office on our way to Tea House to say hello to our friend, the short story writer Nawaz. We would find him stamping outgoing mail, but one look at us and he would leave work and join us for a cup at Tea House. I also knew many teashops in Lahore where strong, thick, boiling tea was poured into your cup from a kettle. This heady brew is what keeps long-distance truckers awake. A particular teashop in a narrow Akbari Mandi bazaar, which was run by an Amritsari khalifa, was another haunt of mine. It was frequented by many from that beloved city of ours that now lay across the dividing line in India. The khalifa, a handsome Kashmiri, who also used to run a teashop in Amritsar's Market Hukam Singh, loved people from his city of Amritsar who reminded him of life and times as they were before the division of the country.

Another such teashop existed in Pani wala talab, next to the clinic of poet and writer Hakim Zafar Askari. I remember visiting him once on a very cold day and walking into the room where he saw his patients. Its warmth and snugness I can still feel in my bones. My family at the time lived in an old, crumbling allotted house in Shisha Moti bazaar. Only a few lanes lay between our house and that of Muzaffar Ali Syed, another Amritsari. All the residents of that neighbourhood were East Punjab refugees, including an old man whose son Rafiq had been killed during the riots. He still asked everyone in a faint, trembling voice, "Has Rafiq arrived from Patiala or not?"

Iqbal said that the only permanence in life is change, so all that I have written here has changed, passed into oblivion, but not for me. For me the old Lahore lives and I am often there, walking down the Mall with Anwar Jalal Shamza on our way to Pak Tea House, but not without peeping into Dastan-go's second floor office next to Regal Cinema, just to see if Ashfaq Ahmed is in.

A Hamid, distinguished Urdu novelist and short story writer, writes a column every week based on his memories of old Lahore. Translated from Urdu by Khalid Hasan.