Punjabi Baithak In Tokyo
Picture Gallery
K.Ashraf, Malik Habib-ur-Rehman, Hafiz Fakhuruddin Manzur Ejaz,. Atiq-ur-Rehman, Tauseef Aized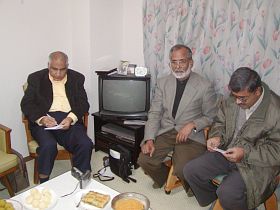 K.Ashraf, Malik Habib-ur-Rehman, Hafiz Fakhuruddin Dr. Manzur Ejaz, Dr. K. Ashraf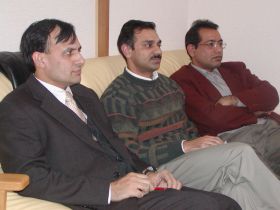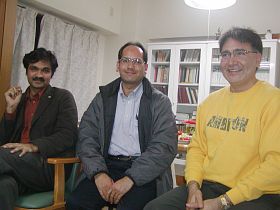 Mr. Hadi, Dr. M. Awais and Mr. Tauseef Aized Dr. Arshad Ali, Dr. Atiq-ur-Rehman, Dr. Gurbakhsh Singh
Report
On December 17, 2004, a Punjabi Baithak was organized in Tokyo by APNA members and friends Dr. Arshad Ali, Dr. Atiq-ur-Rehman and Dr. Gurbakhsh Singh. The chief gusts were of Dr. Manzur Ejaz and Dr. Khwaja Ashraf Ali from the USA who were on a visit to Japan. The main topic of discussion was Baba Bulleh Shah. The venue was the residence of Dr. Gurbakhsh Singh who welcomed all with great hospitality, love and affection. The participants included researchers, poets and writers living in Tokyo area since many years keeping alien cards in their pockets.
Dr. Manzur Ejaz talked about Baba Bulleh Shah in particular and Punjabi literature in general. He started from Baba Farid and ended up with Khawaja Farid while talking about the Punjabi literature in the historical perspective. His emphasis on Baba Bulleh Shah was very informative for all of the participants.
On the other hand, Dr. Khawaja Ashraf kept the gathering live with his humors. He also stressed the participants to grasp the knowledge whatever type it is.
Malik Habib-ur-Rehman, Secretary General of Pakistan Association Japan, also discussed the social aspects of Baba Bulleh Shah's poetry and regarded his way of expression unique from others.
Finally Dr. Gurbakhsh Singh enlightens the gathering with his thoughtful speech covering Baba Farid, Baba Gurunanak and Baba Bulleh Shah. He also recited the poetry of Baba Bulleh Shah.
The snacks including samosas, mithai (sweets) and dinner with chapatis, curries and much more made this gathering a real Punjabi Baithak. After the success of this mini gathering there are high chances of arranging a major Punjabi Conference in Tokyo in 2005 for those who missed out this opportunity to quench the thirst for Punjabi Language. The five (PUNJ) of 2005 would be ominous for Punjabi in Japan. (Report by: Arshad Ali, Tokyo, Dec. 20, 20004).
Back to

Home Page