150th Session of reading and understanding of "Saiful Malook" organised by Punjabi Sufi Sangat was held in National Press Club, Islamabad. It was presided by Sahibzada Mian Muhammad Sajid of Darbar Khari Sharif. Huge gathering of Hazrat Mian Muhammad Bakhsh's admirors was present in the function.
Speakers paid rich tribute to Hazrat Mian Muhammad Bakhsh, the Great Nineteenth century Punjabi Sufi Poet of Punjab and Kashmir, who wrote 17 books in Punjabi and one in Persian. Qamaruz Zaman Kaira, former fedral information minister addressed the audience and said that we have focused our all energies to make our children a doctor, an engineer or a businessman etc but unfortunately we are ignoring one major element i.e., we are paying no attention to make them as good humanbeings which could ultimately help constituting a civilised community. He also said, this element only can be developed with the help of Sufi poetry which talks about tolerance and human love.
Renowned Journalist Aslam Khan said that whenever he feels down or depressed he starts reading the great book "Saiful Malook" of Mian Muhammad Bakhsh to get relief. Hedoesn't need any medicine. He gets energy from it to raise his soul.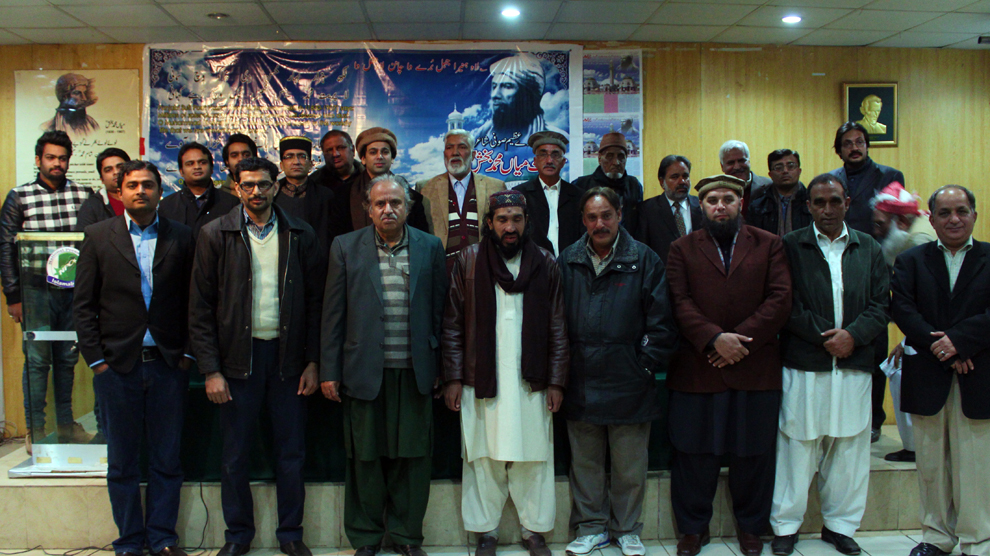 Prof. Ashiq Hussain described the history of Reading and Understanding Sessions of Saiful Malook. He said that three years back the first session of Reading and Understanding Saiful Malook was started under the aspicious guidance of Prof. Saeed Ahmad, writer of Great Sufi Wisdom books. Briefing on how these sessions are conducted, he said that Prof Saeed Ahmed brings a few pages of the book in the corrected printed form and distributes them among the participants of the gathering. Each participant reads those pages to practice reading skill of Punjabi and after finishing this reading session, Prof. Saeed Ahmad starts to explain the apparant as well hidden meanings of the poetry of Hazrat Mian Muhammad Bakhsh. Though the poetry of this great Sufi saint is of the highest accolade and to interpret the poetry is not easy job even then such gatherings are blessing at present time.
Irfan Ch, Irfan Ahmad Kiani, Raja Muhammad Akram also addressed the gathering. The programm was conducted by Basit Subhani.
Prof. Saeed Ahmad told the gathering that he is following the tradition of Punjabi Sangat, Lahore which is organised by the most devoted person Najam Hussain Hussain Syed who is well-known Punjabi poet, writer and critic.
Prof. Saeed mourned over the indifferent attitude of Punjab, Kahsmir as well as Fedrel Governments who are completely neglecting Punjabi language, the great language of Sufi saints and 68% population of this country. He lamented on the attitudes of these governments and said that disrespecting Punjabi language means disrespecting 120 millions Punjabi speaking Pakistanis. People of Punjab, Kashmir and Hindko-speaking areas of KPK should be taught the poetry of these Sufi saints. Poetry of Baba Farid Shakar Ganj (1175-1265), Baba Guru Nanak, Shah Hussain, Sultan Bahu, Bulleh Shah, Waris Shah, Hashim Shah, Malvi Ghulam Rasul Alampuri, Khawaja Ghulam Farid of ChachRaaN Sharif and Mian Muhammad Bakhsh of Jhelum-Mirpur, Pir Mehr Ali Shah of Golra Sharif, Sain Ahmad Ali Sain Peshaweri is full of Divine love & tolerance. Such pearls of wisdom and love were cornered and concealed by the British imperialists who believed in Divide and Rule. Such anti-masses policy ought to have been reviewed so that people of this country could trace their own roots from the wisdom of their real legends. It is the only solution to bring in united form the people of various regions who are badly divided into the various groups on the basis of caste, creed, athnicites, sects and colours. Prof. Saeed Ahmad also said that Punjabi Sufi poetry can mould the agressive and aimless mindset of our youth and guide them to be good human beings having great values of our these spiritual models. He also pointed out that unfortunately our Urdu TV channels as well as Indian channels along with Bollywood film industry are inculcating those Western cultural traditions in the minds of our youth which absolutely do not match our cultural and spiritual values.

Punjabi Sufi Sangat is a weekly (every Thursday evening from 6.30 onward) gathering at the Writers's House, Pakistan Academy of Letters, Islamabad, where Punjabi Sufi poetry presently Safr-ul-Ishq (commonly known as Saiful Malook) is read and interpreted. In the gathering, participants from twin cities (Rawalpindi & Islamabad) actively participate in the above mentioned acitivities.