AUTHOR: Shiv Kumar Batalvi (1936-1973) - Poet of melody
Dawn: July 28, 2002
By Safir Rammah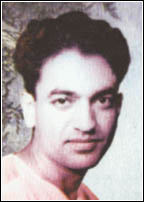 Lyrical sweetness - the magic touchstone of poetry - found a permanent home in Punjabi poetry more than a millennium ago. While Baba Farid (1173-1266) wrote most of his Punjabi poetry in the melodious two-line metre of dohras, many major Punjabi poets that followed him explicitly set the lyrics of their poetry in well-defined ragas of classical Indian music. Punjabis relate to their poetry primarily through singing. Whether it is Baba Nanak's saintly verses, Bulleh Shah and Shah Hussain's kafis, Sultan Bahu's baits, Waris Shah's Heer or Mian Muhammad Bakhsh, Khwaja Farid and Sachal Sarmast's enchanting poems - the depth and meanings of their poetry are primarily experienced through the powerful feelings brought to life by a master singer.

Shiv Kumar Batalvi's poetry gained immense popularity in the same old-fashioned way. During his brief lifetime, he mesmerized packed halls of audiences in kavi darbars by singing his poems in a tender and agonizing high-pitched tone. The unparalleled emotional intensity of his lyrics soon made them a popular choice for dozens of aspiring, as well as, well-established Punjabi singers. He is now, rightfully, the first and only modern Punjabi poet who receives the same level of reverence and adulation from the singers and listeners of Punjabi poetry that so far has been reserved for the great Sufis.

Ironically, he is still an unknown entity in the country of his birth - Pakistan. Where many enjoy the dazzling renderings of his poems by Nusrat Fateh Ali Khan (Maaen ni maaen mere geetan de nainaan wich birhon di riRk pave), Jagjeet (Main ek shikra yaar banaya), Surinder Kaur (Ni ek meri akh kasni) and others, without realizing that they are listening to the poetry of perhaps one of the greatest modern poets of the subcontinent.

Shiv was born in Bara Pind Lodhian, tehsil Shakargarh, district Narowal (which is now part of Pakistani Punjab) on July 23, 1936. His father was a patwari. After partition, Shiv's family migrated to Batala. By the time he reached the final year of BA at S.N. College Qadian, writing poetry had become his all consuming passion. He left college without completing his bachelor's degree, lived a bohemian life and literally burned himself out by writing most of his best poetry in a phenomenal creative outburst of less than ten years.

He published his first collection of poetry A Handful of pains at the age of 24 in 1960, followed by Lajwanti and Loonan in 1961, The sparrows of kneaded flour in 1962 and Bid me farewell in 1963. Invocation, the last collection of his poetry, published in 1971, contains poems that were mostly written between 1963 and 1965. He was awarded India's coveted Sahitya Academy award in 1965.

This poet genius discovered his exceptional gift and true calling early in life. He never cared much about a career or success in a worldly sense. After leaving college, he roamed aimlessly in Batala for many years. His early admirers were the relatively affluent grain merchants of this dusty town. He would spend his evenings reciting his mystifying poetry to them. They were the ones who introduced him to kavi darbars around Punjab, as far as New Delhi. Shiv eventually took a job as a patwari. Well known for his fascination with the birds, trees and thorny plants of Punjab's landscape, working in the open fields as a patwari turned out to be the most productive period of his poetry writing.

He married in 1967. His wife Aruna was a Brahmin from district Gurdaspur. He had two children, Meharbaan (b. 1968) and Puja (b. 1969). In 1968 he moved to Chandigarh where he was employed as a bank clerk in the State Bank of India. Shiv went on a long trip of many months to England, Canada and the United States in 1970. He was in such high demand that he was routinely offered 500 pounds or more for an evening of poetry recitation in small gatherings in private homes. That didn't mellow down his usual sharp criticism of people living 'normal' and content lives. "They are all hungry for pounds and dollars and act like they have conquered London and New York," he complained to his close friend and famous writer Balwant Gargi on his return.

Talking to his friends and colleagues, one finds many anecdotes about his non-conformist social behaviour, his constant tussle with the established Punjabi literary elite of his time, his unique social commentary but not much about his reading or research interests. Like Sa'adat Hasan Manto, he had only the basic formal education, but was yet intuitively and expertly able to pinpoint the fault lines in the social structure at large. Shiv was very well versed with the classical and modern Indian literature - that is about all we know.

Although Shiv had become a legend in his lifetime, he remained an anathema for the poets and critics of his generation. In the aftermath of extraordinary disruption caused by the partition of Punjab, poetry of disillusionment, despair, rage and self-criticism, coloured with left-wing ideology, was in vogue in East Punjab. Shiv stayed clear of all political, social and ideological debates of his time. Oblivious to the criticism hurled at him as a hopeless romantic by the exponents of social-poetry, he immersed himself in writing passionate and captivating poems about the firestorm of love for life raging in his heart, blended with acute pain at failing to experience the extremes of its potential for beauty and magnificence.

The two main currents of classical Punjabi poetry, celebration of life in folk songs and search for its higher meanings in the Sufi tradition, are seamlessly blended in Shiv's poetry. His purely secular search for higher elevations of life experience follows the same deliberate process of deprivations, sufferings and pains that was the sufi's chosen path to ultimate salvation.

For example, his poem 'Shikra', made famous by Jagjeet's mesmerizing voice, explores the classical Sufi theme of "death before dying" in a modern context. The poem begins with the description of a handsome, free and fearless shikra

Maaen ni maaen/Main ek shikra yaar banaya/Ohde ser te kalghi/Ohde paireen jahnjar/O chog chugainda aya
...Ek ohde roop di dhup takhairi/O dooja mehkan da tirhaya

(Oh, my mother/I befriended a she-hawk/On her head she wore a crown/On her feet anklets/Hither she came picking her feed

...Her beauty was drenched in warm sunlight/Oh, she had a fragrance all her own)

Then comes the moment of transformation when he is smitten by Ishq:

Ishqe da ek palang navari/Assan chandiniyaan wich dhaya/Tan di chadder ho gai maili/Oss per ja palanghe paya.

(A string-cot of love/I decked with sheets all white/On which I lay like another sheet stained/Wherein she got her foot entangled)

The enormity of this complete transformation and what may lie ahead of him brings tears to the eyes of the narrator:

Dukhan mere nainan de kohye/Wich har hanjuan da ayaa/Sari raat gaee wich sochan/Oss eh ki zulm kamaya.

(Grief then washed my vision away/Eyes swelled like rivers in flood/All night I in deep thought lay/What curse, what spell on me she cast)

Nothing can now bring Shikra back to his old carefree self:

Subah sawairey ley nee watnan/Assan mal mal oss nohwaya/Daihee de wichon niklan chingaan/Sada hath gaya kumlaya

(Early morn she readied to leave/Rubbing with hands I bathed her clean/Her body fire did emit/Leaving my hands scalding)

Shikra thus enters a new state of being and a point of no return:

Chooree kuttan taan o khaonda naaheen/Assan dil da maass khawaya/Ek udaree oss aisee maree/O mur watnee naa ayaa

(Sweetbread she wouldn't eat/I fed her the best of my heart's cut/Then flight she took at once/And was never seen again)

Such powerful imagery, metaphors of nature as living and breathing reflections of life and a deep and unbearable sorrow are hallmarks of Shiv's poetry. The dichotomy of acute longing for everything beautiful that life has to offer and the heart breaking pain of failure to fulfil this yearning is the main subject of his poetry.

Umaran de sarvar/Sahvan da paani/Geeta we chunj bhareen (Sacrifice to a lifetime/A breathful of water/Song, take in your beak) - begins another poem, advising the singing bird to drink every drop from the running stream of life. It ends with a sad reminder of the poet's own failure at living the life to its fullest: Hara we oye/Naa tun tirhaya/Mere wang mareen (Hark and listen/Don't you dare/Die in anguish like me)

Baba Farid had declared "Birha" (the pain of separation from a loved one) the king of emotions (Birha birha aakhiye, birha toon sultan). In the annals of Punjabi poetry, it found its most profound expression in Shiv's lyrics. No wonder that the first encounter with Shiv's poetry invariably brings tears to the eyes of listeners - for its overpowering sheer beauty, not just for the deep emotions it stirs.

From age 28 onwards starts a sort of slow breakdown process that ended with his death. He started talking about his desire to die soon. He was among those writers who live their life to such a level of intensity, that once they lose interest in living, it becomes simple for them to end it on their own like Ernest Hemingway or Mustapha Zaidi. "I don't want to die an old man," he would say to his friends, "One should learn how to die from the flower of cherry that drops off at the height of its bloom." Another of his famous poem begins with the following lines:

Siker dopeher ser tey mera dhal chalyaa parchawan/ Qabraan udeekdiyan mainun jeyoon puttraan nun maanwan.

(The hot afternoon sun has shortened my shadow/Grave prays for me like a mother for her son to come home)

Death at a young age was a recurring, almost obsessive, theme in Shiv's poems. Assan te joban rutte marna/Tur jaanan asaan bhare bharai (I'll die in my spring's delight/Leaving the world in full bloom) or Eh mera geet kisse na gaana/Eh mera geet mein aape gaa ke, bhal ke nu mar jaana (This song of mine no one shall sing/This song of mine only I shall sing and die) and other invocations to an early death can be found in many of his poems. True to his words, He died in 1973 at the young age of 36.

Writer's email: rammah@apnaorg.com
---
Follow-up letters published in the Dawn, August 10, 2002
(1)
Modern Punjabi literature cannot be viewed in any meaningful way without including Shiv Kumar Batalvi's exquisite and immensely significant body of work. Safir Rammah's observations on Batalvi's poetry are perceptive, thoughtful, and even thought provoking. Unfortunately, the embarrassingly unpoetic, incorrect, and at times absurd translation, was a grave disservice to the poetry of Batalvi as well as to the points made by Mr Rammah. No one reading this translation is going to think "Wow! what a wonderful poet this is!". And that should be the goal.
One hopes that you will continue to educate your readers about Punjabi writers - but with justice to their work.
SUMAN KASHYAP
California, USA
(2)
With reference to my article on Shiv Kumar Batalvi (July 28), I greatly appreciate that you took the time to provide an excellent translation of Shiv's verses that were quoted in the article. Allow me to bring to your attention a discrepancy in the translation of Shiv's famous poem "Shikra".
In classical Punjabi literature, there is a well-established poetic tradition that sometimes the poet assumes a feminine identity while addressing his beloved. It is commonly used in sufi poetry to emphasize the poet's complete submission and devotion to God. Both in sufi poetry, as well as, in the lok and popular songs, it opens up an extra dimension and rather charming possibilities for the poet to express his feelings.
For example, while using the symbols of Heer and Ranjha, it is common for Punjabi poets to write poetry in the role of Heer.
Ranjha Ranjha kerdee nee main/Ape Ranjha hoee
Repeating the name of Ranjha/I have become Ranjha myself (Bulleh Shah)
The refrain - Mai Nee Mai - is almost always an indication that the poet is writing in his feminine role.
Shiv, like many other modern Punjabi poets, has selectively employed metaphors and poetic traditions of Punjabi classical poetry. A number of his poems are in the form of a geet or a song. In his poem "Shikra", the shikra (falcon) is a male and the poet or narrator of this poem a female. Shiv has used masculine pronouns and verbs in all references to shikra. The repeated refrains "Mai Nee Mai" and "Nee main waree javan" clearly establish that Shiv is writing this poem by adopting a feminine identity.
The otherwise brilliant translation was marred by assuming shikra as a female (she-hawk) and caused a misinterpretation of the whole poem. I hope this clarification will provide a better understanding of Shiv's poem for your readers.
SAFIR RAMMAH
Fairfax, Virginia, USA

(3)
The translator replies:
The objections to "Shikra's" translation appearing in Mr Rammah's article on the poet Shiv Kumar Batalvi as a 'she-hawk' instead of his preferred 'falcon' seem banal at best. We are not told what would a she-falcon or a she-hawk be called in Punjabi, because as far as one knows the language, there is no such word as shikri.
Banalities aside, the point that like many sufi poets Batalvi sometimes also assumed the female gender is rather obvious and must be taken for granted for anyone acquainted with Punjabi literature. The obvious example of this is Batalvi's poem that runs thus:
Tussi kehRi rute aaye mere Ram ji'O
(Look, when you have come to me)
Now there are two ways of translating this poem in which a woman laments about the lover coming to get her 'too late'; too late meaning now it just cannot be anymore. The traditional way to interpret it would be the easier way out in which the girl's lament becomes her last cry. But Batalvi was the farthest thing from such mundane thoughts, let alone make them subject for his poetry.
His was a very contemporary idiom and sensibility, which sought something that would perhaps always elude human grasp; hence the tragedy. He was an existentialist and believed only in one thing with conviction: worthlessness of life, unless proved otherwise.
It would be unfair to read the sufi in his thoughts, for, like Manto, Batalvi had rather be called a rascal than a mystic. His bosom buddy, Balwant Gargi, would vouch for it any time. He lived life to its full, deceived and used girls (and perhaps boys) and got used by them, and, in the process, composed some of the best contemporary poetry in Punjabi. Punjabi has more than enough unsung heroes than it deserves, and if the living gurus of the language and its largely rustic literature cannot create a more contemporary idiom today the least they can do is not to masquerade some exceptional contemporary works as neo-classics. Batalvi would have hated this.
It was not Batalvi's fault, after all, that he was stuck with a language whose idiom has really not grown much beyond where the masters left it. Urdu, on the contrary, thanks to the Progressive Writers' Movement, managed to shed its rustic classical skin to some extent, and Majaz was able to express the same thought as that expressed by Batalvi in Tussi kehRi rute aaye, without having to switch the gender, by composing Ab mere paas tum aai ho to kya aai ho.
We need more people like Batalvi to take the language farther from where he left it. And those who still live in the trance of a classical idiom and sensibility are the least equipped to do so.
MURTAZA RAZVI
Karachi
BACK TO
HOME PAGE