FAZILKA'S EIFFEL TOWER

By Harjap Singh Aujla
South Asia Post: Issue 25 Vol II, October 15, 2006

Fazilka is a sleepy sub-divisional headquarter on the Southern tip of Ferozepore district close to the border with Pakistan. Before 1947 partition of Punjab, it used to be a thriving business center, but after the creation of Pakistan, it fell on bad days. The Northern big cities located along the Grand Trunk Road can be easily interlinked for television, telephone and radio services through inter-connecting terrestrial towers, but the Southern areas located in the Bhatinda, Muktsar, Abohar and Fazilka belt are difficult to connect terrestrially with Northern big city grid. Being at the South-Western corner of Punjab, Fazilka's location is quite remote from the point of view of superior quality sound and picture transmission linkage with Northern communication grid. Technically speaking Fazilka deserved a high standing self supporting tower of its own. According to stories published recently in some newspapers including "Ajit" and "The Tribune", Fazilka has finally got a 1000 foot tall self supporting communication tower. The reason I call it Fazilka's Eiffel Tower is that its height is comparable with the height of France's World famous Eiffel Tower. It may not be as beautiful.
Before we discuss the capabilities of this tower, it will be appropriate to share a brief history of broadcasting in Punjab. To the British Colonial rulers, Punjab was a province of extraordinary importance. Under the direct control of the Indian government, a central broadcasting authority called All India Radio was formed in 1936. In addition to the four metropolitan cities of Calcutta, Bombay, Madras and New Delhi the fifth and the sixth radio stations were opened in Lahore (Punjab) and Peshawar (North West Frontier Province). Originally all these stations were equipped with one 5 kilowatt medium-wave transmitter each. Between 1941 and 1943, these transmitters were replaced at each station with 10 kilowatt medium-wave transmitters. Theoretically the range of a 5 kilowatt medium-wave transmitter during day light hours is only 30 miles and the fringe area extends another 20 miles. This means that All India Radio Lahore with 5 kilowatts barely reached Amritsar, but after up-gradation to 10 kilowatts, it became local in Amritsar. On August 14, 1947 Pakistan got independence and from 15th of August, Radio Pakistan Lahore became a hostile station. This rang alarm bells in New Delhi and since high powered transmitters were unavailable in India, two low powered 1 kilowatt medium-wave transmitter each were dispatched to Amritsar and Jalandhar. Thus All India Radio Jalandhar-Amritsar came into existence. This arrangement continued for five years. Soon after independence the authorities in Pakistan increased the power of Lahore radio station from 10 kilowatts to 50 kilowatts. In 1953, All India Radio also installed a 50 kilowatt medium-wave transmitter at a place called Goraya, located equidistant from Ludhiana and Jalandhar. This arrangement continued until the nineties. Pakistan added a 100 kilowatt medium-wave transmitter to its existing 50 kilowatt station in Lahore in 1965. India opened a 1 kilowatt medium-wave station at Chandigarh in 1965. Another radio station was to be opened at Amritsar, but due to the 1965 war with Pakistan the idea was shelved. In the meanwhile Radio Pakistan and Pakistan Television Service increased its presence in the border areas with India.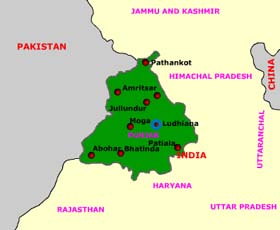 Radio Pakistan slowly and steadily kept opening new radio stations after independence in Rawalpindi, Multan, Bahawalpur, Faisalabad, Mianwali, Islamabad and Sialkot. Pakistan television also dotted entire border area with Indian Punjab with powerful transmitters. India started its second phase of expansion of broadcasting services in Punjab during the nineties. During the nineties both Bhatinda and Patiala got relay centers for Doordarshan and also got FM transmitters of All India Radio. The mother station at Jalandhar was up-graded with two high powered medium-wave transmitters along with a 10 kilowatt FM transmitter. All India Radio Chandigarh was strengthened with a 10 kilowatt high altitude transmitter at Kasauli extending its range up to 110 miles radius.
Punjab's border area was all along better served by Pakistan Television Service and Radio Pakistan and poorly served by Indian broadcasting services. Hence there was a need to strengthen All India Radio and Doordarshan services in the border belt. Sushma Swaraj was the first Union Minister of Information and Broadcasting, who realized that the entire border belt in Punjab was shabbily served by All India Radio and Doordarshan. She was surprised to find that Amritsar was served with a local quality radio service of Radio Pakistan Lahore and did not have its own radio outlet to be local in Lahore. She had two options. Either she could open four radio cum TV transmitting centers in Fazilka, Ferozepore, Amritsar and Pathankot. Or she could order the construction of very tall towers at Fazilka and Amritsar and serve Ferozepore and Pathankot from those two centers. She decided to have just two 1000 foot high towers at Fazilka and Amritsar. The one at Fazilka has just been completed and the one for Amritsar is yet to be built.
The 1000 foot high steel structure may not be as magnificent as the famous "Eiffel Tower of Paris". But it is almost as tall. Before the construction of the tower in Fazilka, the tallest tower in India was the Bombay Doordarshan Tower, which is 984 foot tall. The Bombay tower is supporting the antennas of several Doordarshan channels and accommodates a number of government owned and private radio channels. The Fazilka tower is as much capable. As I hear this tower will carry at least the National Channel of Doordarshan and perhaps one or two Punjab based channels. Its radio outlet will carry several FM channels. Within a sixty mile radius, its transmitters will cover most of Ferozepore district with the exception of Ferozepore City and cantonment area as well as Zeera Tehsil. These areas will be covered by Amritsar station. Fazilka tower will also cover Abohar Tehsil and Muktsar District in Punjab as well as Sri Ganganagar District of Rajasthan. All India Radio Bhatinda is a full fledged FM radio station. Considering the height of the Fazilka tower, a point to point linkage with Bhatinda tower is possible. This means that the Fazilka tower can pick up the signal of Bhatinda and relay it. We congratulate the people of Fazilka for earning this state of the art broadcasting facility and hope it will spread knowledge in the area.
[Writer and engineer Harjap Singh Aujla has done engineering calculations to determine the ranges and radius of coverage and are accurate. He can be contacted at 16 Junction Pond Lane, Monmouth Junction, New Jersey 08852, USA