Sukhbir
1925-2012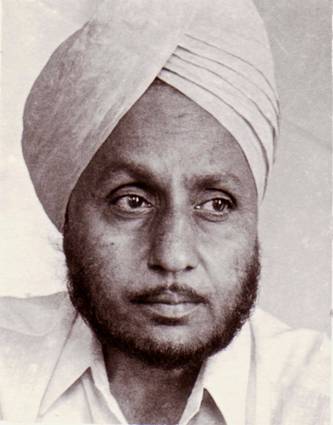 Sukhbir. Chandigarh. 1975
photo by Amarjit Chandan
unjabi writer Sukhbir, who has died aged 86, was a distinguished man of letters of modern Punjabi literature. He authored five collections of poetry, five novels and ten collections of short fiction. His first collection of short stories Dubda ChaRhda Suraj (Setting and Rising Sun) was published in 1957 followed by poems PaiRhãN (Footsteps) in 1958 and his first novel Rãt da Chehra (The Face of the Night) appeared three years later in 1961. His novel SaRhkãN te Kamrey (Roads and Chambers, 1970) captured life in metropolitan capitalism of Bombay.
He changed his name from Balbir Singh to Sukhbir when he was arrested in the mob of student unrest in Mumbai in 1950. While in jail in Nasik, to avoid governmental gaze, one of his editor friends in whose magazine his poems were about to publish, changed his name to Sukhbir.
Sukhbir's earlier schooling was done in his native village Beerampur near Adampur Jalandhar. His father being in Railways, the family was always on the moves. When he was in 6th class, they moved to Bombay. He did his graduation from Khalsa College, Bombay, after which he went to Khalsa College, Amritsar to do his post-graduation in 1958 where he earned the rank of university topper and a gold medal. At the same time he worked as a sub-editor of Preet Lari. Afterwards he moved to Bombay and started teaching Punjabi in Khalsa College. After some years he resigned from the post and lived earning his livelihood as a full time writer and translator.
He considered himself a rational Marxist writer opposed to Stalinist socialist realist kind of formula literature. He was close to the Communist Party of India and admired its imaginative leader PC Joshi.
He wrote poetry in blank verse with a certain rhythm on the lines of Neruda and Mayakovsky. He used to narrate how he once gate crashed the meeting held in honour of visiting Neruda where Ali Sardar Jafri had refused him entry. Later Sukhbir developed close friendship with Balraj Sahni, Rajinder Singh Bedi, Krishan Chander and Gulzar where they worked together in the local Punjabi Sahit Sabha. He also ghost-edited a Punjabi monthly Jivan (Life) published in Bombay.
Sukhbir translated many books of Russian literature from their English versions into Punjabi notably Tolstoy's War and Peace, Gorky's stories and plays, a part of Sholokhov's And Quiet Flows the Don and Paustovsky's book of essays The Golden Rose.
Being a recluse and self-effacing person Sukhbir always stayed aloof from literary cliques who controlled and ran universities and academies in Delhi and East Punjab. He hardly got any literary award. He refused an award in 1991 meant for 'writers living in India away from Punjab' instituted by East Punjab government's Bhasha Vibhãg – language department. The Russian embassy in Delhi used to honour the translators who translated Russian works into native languages of India with award plus a short-period travel to Russia. But, the corrupt bureaucracy led to some other writer getting the award that year, although the magnum opus Jang te Aman had come to the market that year only. Next year, the awards were terminated. After that, Sukhbir made a point not to receive any award whatsoever, nor attend any conference, seminar etc.
Not many people know that Sukhbir was also a very good painter, though he did mostly sketches. For this reason, his knack for visualisation penetrates and reflects his writings as well.
His wife, one son and two daughters survive him.
Balbir Singh Sukhbir, Punjabi writer born July 9 1925 Beerampur Jalandhar; died 22 February 2012 Mumbai