Lata Mangeshkar — the living legend
Part IX
Dr Amjad Parvez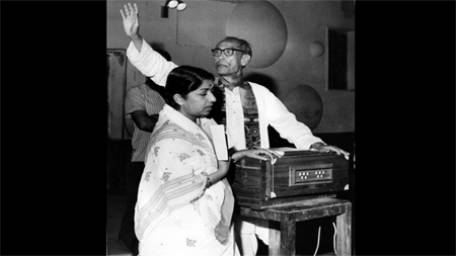 One of the main reasons of the success of 'Mughal-e-Azam' was its music, particularly Lata Mangeshkar's gems, 'Mohabbat Ki Jhooti Kahani Pe Roye, 'Pyaar Kiya to Darna Kya', Hamein Kash Tum Sei Muhabbat Na Hoti' in Raag Aimen Kalyan and 'Aei Ishq Yeh Sab Duniya Waley'. Another challenge that Naushad Ali met was for composing songs in Purbi language for director Nitin Bose's movie 'Ganga Jamuna' in 1961. This Dilip-Vyjantimala starrer movie was a colossal hit with Lata's 'Dhoondo Dhoondo Re Sajna' in Raag Pillu and 'Do Hanson Ka Jora Bicher Gayo Re'. Then Naushad composed for 'Son of India' in 1962, not a commercial success but I remember it for Lata-Rafi's duet 'Dil Toreney Waley Tujhey Dil Dhoond Raha Hei'. The 1963 H. S. Rawail's movie 'Mere Mehboob' based on Muslim social with pretty Sadhna, Rajender Kumar, Ashok Kumar and Nimmi was a huge commercial success. There are nine songs in the movie with Lata crooning 'Tere Pyar Main Dildar Jo Hei Mera Haal-e-Zaar/Koi Daikhe Ya Na Daikhe Allah Daikh Raha Hei', a very catch and rhythmic song, 'Mere Mehboob Main Kaya Nahin' and 'Jan-e-Myn Ik Nazar Daikh Lei' – duets with Asha Bhonsle, 'Allah Bachae Naujawano Sei' and above all, a melodious number with Muhammad Rafi 'Yaad Main Teri Jaag Jaag Kei Hum Raat Bhar Karwatein Badalte Hain'. The song 'Mere Mehboob Tujhe Meri Muhabbat Ki Qasam' sung both by Lata and Rafi separately became very much popular upon release. The song composed in Raag Jhinjhoti, was later slightly adapted into Malayalam by M. S. Baburaj, to give all time classic song, "Thamasamenthe Varuvaan" (from Bhargavi Nilayam).
In 1964, the movie 'Leader' became very popular. It was a political drama. Lata had only one solo song in it. It was 'Aaj Hei Pyar Ka Faisla', not very popular song but the best song was 'Ik Shehenshah Nei Banwa Kei Haseen Taj Mahal/ Saari Duniya Ko Muhabbat Ki Nishani Di Hei' based in Raag Lillat and crooned by Rafi with Lata. It was pictured on Dilip Kumar and Vyjantimala in Taj Mahal, Agra.
Director AR Kardar then went for the movie 'Dil Diya Dard Liya' adapted from 'Wuthering Heights' in 1965. Personally I was very sorry that this beautiful Dilip-Waheeda Rehman, Shyama and Pran starrer movie did not meet commercial success despite that it was a beautiful movie. Though Muhammad Rafi's 'Koi Saagar Dil Ko Behlata Nahin' based in Raag Janasamohini/shubha Kalyan stands out as the best song of the movie but I like 'Phir Teri Kahani Yaad Aai' by Lata better as it is a haunting melody. A lovely song with modern treatment 'Kaya Rang-e-Mehfil Hei Dildaram' by Lata needs mention. Next movie was 'Saaz Aur Awaaz' in 1966. It did not leave a mark despite Lata's solo 'Dulhan Bun Kei Aaai'. Another Muslim social appeared in 1967 namely 'Palki' starring Waheeda Rehman and Rejendir Kumar and Rehman. It had beautiful music. The movie was directed by SU Sunny. It had only one Lata solo 'Jaaney Waaley Tera Khuda Haafiz'. This movie was followed by Naushad Ali's 'Ram Aur Shyam' with Dilip's double role. It was hit. Lata's duet with Rafi 'Main Hun Saqi Tu Hei Sharabi Sharabi' excelled. Lata's solo 'Main Nei Kab Tum Sei Kaha Tha Keh Mujhe Pyar Karo/Pyar Jab Tum Nei Kiya Tha Tau Nibhaya Hota' was a haunting number where the Ashthai started with higher pitch gradually getting lowered as far as use of musical notes is concerned.
I saw film 'Saathi' (1968) with Vyjantimala and Rajender Kumar in Imperial Cinema, Moseley Road, Birmingham, UK. Its mature theme was probably too much for the moviegoers. The movie was based on the life of a research scientist who could not give enough time to his wife who suffered silently. Lata's songs 'Main Tau Pyar Main Tere', 'Mere Jeevan Saathi' and 'Yeh Kaun Aaya' were melodious songs. Simi Garewal's sober appearance was added feature of this movie.
In 1968, Dilip's 'Aadmi' was released. Despite strong acting by Dilip, Manoj Kumar and Waheeda Rehman and melodious music, the movie was a commercial flop. It had two beautiful songs 'Kaari Badariya' and 'Kal Kei Sapne Aaj Bhi Aana' pictured on Waheeda Rehman and melodiously crooned by Lata. The same year another movie namely 'Sunghursh' directed by H. S. Ruwali was released. It had strong appearances of Vyjantimala, Balraj Sahni and Dilip Kumar. This movie was not very successful despite its strong plot and music. Lata contributed three songs for this move. These were 'Chairo Na Dil Ki Baat', 'Mere Paas Aao Nazar Tau Milaao' (Qawwali beat) and 'Agar Yei Husn Mera'. According to Wikipedia, Director Rawail had considered Sadhana to play the lead actress of the film. He had waited for months to sign her in his 'Mere Mehboob' (1963) but now the actress had developed problems with thyroid and took break from acting for treatment in Boston.
From :  Daily Times August 16, 2014

Lata Mangeshkar — the living legend
Part X
Dr Amjad Parvez

Eventually, Rawail signed Vyjantimala for the role. Dilip Kumar and Vyjantimala who had worked together for Naya Daur (1957) were then said to be having a romantic affair, parted their ways after Vyjantimala worked with Raj Kapoor in 1964 film 'Sangam'. Thus, most of the scenes between the two actors for 'Sungharsh' were shot separately. When the film was near completion, it was rumoured that with the increasing conflict between the two leading actors, Vyjayantimala would be replaced by another actress, Waheeda Rehman but the latter had already replaced Vyjayantimala in another film starring Dilip Kumar, 'Ram Aur Shyam' (1967) which was being shot simultaneously with 'Sungharsh'. Vyjayantimala readily declined the claim of her leaving the film when it was about to finish it's shooting. Thus 'Sungharsh' was the last film where Dilip Kumar and Vyjantimala worked together. By then, both the actors had done the maximum number of films together and most of their films were a commercial success.
Naushad composed music for Naresh Kumar's 'Ganwaar' in 1970 (no Lata song in it) and 'Pakeeza' in 1972. As per my book 'Melody Makers', 'the latter was Naushad's assistant Ghulam Muhammad's movie that had expired during the long time Kamal Amrohi's estranged relationship with Meena Kumari. While discussing the music of this movie, music composer Khayyam told me that initially Kamal had asked him for giving background music for this movie but he (Khayyam) retreated as he thought in all honesty that doing so he could compromise on what was Naushad's right and Naushad did full justice to this super hit assignment. Not only that, Naushad also composed a beautiful Lata's Alaap for this film'.
Naushad now composed for 'Tangewala' – 1972), (Lata's songs 'Jawani Baar Baar Nahi Aai' and 'Aai Re Khilone Waali Aai') In the subsequent films 'My Friend - 1974', 'Sunehra Sansaar – 1975), 'Aaina – 1977), 'Chambal Ki Rani – 1979), 'Dharam Kanta' – 1982), 'Paan Khaie Saiyyan Hamaar – 1985) and 'Love and God – 1986), I didn't find any notable Lata song. The latter film remained incomplete because of director K. Asif's death and was released up to the point where it was filmed only because of the efforts of hero Sanjeev Kumar.
Salil Chaudhry and Lata: If one desires to see the two types of melodies, one eastern and the other western borrowed, but both melodious then one needs to listen to two of Lata's songs composed by music composer Salil Chaudhry. The first one is from the 'Parakh' with lyrics 'Ho Sajna Barkha Bahar Aai' and second one from the 1981 movie 'Agni Parikhsha' with lyrics 'Aaj Koi Nahi Apna Kise Gham Ye Sunaein'. The changing tunes in both the 'Antaras' with a special style (chalan) of Tabla playing, made this song a beautiful one. The second song borrows influence of his father's tastes and the visitors his father inculcated with. Salil's father was fond of Western music and Salil spent most of his childhood listening to his father's collection that included listening to the symphonies of Bach, Mozart and Chopin. Naturally its impact was strong on his psyche and on his work. This song starts its first line on a higher note and gradually lowers in octave. The instrumental treatment is reminiscence of western symphonies. The movie 'Agni Pariksha' was produced by B.R. Chopra and directed by Kamal Majumdar. Its cast comprised Amol Palekar, Parikhshat Sahni and Rameshwari. Lata sang another song 'O Merey Gungun' for this movie.
In association with Ram Ganguli, Salil laid the foundation of Bombay Youth Chair to popularize harmony of Western Classical Music. Thus Salil Chaudhry introduced a blend of Indian music with the Western Classical music. A very popular song from the movie 'Chaaya' by Lata with Talat Mahmood 'Itna Na Mujh Sei Tu Pyar Barha' is based on one of Mozart's popular composition. Lata's song 'Na Jiya Laage Na' is a typical; Salil melody from 1971 movie 'Anand'. In this song the asthai starts from lower note and gets on higher notes as it progresses leaving a melodious impact. Movie 'Anand' was well acted by Rajesh Khanna getting closer to death with each day passing (in the movie) with Amitabh Bachan in a support role.
In the olden days, the lullabies were common as part and parcel of the movies' music. In 1953, Salil Chaudhry left for Bombay to produce his story 'Richshaw Walla' into a movie and ended up in Bimal Roy Camp using his story for the famous movie of that time namely 'Do Beegha Zameen'. I remember this Balraj Sahni – Nirupa Roy movie for its lullaby (Lori) 'Aa Ja Ri Aa Nindiya Tu Aa' crooned by Lata Mangeshkar. This song remains one of the best in this domain of music.
This Raj Kapoor-Nargis starrer 1956 movie 'Jagte Raho' song 'Jago Mohan Payare Jago' created haunting effect.
From :  Daily Times August 17, 2014

Lata Mangeshkar — the living legend
Part XI
Dr Amjad Parvez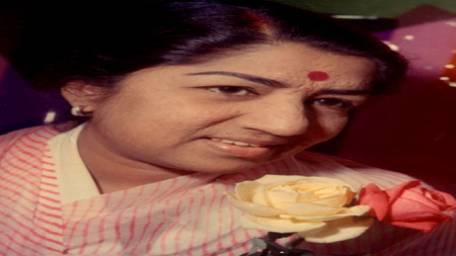 Salil used Lata Mangeshkar in 'Rajnigandha' – 1974 with popular track "Rajnigandha phool tumhaare". The movie 'Us Nei Kaha Tha' in 1960 had a wonderful duet by Mangeshkar and Talat Mahmud "Aha rim jhim kei yei pyare pyare geet" that completed my favourite trio with the other two from 'Chaaya' (1961) to sing for my friends.
I have written in my book Melody Makers, 'Much of Salil Chaudhry's early childhood was spent in the tea gardens of Assam, where his father was a medical doctor. Now I know why his music had the haunting effect of a jungle because of his early days spent in Asaam. Even today when I hear Lata's song 'Aa Ja Re Pardesi' from Dilip Kumar – Vyjantimala's 1958 movie 'Madhumati' or watch its video, the use of flutes in first/second mode enhance the jungle's effect very effectively. Similarly the use of flutes and saxophone in again a Lata's song from the movie 'Maya', 'Ja Re Ja Re Ur Ja Re Panchi' mesmerize me'. Talking of 'Madhumati', one must forget Lata's meldoes such as 'Ghari Ghari Mera Dil Dharke' and 'Dayya Re Dayya Re Charh Geyo Paapi Bichwa' (a folk oriented song). The song 'Julmi Sang Ankh Lari' was a village dance sequence again with flutes mesmerizing the music lovers. A Lata-Mukesh duet 'Dil Tarap Tarap Kei Keh Raha Hei' needs mention.
My all time favourite song from 'Maya' remains Lata-Rafi duet 'Tasveer Teri Dil Main Jis Din Sei Uttari Hei' pictured with soft dancing steps by Dev Anand and Mala Sinha. Salil Chaudhry also gave background music for a 1968 movie 'Anokhi Raat' for which the songs had already been composed and recorded by late Roshan. I still remember a lovely song 'Mehlon Ka Raja Mila' by Lata pictured on pretty Zahida, Nargis's niece.
SD and Lata: Whatever melody someone else may like of SD Burman and Lata combination, what I like would be somewhat different. Each one of us has a right of making one's choice. I would quote my choice as 'Tum Mujh Sei Door Chale Jana Na' from 1970 movie 'Ishq Pe Zor Nahin' starring Dharmendar and Biswajeet. The song was pictured on Sadhna. Or I might mention the song 'Jeevan Ki Bagia Mehke Gi' (a duet with Kishore Kumar) from the 1971 movie 'Tere Mere Sapne' pictured on Mumtaz and Dev Anand. (It was a movie by Vijay Anand, the brother of Dev Anand). The movie stars Dev Anand, Mumtaz, Vijay Anand, Hema Malini and others. The Story is based on the novel 'Citadel' by AJ Cronin. Dr Anand Kumar (Dev Anand), an idealistic doctor with noble dreams, moved towards a small village to help the poor people. He finds a job at a community clinic of Dr Prasad (Mahesh Kaul), run by Paro, the wife of Dr Prasad, because last one is very sick. Anand earned the friendship of other doctors, especially with the dentist Dr Bhutani (Agha) and Dr Jagannath Kothari (Vijay Anand), a gynaecologist and a disillusioned alcoholic. In the village, Anand soon became popular, he offered free medical treatment to the poor people and wins the heart of the beautiful school teacher Nisha (Mumtaz), to whom he got married. One day Mrs. Prasad fires Anand, as they come into conflict with each other. He relocates with Nisha to Bombay, where he becomes the personal doctor of the leading actress Maltimala. Thereafter, Anand is more and more busy, neglecting his young wife, and unfortunately unaware of her pregnancy. Nisha decided to separate from him. Now alone, what will Anand doing? Will he divorces Nisha and marry Maltimala? My other choice could be 'Megha Chaye Aadhi Raat Bairen Bun Gai Nindiya' based in Raag Patdeep from the movie 'Sharmeeli'. It was a hit of 1971 produced by Subodh Mukherjee and directed by Samir Ganguly. The film stars Shashi Kapoor, Raakhee, Narendra Nath, Naseer Hussain, Iftekhar, SN Banerjee, Anita Guha and Asit Sen. The soundtrack of Sharmeelee was an instant hit with music lovers.
Above was my initial reaction to the selection among SD's compositions composed for Lata though the duo had created wonders in other films also. How can one forget the outstanding dance number 'Honton Pe Aisi Baat Mein Daba Kei Chali Aai' by Lata and danced by outstanding actress and dancer of her time Vyjantimala from the movie 'Jewel Thief' as well as the missing-the-beloved song 'Rula Kei Gaya Sapna Mera'. The change of mood in the second line of the former song on the words 'Hai Re Hai' shows the command of the music director. One cannot miss the catchy duet 'Dil Pukarey Aa Re Aa Re Aa Re', a duet by Rafi and Lata. SD's use of Sitar and flutes in this song is amazing with rhythms creating gypsy effect. Another colour of SD Burman is visible in film 'Guide''s song 'Piya Tosey Naina Laage Re', the music and rhythm changes are amazing as the progress in dancing of Waheeda Rehman takes place from a small village dancer to a successful commercial stage dancer.
From :  Daily Times August 18, 2014
Lata Mangeshkar — the living legend
Part XII
Dr Amjad Parvez

To top it all, this song is amazingly well rendered by Lata Mangeshkar. Never have I heard such a lovely melody composed on a tabla with apt instrumentation in which Mangeshkar shines. Another classical number is "Mo se chal kiye jaaei haai" from the same movie. This song was picturised when Waheeda is shown as a successful artist in the movie. The movie 'Guide' was a 1965 super hit movie, the songs of, which were outstanding. In this movie Waheeda Rehman has acted very successfully as the impulsive, rebellious and captivating beauty namely Rosy. She enacted Mangeshkar's voice especially for the song "Aaj phir jeene ki tamana hai" making her character a ravishing mirror of enigma and emancipation. Dev Anand portrays as Raju Guide who goes from guiding tourists in Rajasthan to guiding the much-married Rosy out of a suffocating marriage into that of a successful dancer. In the last leg of this enthralling and enticing drama of love, deception and redemption, Anand is transformed into a saint, the saviour of a drought-stricken village.
I became alive to SD's songs when the 1951 movie 'Sazaa' was released and I saw it in a Lahore Cinema when young. It starred Dev Anand, Nimmi, K N Singh, Lalita Pawar, Shyama, Gope, Mukri, and Durga Khote. I was moved by Lata's haunting number 'Tum Na Jaaney Kis Jehan Mein Kho Gaye'. A lovely duet by Lata Mangeshkar and Talat Mahmud 'Aa Ja Aa Ja Tera Intizar Hei' from this film is a lovely sad song. I have written in my book 'Melody Makers' 'in 1954, I saw the movie 'Taxi Driver' in one of Lahore's cinemas with my family. I was only eight then but its song 'Dil Se Milaake Dil Pyaar Kijiye' caught my attention as it was a club dance song of the fifties and the dancing steps of Sheela Ramani (who later came to Lahore and acted in a Pakistani movie Anokhi also) was liked by music lovers. Its lyrics were by Sahir Ludhianvi. This one is in a class by itself comprising a simple, uncluttered tune that stayed spot on to its picturing. It comprised a small orchestra in the bar room housed by a piano, a guitar, a clarinet and maracas. S. D. Burman won the Filmfare Award for Best Music Director for this movie. The most soulful and popular song of the film however was 'Jaayein Tou Jaayein Kahaan' sung separately by Talat Mahmud and Lata Mangeshkar. The movie 'Naujewan' came in 1951. I remember this movie in particular as my childhood memories are attached with its song 'Thandi Hawaein Lehra Kei Aaein' pictured on young and lovely Nalini Jewant at that time. This was a Mahesh Kaul movie with Prem Naath in the male lead. The movie 'Naujawan' revolved around a young woman who is unhappy to the choice of husband that is made for her. She comes across someone who pretends to be her suitor to prevent her marrying the "wrong" man. The movie titled 'Buzdil' again is my favourite movie. It was released in 1951 because of its songs such as Lata's 'Rote Rote Guzar Gai Raat Re' penned jointly by Kaifi Azmi and Sheilender. The beauty of this song lay in its simplicity with pathos oozing out of it. Then the song with semi-classical connotations in 'Teen Taal' rhythm, 'Jhan Jhan Jhan Baaje Payal' by Lata has special nostalgic memories attached for me. My maternal aunt Zakia Dil (later Maalik) used to sing this song perfectly. She was professor is the Fine Arts Department at the University of Punjab. She was a skillful painter as well. I used to copy this song the way she copied Lata perfectly well. This song used just a violin and a flute to support the melody with the exceptions of rich violin interlude before the second stanza wherein the variation of the Raag excels'. Talat and Lata's 'Dar Laage Duniya Sei' was a hit duet of its time.
I have a lot however to talk about SD's 1954 movie 'Taxi Driver'. The story is a nostalgic journey through the Bombay of the fifties with its quiet, peaceful and scenic background, electric trams. Apart from the hit song 'Jaein Tau Jaein Kahan' let me not forget two other songs by Lata; one 'Aei Meri Zindigi Aaj Raat Jhoom Lei' and two, 'Dil Jale To Jale', both club songs and hits of that time. Lata's solos 'Peechey Peechey Aa Kei' and the best number 'Phaili Hui Hein Sapno Ki Baanhein' from the movie 'Ghar Number Chawalees' (House No. 44) are very nice solos. This movie ended the movie romance of Dev Anand and Kalpna Kartik into a real life marital bliss. My all time favourite is 'Devdas' made in 1955 with Dilip Kumar, Vyjantimala and Suchitra Sen.
From :  Daily Times August 19, 2014