Actor Shyam (1920-1951) who died very young
Ishtiaq Ahmed

However, Shyam's links to Lahore were rooted in deep love. He had married a Muslim from Lahore, Mumtaz Qureshi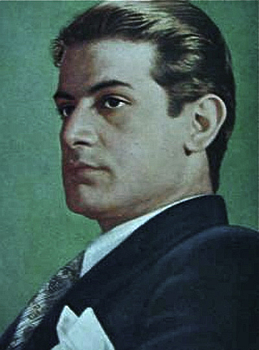 The partition of India and Punjab entailed human tragedies on a gigantic scale. Naturally, filmdom had its fair share of such tragedies. As the Lahore-Bombay link physically ruptured, it left a trail of blood in a metaphorical sense, as fond memories, close friendships and deep emotional ties were also snapped. On April 25, 1951, Shyam, one of the handsomest heroes of Bollywood, succumbed to head injuries he sustained when he fell off the horse he was riding during the shooting of Shabistan.
I was just four at that time, but remember distinctly that it was a topic both at home and out on Temple Road, Lahore. Having collected oral histories for years on my book, The Punjab Bloodied, Partitioned and Cleansed (OUP, Karachi, 2012, Rupa, New Delhi, 2011), I am acutely aware of the fact that traumatic events can register on the memory of extremely small children, sometimes far more vividly than on grownups.
Shyam was born as Sunder Shyam Chadha on February 20, 1920 in Sialkot, whereas he grew up in Rawalpindi where he graduated from the famous Gordon College. Against his father's wishes, Shyam made his film debut in Lahore in a Punjabi film, Gawandi (1942). His co-stars were Veena, Manorma, M Ismail and Asha Posley. Veena, a Muslim, and Manorma, a Christian, both from Lahore, later established themselves in Bombay, while M Ismail returned to Lahore soon after the partition. Asha became a famous Lollywood actress, initially playing the heroine but later became a character actress, mostly type-cast as a wicked woman.
Shyam acted in many memorable films whose songs continue to haunt people. I will name only a few here: Mann kee jeet (1944), Majboor (1948), Dillagi (1949), Patanga (1949), Chandni Raat (1949), Meena Bazaar (1950) and Samadhi (1950). Shabistan was released in 1951 though the last scenes were filmed with a pathan, tall and stately like Shyam, though his face was not shown.
Shyam was probably the closest friend of Saadat Hassan Manto in Bombay. The two shared an apartment for quite some time. Shyam was also a close friend of another great Urdu writer, Krishan Chander. Both wrote articles on him that could be considered very powerful and moving obituaries. The common observation of both was that Shyam was an exceptionally humane and broad-minded individual. He was also a generous and caring human being who took care of his stepmother and stepbrothers and sisters with great affection. He nevertheless always felt a great void in his life because his mother died when he was very small and he continued to miss her.
When during the height of the partition riots, Shyam told Manto that news from Punjab about his relatives in West Punjab being subjected to atrocities was making him mad, Manto was greatly perturbed. If the partition syndrome could affect Shyam so profoundly, then he thought it was better to pack up and leave for Lahore.
However, that outburst of raw anger by Shyam was momentary. He did visit Lahore in 1948 and a function was held at the Capitol Cinema on the good old Abbot Road; I believe Capitol Cinema still stands in the same place though the last time I saw it, it was in an advanced state of dilapidation. During the function, Shyam sensed that things had changed fundamentally even though many of his Muslim friends were still loyal to him. Lahore was not the same anymore.
However, Shyam's links to Lahore were rooted in deep love. He had married a Muslim from Lahore, Mumtaz Qureshi, better known as Taji. They had two children together. While their daughter, Sahira, was born while Shyam was alive, their son was born posthumously, two months after his death. Taji's elder sister Zeb Qureshi acted in a few films in Bombay. Both sisters returned to Lahore after Shyam's death. Zeb Qureshi was married for a while to the maternal uncle of a good friend of mine.
Mumtaz Qureshi later married a gentleman called Ansari; hence the children were raised as Muslims. His daughter became a noted Pakistan television artiste, Sahira Ansari, who later married a colleague, Rahat Kazmi. Rahat and Sahira Kazmi are well-known television artistes. Shyam's son Shakir should be somewhere in Pakistan or elsewhere in this big wide world if all went well for him thereafter. I have seen the video film of Dilip Kumar's first visit to Pakistan. In it one sees him spotting Sahira Kazmi in the audience and saying that he was glad to meet the daughter of his friend (Shyam) after all those years.
While researching for today's article, I managed after a considerable effort to trace a nephew of Shyam, Vikram Chadha, all the way to Pune, Maharashtra. Vikram is a lawyer. I phoned him from Stockholm and had a long conversation. I learnt that a nephew of Shyam, Bimal, works for The Indian Express and a younger brother, Harbans, lives in Chandigarh.
Vikram Chadha expressed a desire to contact his Muslim relatives in Pakistan. "We are after all the same family," he said. That reminded me of a classic dialogue spoken by Rishi Kapoor in RK Films' Henna (1991). He says, "Chand se agar wo Chander ho gya, to kiya wo insaan nahin raha?" (If instead of Chand (a Muslim) he has become Chander (a Hindu), does that mean he is no longer a human being? That, of course, is not for us to decide, but the philosophical and moral worth of the question cannot be ignored. I told Vikram that if Shyam's children read my article and wanted to contact him, I would be extremely pleased to facilitate the family to reconnect.

Th
e writer has a PhD from Stockholm University. He is a Professor Emeritus of Political Science, Stockholm University. He is also Honorary Senior Fellow of the Institute of South Asian Studies, National University of Singapore. His latest publication is The Punjab Bloodied, Partitioned and Cleansed: Unravelling the 1947 Tragedy through Secret British Reports and First-Person Accounts (Karachi: Oxford University Press, 2012; New Delhi: Rupa Books, 2011). He can be reached at billumian@gmail.com
Daily Time: June 24, 2012
---
Back to APNA Web
---