Legendary singer Ghulam Ali —
Part IV
Dr Amjad Parvez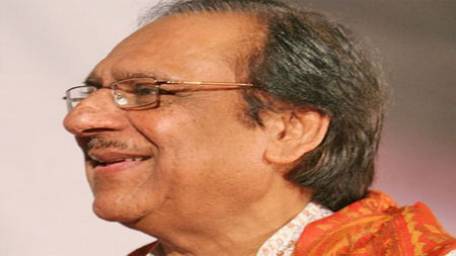 Syed Rizi Tirmizi was an excellent poet and held the position of controller programmes at the Central Production Unit of Radio Pakistan, Lahore. His ghazal "Paara paara huan pairaahan-e-jaan" was rendered by Ghulam Ali as well. The other ghazals are "Roya karenge aap bhi", "Tumhare khat mein naya ik salaam kis ka tha" (Poet Dagh Dehelvi). The latter ghazal is very appealing in its tune and has a rhythmic pattern.
Also the ghazals "Woh kabhi mil jayen to", "Woh jo hum mein tum mein qarar tha" (Poet Momin Khan Momin), "Yeh batein jhooti batein hain yei logon nei phailaai hain", "Yeh dil yeh pagal dil" (Poet Mohsin Naqvi) and "Zakhm-e-tanhai mein khusboo-e-heena kiski thi".
Many of his hit ghazals has been used in Bollywood movies. The ones that were used and became famous were "Chupke chupke raat din ansoo bahana yaad hai', "Kal chaudhvin ki raat thi shab bhar raha charcha tera", "Hungama hai kyon barpa", "Kiya hai pyar jisé", "Main nazar sé pi raha hoon", "Mastana peeyé", "Yé dil yéi pagal dil mera kyun bujh gaya" and "Apni dhun mein rehta hun".
I observed in the PTV interview that Ghulam Ali used his mastery over thumri rendering into his singing. He gave respect to the words he was transferring into music. Example of the word "leher" in Nasir Kazmi's ghazal, the word 'bahana' in the ghazal "Chupke chupke" and many other instances can be quoted. Ghulam Ali and Mehdi Hasan's style of singing was so deeply imprinted in the psyche of Indian ghazal singers like Talat Aziz, Anup Jalota, Hari Haran and alike that they tried to mix the singing styles of these maestros into their singing. Then I observed that Ghulam Ali, apart from being a globetrotter had also rendered songs in many languages apart from Urdu and Punjabi. He rendered songs in Nepali as well. Some of these beautiful ghazals are "Kina kina timro tasveer", "Gajalu tee thula thula aankha", "Lolaaeka tee thula" and "Ke chha ra diun". He rendered these songs with Narayan Gopal, a well-known Nepali singer. The music was composed by Deepak Jangam and the lyricist was King Mahendra of Nepal. These songs were compiled in an album titled 'Narayan Gopal, Ghulam Ali Ra Ma', which are popular among Nepali music lovers even today.
Though hailing from Pakistan, Ghulam Ali remains as popular in India as he is in Pakistan. He is highly popular in Bangladesh, as well as amongst South Asian Diaspora in the US, the UK and Middle Eastern countries.
It has been reported in the media that on being questioned about Pakistani pop groups, Ghulam Ali replied, "Frankly, I am really bewildered at their style of singing. How can you sing a song by running and jumping around the stage? The stage is meant for performing, not for acrobatics." Some of the important audio CDs of Ghulam Ali are 'Suraag – In Concert', 'With Love', 'Mast Nazren – Ecstatic Glances Live in London, 1984', 'Ghazalain – Live at Islamabad', 'Passions', 'Hungama Live In Concert Vol.1', 'Poems of Love', 'Tere Shehar Mein', 'Saadgee', 'Haseen Lamhen', 'Ghazals', 'Anjuman Behtareen Ghazlen', 'Soulful', 'Once More', 'The Golden Moments – Patta Patta Boota Boota', 'Live in USA Vol 2 – Private Mehfil Series', 'Suno', 'Live in USA Vol 1 – Private Mehfil Series', 'Saughaat', 'Khwahish', 'At His Very Best', 'Aawargee', 'The Finest Recordings Of Ghulam Ali', 'Great Ghazals', 'The Golden Collection', 'Geet Aur Ghazals', 'Dillagee', 'Kalaam-E-Mohabbat', 'Chupke Chupke – Live In Concert, England', 'Rang Tarang Vol 1,2', 'Janay Walay', 'Heer', 'Khushboo' (I had produced this audio album for Oriental Star Agencies, Birmingham, UK), 'Ghulam Ali – The Very Best', 'Ghulam Ali – Mehfil – Collection From Live Concerts', 'The Best Of Ghulam Ali', 'Lag Gaya Nain', 'Awargi—Ghulam Ali – Vocal CDNF418/419 Live. Vol.3 & 4', 'Aitbaar', 'Aadaab Ustad (Ghazals), 'Mahtab', 'Ghulam Ali Vol.1 and 2', 'A Ghazal Treat – Ghulam Ali In Concert', 'Ghulam Ali In Concert', 'Awargi (Live) Vol 1 and 2', 'Moods and Emotions', 'Ek Ehsaas – A Confluence Of The Finest Ghazal Voices', 'Best Of Ghulam Ali', 'Greatest Hits Of Ghulam Ali', 'The Golden Moments Ghulam Ali Vol.1', 'A Live Concert', 'Aabshaar', 'Lamha Lamha', 'Once More', 'Parchhaiyan', 'Mehraab', 'Ghulam Ali Live At India Gate – Swar Utsav 2001 – Songs Of The Wandering Soul', 'Ghalib – Ghazals – Ghulam Ali – Mehdi Hassan', 'The Latest, the best' and 'Miraz-E-Ghazal, Ghulam Ali & Asha Bhosle'.
As reiterated above, Ghulam Ali is very popular in India. At the launch of his biography penned by Bhavesh Seth and Sadhana J recently, he talked about the future of the ghazal scene and his chemistry with good pal, the late Jagjit Singh. This interview is reproduced here.
Q. How did you choose to become a Ghazal singer?
A. It was my father's (Ustad Daulat Ali Jafferi) dream. He named me after the ghazal legend Bade Ghulam Ali Sahib, under whom I was fortunate enough to train. I have been practicing since the age of nine. Continued
From :
Daily Times
April 08, 2014