GEETA BALI: A VERSATILE DANCER ACTRESS: HER LIFE WAS CUT SHORT BY A SICKNESS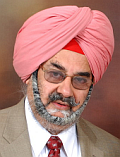 Harjap Singh Aujla
It drives me to tears of joy and sorrow to compile this piece about one of India's finest, bravest and most humane actresses, the late Geeta Bali (Gurkirtan Kaur). Actress Geeta Bali was born in the holy city of Amritsar in 1930. She was one of the all time great acting professionals of the film industry of India. Her life story was a spectrum of all colors and hues that a life can consist of. She had in her life a lot of parental love, affection, understanding and patronage, but her life was also full of tyranny, miseries and persecution at the hands of the conservative society of Punjab. Her pleasant moments and miseries went side by side in a span of just thirty five years.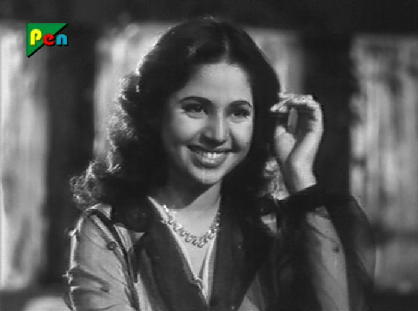 Before talking about the trials and tribulations of her fast moving short and eventful life, it will be appropriate to talk about her scholarly, progressive, humane and loving father. She was one of the two brilliant and charming daughters of highly esteemed Pundit Kartar Singh Philosopher of Amritsar. Her mother was a well educated daughter of a pioneer of education amongst Sikh women in Punjab. People used to come to her father for seeking words of wisdom and advice and he most unselfishly obliged everyone. A few generations ago, the family originally lived in the pristine Valley of Kashmir. Perhaps they were attracted towards the Sikhism after the Emperor of North Western India Maharaja Ranjit Singh's conquest of Kashmir.

Geeta Bali with Shammy Kapoor
This traditionally scholastic family decided to leave the Valley of Kashmir to settle in the then city of opportunity Amritsar, which is the spiritual Mecca of the Sikhs. This was also one of the two premier cities of composite Punjab. Pundit Kartar Singh was an accomplished Sikh religious musician and bestowed with a vast reservoir of worldly knowledge and wisdom. But like most men of letters, was always short of money. He never considered his two daughters a financial burden, like most of his contemporaries did. In fact he treated both his daughters as his most precious God gifted assets. He had a sincere desire to bring up the two daughters Hardarshan Kaur and Gurkirtan Kaur (later on known as Geeta Bali) under the contemporary education and atmosphere of modern society. Within his limited means, he managed to provide state of the art education and other facilities and excellent personality grooming facilities for his daughters free from the shackles of the ultra conservative religious disciplines of those times. From the point of view of business opportunities and education, Amritsar of those days was one of the most advanced cities of India. But it had more than its share of religious orthodoxy too, which will stubbornly resist any deviation from the centuries old customs and practices.

Old Part of Amritsar
Even during the pre-independence days, Amritsar enjoyed a fine tradition of theatre, but the theatre in this city was basically catering to the religious sentiments of its population, a far cry from the modern secular theatre of Lahore. Lahore had a forward looking Parsi Theatre also, in which well trained girls freely danced to the semi-classical and Punjabi folk music of the times. Pundit Kartar Singh could never afford to buy his own house. But he pursued a desire to fulfill every aspiration of his two daughters. So he did not mind living in a rented accommodation in Amritsar. Pundit Kartar Singh was one of the silent revolutionaries in the society who was prepared to shower all he had on his daughters, if need arose, by breaking all taboos of the Sikh society of those days. In order to fulfill their ambitions, he arranged for their training in classical music and classical dances. Obviously the two girls thoroughly enjoyed both classical arts.
According to an article written by Amar Bharati and carried in a reputed Punjabi literary magazine "Nagmani" published by Late Amrita Pritam, in its December 1982 edition, whenever the two sisters Hardarshan Kaur and Gurkirtan Kaur publically performed classical dances on the stage, the so called guardians of Sikh values, used to surround the theatre and demonstrate against the exhibition of dance by Sikh girls. The brave father of two brilliant daughters went on to arrange training in horse-riding and the martial art of "Gatka" also. As a dancer, Geeta Bali exhibited a unique synchronization between the "Taal" and the movement of eyes. According to a highly acclaimed dance critic V.A.K. Rangaro, Gurkirtan Kaur's (Geeta Bali's) eye movement during the song and dance sequences was the best seen in any actress of the time.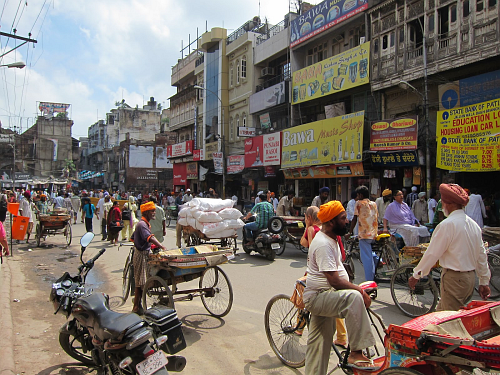 A Bazar in Amritsar
Perhaps perturbed over the vehement opposition and narrow minded intolerance of some Sikh activists of those days, Pundit Kartar Singh decided to leave Amritsar to settle in the permissive and liberal environments of the cosmopolitan city of Bombay. According to one story Gurkirtan Kaur (actress Geeta Bali), bagged her first minor role at the age of twelve in film "The Cobbler". Training in classical dances and classical music made the acting assignments much easier to her.
Pundit Kartar Singh, in addition to being a father was a very close friend to his two daughters. He always used to listen carefully to his kids and whatever he could do for his daughters within his limited means, he did that most willingly. Due to modern scientific upbringing, both girls developed a very jovial and positive attitude towards life. Geeta Bali was highly unselfish and always ready to help everyone. If someone wanted to learn the art of playing harmonium or wanted to learn "Saa Re Gaa Maa Paa" from her, she would unhesitatingly teach him. Due to her skills in classical singing, dancing and horse riding, a positive attitude towards life and fluency in Punjabi, Hindi/Urdu and English, acting seemed to come naturally to this prodigy called Geeta Bali. Only a good break was needed and that she got at the age of twenty in 1950.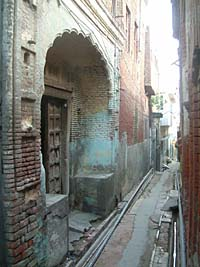 A narrow street in Amritsar
Geeta Bali was liked by everyone she interacted with in the film industry of Bombay. She acted in not too many films, but all her roles became immortal. According to an acknowledged expert on Indian films of the yore Shiraz Sharief, Geeta Bali could give the run for the money to the most well established male actors of her time. She had a role opposite an acclaimed actor Raj Kapoor in film "Bawre Nain" in 1950 and she ended up giving a sterling performance, which the cine critics still remember fondly. In the very next year 1951, she acted opposite the most handsome hero of the time, Dev Anand in film "Baazi". This film is remembered more for the role of Geeta Bali than even the hero's role. In 1951 again she acted in film "Albela" opposite a great comedian Bhagwan and matched him move by move and wit by wit. In 1952, Geeta Bali did film "Jaal" with two promising heroes Guru Dutt and Dev Anand and she gave run for the money to both. In 1953, she did film "Baaz" with distinction opposite Guru Dutt.
1955 was a great year for Geeta Bali. She did film "Vachan" opposite two great stars Balraj Sahni and Rajinder Kumar and came up with flying colors. She was nominated for the award of best actress. Within the same year, she acted in film "Kavi" and was nominated as the best supporting actress. In 1955, she worked with actor Shammi Kapoor too in "Rangeen Raatein" and that became the harbinger of one of the most romantic phases in the lives of both.
In fact film acting assignment in "Rangeen Raatein" turned out to be an extremely romantic and enjoyable experience in the lives of both Shammi Kapoor and Geeta Bali. According to Shammi Kapoor's own narration, this film was shot in tidy, cool, calm and serene environments of a small place called Ranikhet near Nainital in the then state of U.P. (now Uttarakhand). The hill station weather was beautiful. Shammi Kapoor and Geeta Bali enjoyed several days in each other's company. Both being typical Punjabis, they enjoyed a unique common chemistry. Shammi Kapoor said that during this month they both fell in love. On his return to Bombay, he proposed marriage to Geeta Bali. Geeta Bali liked the person and said she too loves him, but did not commit to marriage citing commitments at home and other responsibilities. They both started meeting more often and on every occasion Shammi Kapoor kept renewing the marital proposal and each time he received a broad smile but also a mischievous no to a marriage from Geeta Bali. After several months Shammi Kapoor received a surprise call from Geeta Bali in August of 1955, agreeing to get married and that too right there and then.
Shammi Kapoor was thoroughly surprised. He was of course overjoyed, but he had no time to prepare for the elaborate wedding. But, true to her nature, Geeta Bali was unprepared to give him any more time. Only a week back, their common friend comedian Johnny Walker had married all of a sudden and that too in a court of law. So they went to his house to find out a way to get married immediately. Johnny Walker told them that he was a Muslim, who never attended a Mosque and he had difficulty getting married in a "Nikkah", so he got married in a court, but he advised the would be couple to get married in a Hindu Temple. So they both went to a "Temple" at night and woke the priest up from his slumber. The priest told them that the temple is closed for the night, it will reopen at 4am the next morning and he will certainly perform the wedding ceremony at that time. Next morning, they got dressed up and went to the temple and the wedding ceremony was performed. After that Shammi Kapoor got blessings from his father, who was wonderstruck and from his elder brother Raj Kapoor.
According to Shammi Kapoor, Geeta Bali was a great life partner. From every point of view she was a beautiful person. She gave him immense love, fun, two lovely kids, a boy and a girl and ten great years of happy, romantic married life.
Shammi Kapoor further stated that in 1957, his film "Tumsa Nahin Dekha" became a super-hit. A celebratory function was held in New Delhi. Shammi Kapoor asked Geeta Bali to join him on his trip to New Delhi. But Geeta Bali declined the offer, saying that she was busy elsewhere and therefore could not attend the function. Shammi Kapoor, who cherished, admired and loved his better half intensely, could never imagine a celebration of his success without her physical presence by his side at the venue. He was shell shocked. He was feeling like a fish out of water. All his pleasures had evaporated. He boarded the Frontier Mail, but was feeling incomplete. After a few stations, a message was received from the ladies compartment by his entourage that a Muslim lady clad in a "Burqa" wants to talk to someone. When Shammi Kapoor's friend went there, the lady in "Burqa" lifted her veil and it was none other than Geeta Bali, the jovial and funny. For Shammi Kapoor there could be no bigger pleasure than having his wife by his side. He enjoyed the journey and the celebration to the hilt. This is how one and only one Geeta Bali gave one of several pleasant surprises to her husband.
Geeta Bali did a few movies afterwards including "Jailor" with Sohrab Modi (1958). For her role in "Jailor" she certainly deserved a national award. She did great roles in "Aji Bas Shukriya" (1958), "Anand Math" and "Mr. India" (1961). But she preferred to spend more time in bringing up her children and giving comfort and a pleasant company to her husband.
Early in 1965, she got smallpox infection and that unfortunately consumed her precious life. She passed away on January 21, 1965 leaving all her friends and admirers saddened and flabbergasted. Geeta Bali had a short and sweet life span, but she gave a lot of happiness to millions of cine goers and critics of art. Her early death reminds me of an old adage, "In short measures life may perfect be". The Sikh community of today owes her an unqualified apology for being cruel to her in her early life.
I thankfully acknowledge the help given by two scholars Sardar Amarjit Chandan of London in the United Kingdom and Sardar Chiranjeev Singh I.A.S. retired of Bangalore, as well as writer Amar Bharati in compilation of this article.
harjapaujla@gmail.com
---
Back to APNA Web
---