KULDIP KAUR: A SPOILED RICH PUNJABAN ACTRESS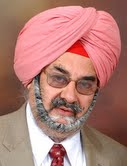 Harjap Singh Aujla
Since times immemorial India was famous amongst its North Western neighbors as a land of plenty and opportunity. From the Aryans of Central Asia to Alexander the Great of Macedonia and the Islamic invaders from the Western and Central Asian countries, India has been a land of fascination for every invader. Some of them were interested only in plundering the wealth of its state and citizens and some decided to adopt this four season fertile land as their future dream home. Most of the invaders crossed into India through the Khyber Pass in Pakhtoonkhwa area with the aim of capturing or looting the affluent capital of this country and other wealthy towns and cities. Peshawar and Lahore were the other important landmark cities on the way to the national capital, which most of the time used to be Delhi, Agra or Patliputra (Patna).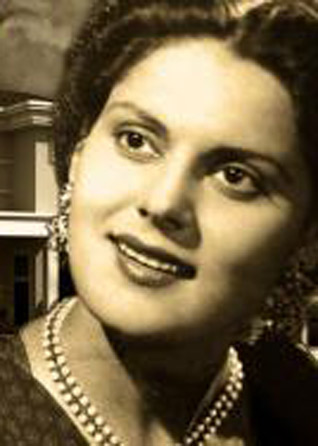 KULDIP KAUR: A SPOILED RICH PUNJABAN ACTRESS
Actress Kuldip Kaur's life story cannot be separated from erstwhile united Punjab's premier twin cities of Lahore and Amritsar. She was the daughter of a wealthy landlord family of Punjab and the daughter –in –law of the Emperor of the Sikh Empire Maharaja Ranjit Singh's daredevil military commander General Sham Singh Attariwala's grandson. Her in-law's place of residence was in village Attari located on Amritsar district's border with Lahore district just off the Grand Trunk Road and was eighteen miles away from both Amritsar and Lahore. The lady, Kuldip Kaur was a shy, simple and a beautiful Sikh young lady. With skin so fair and translucent that she had no competition among the elite class that she belonged to. Although her beauty had no comparison, still her mind was very much down to earth and traditional. But the affluent lifestyle of the elite in Punjab changed her life forever.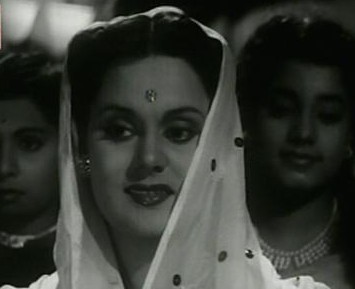 kuldip kaur
Her rich landlord husband Mohinder Singh Sidhu (also called Mohinder Singh Pompa) was a spoiled young man. He was fond of enjoying the good life offered by Punjab's both premier cities of Lahore and Amritsar. He became a member of Amritsar Club Amritsar, Lumsden Club of Amritsar, Service Club of Amritsar as well as the Gymkhana Club of Lahore, Service Club of Lahore and the Golf Club of Lahore. He engaged in a lavish lifestyle, mostly having lunch and dinner in clubs of separate cities in a single day. He was fond of owning the latest models of European and American cars. Amongst the least expensive cars that he owned were; Renault, Baby Morris and Austin. While his favorites included the top models of Chevrolet, Cadillac, Buick and Studebaker. The car dealers of Lahore and Amritsar always spread a red carpet in his honor. He hardly spent a day without visiting either Lahore or Amritsar. He was a good friend of Maharaja Jagatjit Singh of Kapurthala and visited his French style palace as well as the magnificent Jagatjit Club several times during the winters. During the summers the Maharaja himself was often on a tour of France and other European countries and was seldom available in Kapurthala
Amritsar Khalsa Colllege
Kuldip Kaur was born sometime between 1926 and 1928 and was brought up like a princess. Her spoiled Sardar husband always wanted his charming wife Kuldip Kaur to live and act like a modern lady of any metropolis of India. He wanted his wife to learn swimming and rub shoulders with the club going English elite based in Lahore and Amritsar. Once exposed to the club culture, Kuldip Kaur also started getting effected by its dark side. Since Lahore was a popular film city, Kuldip Kaur started dreaming about becoming a film actress. According to one story, Kuldip Kaur started admiring the professional qualities of actor Pran Nath, who was in acting profession in Lahore since 1940, when he successfully performed the role of a hero in Punjabi film "Yamla Jatt". Pran loved the modern and permissive lifestyle of Lahore. By July and August of 1947, communal violence erupted into a full-fledged operation of ethnic cleansing primarily between the Muslims and the Sikhs and both Lahore and Amritsar were engulfed in the worst sectarian violence in recent history. Kuldip Kaur had no ill will against the Islam as a religion and several Muslims were her and her husband Mohinder Singh Pampa's good friends. But things were getting out of control in Lahore and Amritsar. Both Pran and Kuldip Kaur were compelled by the quickly changing circumstances to leave Lahore in a jiffy, leaving virtually every belonging behind. Her own village being right on the border was also not peaceful either. So Kuldip Kaur decided to leave straight for Bombay. According to one story, in order to impress actor Pran, Kuldip Kaur decided to bring Pran's stranded car from Lahore to Bombay. In a gesture of unprecedented daredevilry, she travelled from the safety of Bombay and Amritsar to Lahore and drove Pran's car first to Amritsar and then she drove it all the way to Bombay, where she handed over the keys to a surprised but thankful Pran.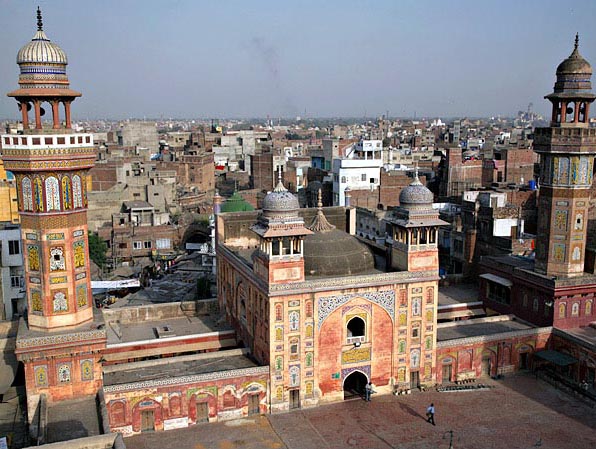 lahore city landmarks
After leaving for Bombay, Kuldip Kaur's contact with her parents and in-laws got diminished. On arrival in Bombay, Kuldip Kaur made up her mind to plunge headlong into the film industry. She was prepared to act in Hindi/Urdu as well as Punjabi films. The experts of film industry were of the opinion that her large piercing eyes, robust build and her flat chin made her an ideal choice for the role of a vamp. The first ranking heroines of the time included Durga Khote, Naseem Bano, Madhubala, Nargis, Suraiya and Nutan. Other heroines included Binarai, Shyama, Nimmi, Nirupa Roy, Meena Shori, Nigar Sultana, Veena and Kamini Kaushal. There was a real shortage of ladies willing to perform the role of vamps. One of Kuldip Kaur's first films was a Punjabi blockbuster "Chaman" (1948). Within the same year Kuldip Kaur acted in two Hindi/Urdu films Ziddi and Grahsthi. All her 1948 films did well at the box office. After that she never looked back and went from strength to strength. At one stage Kuldip Kaur was so busy in her film roles that for a long duration she did not have time to visit Punjab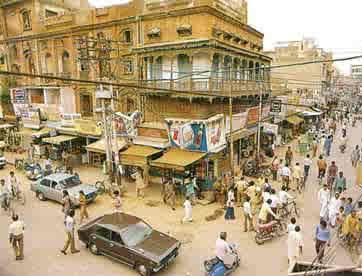 Anarkali Bazar Lahore
In 1949, Kuldip Kaur worked in at least two films "Ek Thi Ladki" and "Kaneez". "Ek Thi Ladki" was a blockbuster. Music Director Vinod composed some great tunes for this movie. "Kaneez", featuring the music of Ghulam Haider did not do too well. In 1950, Kuldip Kaur acted in two great musical Hindi movies "Samadhi" and "Adhi Raat" and did two Punjabi movies "Madari" and "Chhai". 1951 was a great year for Kuldip Kaur, she played the roles of vamps in six movies "Stage", "Rajput", "Nai Zindagi", "Ek Nazar", "Afsana" and "Mukhra". Her role in film "Afsana", which featured a brilliant actor Ashoke Kumar was critically appreciated. 1952 was another great year for Kuldip Kaur. She worked in four movies "Shisham", "Nau Bahar", "Baiju Bawra" and "Anjaam". Again her role was highly praised in film "Baiju Bawra". In 1953 again Kuldip Kaur had four films "Mashooka", "Baaz", "Anarkali" and "Aabshar". Out of these "Anarkali" was a super hit and her role stole the limelight. 1954 was another great year for Kuldip Kaur. She was featured in three movies "Lal Pari", "Gul Bahar" and "Daak Babu". 1955 was one of the busiest professional years for Kuldip Kaur. She played the bad girl's role in "Teer Andaz", "Miss Coca Cola", "Mast Qalandar" and "Jashan". 1956 was sort of a lean year for Kuldip Kaur, she worked in two films, but none was released. Two of Kuldip Kaur starrer movies, spilled over from 1956, were released in 1957. These were "Sheroo" and "Ek Saal". In 1958 Kuldip Kaur had her roles in two films "Sahara" and "Panchayat". In 1959, Kudip Kaur had her roles in three more films "Pyaar Ka Rishta", "Mohar" and "Jagir". Out of these, one film "Mohar" was a great musical, its music composed by Madan Mohan was simply outstanding. When she had fewer Hindi films in hand, she worked in Punjabi films. 1960 started as a reasonably good year for Kuldip Kaur. She had already completed a Hindi film "Maa Baap" and a Punjabi film "Yamla Jatt" and more pictures were on the way.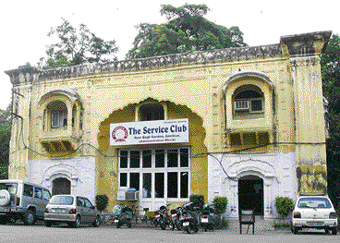 Service Club Amritsar
But during this very year, her life was cut short when she got some thorns in her feet and legs and she pulled those out by herself. True to her character of a daredevil woman, she took her injuries lightly and did not seek medical advice immediately. Her sores became not only septic, but she got Tetanus too, which is incurable. Kuldip Kaur died in 1960. She led a fast paced life and her end came as abruptly too. Her husband, who even in separation loved her immensely was left a heart broken man. A few years later one day, while blessing a newly married couple, he told them to live together until death and not abandon each other while living. This message reflected his extreme pain at the desertion by his beloved wife. I thought it will be appropriate to record, at least a partial history of Kuldip Kaur. Her fascinating life story has several lessons for the present readers and the unborn posterity.
---
Back to APNA Web
---