Punjabi in North America
With a Sense of Nationalism
By Safir Rammah
The DAWN. May 19, 2002


December 9, 1913 marks the date when the first Punjabi publication made its debut in North America. That day the Ghadar Party in California, newly formed by the Indian students at Berkeley and Punjabi farmers in the Bay area, began publishing the Punjabi edition of Hindustan Ghadar from its printing press at 436 Hill Street in San Francisco. The English and Urdu editions had started publication a few months earlier.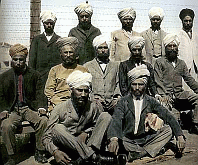 Punjabi farmers had begun arriving on the West Coast of Canada and the United States barely a decade earlier. They were full of idealism and wanted to launch a revolutionary movement to liberate India from British rule. The Punjabi immigration to the new world is a saga of legendary deeds full of twists and turns of destiny which are testimony to the Punjabis' tenacity, enterprise and daring.

It all started with the Sikh troops who returned from England to Punjab via Canada after attending Queen Victoria's diamond jubilee celebration in 1899. They brought with them reports of high labour rates in the north American continent and stories of the vast expanse of agriculture land in California. The lure of better economic prospects drew many adventurous Punjabis away from home. Those who took up the challenge had to pay Rs300-400 as fare for the 12-day steamship journey from Calcutta to Hong Kong and another 18 to 19 days to Canada or the United States.

In 1903-1908, 8000 Punjabis, about 85 per cent of them Sikhs and the rest Muslims from the Doaba and Malwa regions of the Punjab, entered Canada. Nearly 3000 crossed over to the United States, with more coming each year. Most other South Asian emigration of that time to other parts of the world was as indentured labourers. These Punjabis, contrary to the general trend of the time, were independent fortune seekers.

Within 10 years of their first arrival, they had started leasing large tracts of farming land in California and had developed a reputation as hardworking and dependable employees in the lumber mills and logging camps of British Columbia and California. Around that time, they launched the revolutionary Ghadar movement. It was, in the words of Professor Mark Juesrgensmeyer, "...one of the most bizarre and memorable incidents undertaken by any ethnic community in the United States: the attempt by a group of India's expatriate nationals to create a revolutionary army, invade India by sea, and liberate her from the clutches of British rule."

Led by a string of brilliant and charismatic leaders, including Har Dayal, Ram Chandra, Moulvi Barkatulla, Baba Sohan Singh and Jawala Singh, to name a few, the Ghadar movement fired up the nascent Punjabi community in North America and spread across Europe and Japan. By May 1915, many ships with men and weapons were dispatched from North America to India. Their plan was to incite Indian soldiers stationed at military cantonments in the Punjab and to start an armed rebellion against the British government.

In early 1915, the government got wind of their plans and brutally crushed the movement. Many Ghadar leaders who had entered India were hanged at Lahore jail and the rest received long jail terms handed out by a specially formed tribunal. Thus ended this high-risk and high-romance adventure by the early Punjabi settlers in North America.

A century after the arrival of the early pioneers, more than a million Punjabis and a large number of other Indians and Pakistanis are now settled in North America. The colours, tastes and sounds of Indian and Pakistani immigrant communities in Northern America are still predominantly of Punjabi origin and flavour. They have become a prominent and permanent feature of North American landscape by making a place for themselves in every facet of the socio-economic and political spectrum.

Three Punjabis currently hold cabinet portfolios in Canada's central government and the premier of British Columbia, Ujjal Singh Dosanjh, is a first generation Punjabi who was born in a dusty village in East Punjab. The first South Asian congressman in the United States, Dalip Singh Suand, was also a first generation Punjabi. At the other end of the spectrum are Indian and Pakistani Punjabi taxicab drivers who largely own and operate the cab business in all major metropolitan areas of North America. Many of them will eventually move up the socio-economic ladder by purchasing a gas station or a motel with their savings from a few years of hard labour.

All major centres of Punjabis in North America, British Columbia, Calgary, Toronto, California, New York, Chicago and Washington DC metropolitan area, have several well-established outlets for the expression of their love for the Punjabi language and culture. Throughout Canada and in many parts of the United Sates, a large number of Punjabi radio and TV programmes keep the airwaves humming with Punjabi music.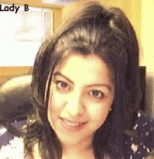 Some, like Radio Geet Sangeet (Watsonville, California), a 24-hour satellite Punjabi radio, provide a variety of programmes from religious themes to the latest trends in Bhangra. Others, like the daily Punjabi show hosted by Bali Deol a.k.a. Lady B from Vancouver, are dedicated to the promotion of undiluted love of the Punjabi language and music. There are numerous regular Punjabi publications; among them Indo-Canadian Times, Chardi Kala, Ajit Weekly and Hamdard are the major Punjabi weeklies. The Punjabi language is taught as a subject in at least two major universities, San Jose State University and University of California, Berkeley. Almost all major universities have academic programmes for Southeast Asian religions, cultures and languages. Both MIT and Harvard will soon have special sections for Punjabi books in their libraries.

The main Punjabi literary organizations in North America surpass most of their counterparts in East and West Punjab in their zeal to promote the Punjabi language. Punjabi Sahit Sabha and the Punjabi-American Cultural Association in California, Qalman Da Qafila and Chardi Kala in Toronto, Punjab Cultural Society of Chicago and Academy of the Punjab in North America (APNA) in Virginia are among the main hubs of Punjabi literary activities in North America. Through publishing Punjabi books and magazines, producing stage plays and entertainment shows, organizing kavi darbars, seminars, Punjabi conferences and a wide range of other literary activities, they are playing an important role in the development of Punjabi language. It is no wonder that the most comprehensive Punjabi web page on the Internet (http://www.apnaorg.com) is hosted by APNA from the United States.

While successfully adapting to an alien environment, Punjabis in North America have maintained their language, culture, religion and other aspects of their identity. Like the pioneers of a hundred years ago whose nationalism was far more intense then Indians living in the subcontinent, they have a uniquely strong attachment to their language and culture. Many among them are perhaps more Punjabi then the Punjabis living back home, who compliantly disregard their language in West Punjab and are surrendering it to Hindi and English in East Punjab.