Ram Sarup Aņkhi
1932–2010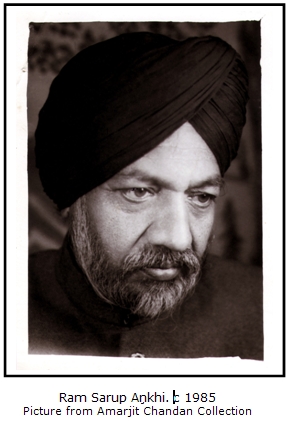 am Sarup Aņkhi, who has died aged 78, was a prolific Punjabi writer with 15 novels and eight story books and five collections of poems to his credit.
Aņkhi was Brahmin by caste but Sikh in appearance. He kept the Hindu name as is the custom in the Malwa region of East Punjab . Only a tiny minority of Brahmins converted to Sikhism and changed their names – Bhai Bhagwan Singh of Ghadar Party, Gyani Hira Singh Dard, SS Amol and Vidhata Singh Tir being the four most famous names amongst them.
Known as a mesmerising story teller, Aņkhi chronicled rural life in Malwa in the latter half of the 20th century. In his writing the Malwa landscape comes alive. His Sahitya Academy Award winner novel Kothey Kharhak Singh ਕੋਠੇ ਖੜਕ ਸਿੰਘ, named after a fictitious but typical Malwa village, is a novel of epic dimensions spanning three generations. It covers the period starting after 1940-42 and moving to Janata Party's rule after the Emergency and thence to Indira Gandhi's return to power in the early 1980s.
In his later novels self-evidently titled Salphas ਸਲਫਾਸ 2006, (a chemical used by debt-ridden Malwai Jatts to commit suicide), Jamināñ Wāley ਜਮੀਨਾਂ ਵਾਲੇ (The Landed Gentry) 2004, Kaņak da Qatalām ਕਣਕ ਦਾ ਕਤਲਾਮ (Slaughter of the Wheat) 2007 and Bhima ਭੀਮਾ (a Purbia farm worker) 2009 etc., he portrayed the post-green revolution Malwa with all its acute socio-economic problems such as the onslaught of corporate capitalism, pauperisation of small peasantry, mass drug addiction, influx of Purbia migrant labour and, in consequence of all this, disintegration of village communities.
Aņkhi also edited a Punjabi short fiction quarterly Kahāni Punjab ਕਹਾਣੀ ਪੰਜਾਬ since 1993 assisted by his son Krantipal, currently teaching at Aligarh Muslim University .
Reviewing his two-volume autobiography Malhey Jhārhiāñ ਮਲ੍ਹੇ ਝਾੜੀਆਂ (Thorny Bushes with Berries published in 1988 and later updated twice) Atamjit, Punjabi playwright and columnist wrote:
It is not only his art of storytelling that mesmerises its reader; his simplicity, honesty and bluntness also produce magic.
Content with his life in his native village Dhaula, its surrounding areas
and later on in the town of Barnala, Aņkhi has always sought his themes,
locales and characters from within this region. His vast canvas of narratives
never required anything from outside. Many may like to see it as a
limitation but he is happy to portray what he knows best. He explains
how with the passage of time the same landscape has seen a sea
change and this transformation is depicted in his novels like Kothey Kharhak Singh.
Aņkhi creates the much-desired diversity by using characters from different
economic, social and religious backgrounds. There are many divergent
tendencies and traits in his personal life too: he is Brahmin by caste but
Sikh in his appearance; he was wild in his childhood but is very disciplined
in his writing; he started as a poet but ended up as a fiction writer; and
he married thrice.
His novel Zakhmee Ateet (The Wounded Past. 1981) was published in the Farsi script by the Institute of Punjabi Language & Culture Lahore. Some of his books were also translated into Gujarati, Hindi and English.
He is survived by his widow and their three daughters and two sons. A daughter predeceased him.
Amarjit Chandan
Ram Sarup Aņkhi, Punjabi writer, born August 28 1932 Dhaula Sangrur died February 14 2010 Barnala Sangrur