PAHS would like to present the 17th Annual Punjabi American Festival
Held on May 29th, 2011 at the Yuba Sutter Fairgrounds in Yuba City, California
Featuring the following acts and performances:
ADDITIONAL INFORMATION ON ACTS AND PERFORMANCES:
Mr. and Miss Punjabi Talent Contest: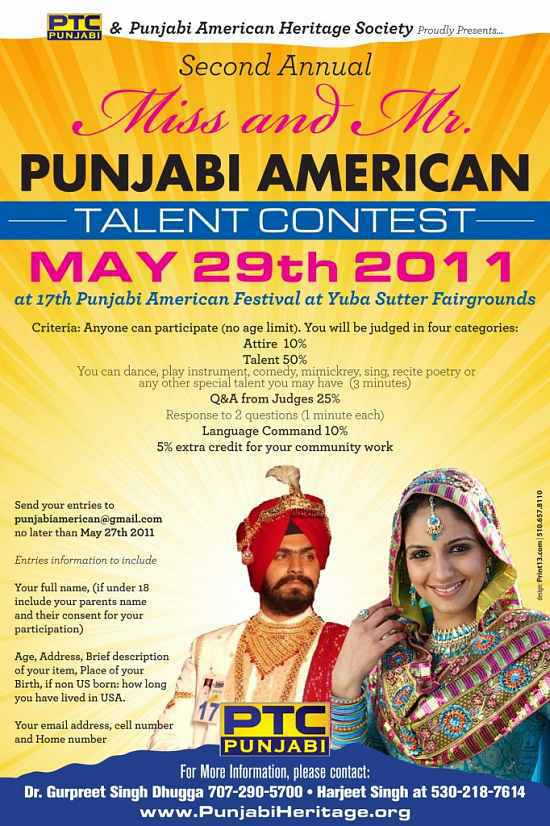 PTC Punjabi TV network and Punjabi American Heritage Society presents
Second Annual Punjabi American Miss and Mr. Punjabi American Talent Contest
Purpose: This is a talent contest and to promote understanding of Punjabi American Heritage. It is not a beauty contest.
Winner: Winner will get $500 scholarship and runners-up $250 in both male and female category. The scholarships will be provided by PAHS.
Date May 29th, 2011 at 17th Punjabi American Festival at Yuba Sutter Fairgrounds.
All participants will report at 930AM at Fairgrounds on May 29TH and preliminary contest will be held in Expo Hall at 10.00 AM and 4 males and 4 females will be selected to compete on the main stage at 3PM in front of the festival audience.
Criteria: Any one can participate, no age limit. You will be judged in four categories:
Your attire (10%), Talent 50 % (you can perform a dance or play instrument or comedy or do mimickery or sing or say poetry or any other special talent you may have for 3 minutes) answer to two questions (anwer in one minute to each question) from Judges 25% (content), language command 10 percent and 5 extra credit percent for your community work.
Final event will be show all over USA by PTC Punjabi TV Dishnet network and Crossings TV on Comcast Cable.
HOW TO ENTER:
Send your entries to Punjabiamerican@gmail.com no latter than May 27th 2011Entries information to includeYour full name, (if under 18 include your parents name and their consent for your participation)AgeAddressBrief description of your itemPlace of your Birth, if non US born: how long you have lived in USA.Your email address, cell number and Home number Event Contact persons: Dr Gurpreet Singh Dhugga, can be reached at 707-290-5700 or Harjeet Singh at 530-218-7614
Sikh Film Festival by Sikhlens and PAHS: