PUNJAB AGRICULTURAL UNIVERSITY

FIVE LITERARY BOOKS OF S. GURDIT SINGH KANG RELEASED

LUDHIANA, MAY 17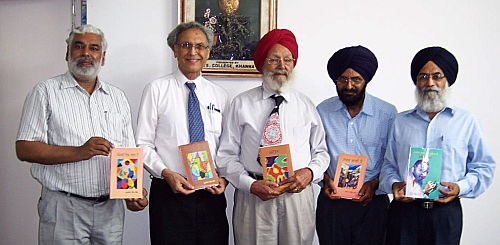 THE PAU VICE-CHANCELLOR, DR. MANJIT SINGH KANG, DR. SURJIT PATAR, DR. JAGTAR SINGH DHIMAN, DR. SUKHCHAIN


A function was organized in the library of Punjabi Bhawan, Ludhiana to release five Punjabi literary books authored by eminent writer S. Gurdit Singh Kang. The function was chaired by Dr. Manjit Singh Kang, Vice-Chancellor, PAU while the former Vice-Chancellor of Guru Nanak Dev University, Dr. S.P.Singh, eminent novelist Prof. Niranjan Tasneem were guests of honours. The function was organized by a literary body Shabad Lok and a large number of litterateurs attended the function.

In his remarks, Dr. Kang said that his father, S. Gurdit Singh Kang published stories many years ago and worked with Prof. Mohan Singh as Assistant Editor of the Panj Dariya magazine. He said that he had been the first reader of his father's books who, he said, is now working on some other writing projects. Dr. Kang shared that the books written by S. Kang were greatly motivating.

The released books included 'Kash', an autobiographical novelette depicting father-son confrontation, which was released by Dr. Kang. Dr. Surjit read a paper on this book. He said that the novelette is an emotional expression of the father, suffering from leukemia, a dreaded disease and is based on the self experience of the author.

The second book 'Manohar Bachan' (candid utterances) is Punjabi translation of the English book 'I had a dream' written by Coretta Scott King, and is based on the writings and speeches of Martin Luther King Junior, who firmly believed in the philosophy of Mahatama Gandhi. This book was released by Dr. Surjit Patar. Dr. Guriqbal Singh read his paper on this book. Dr. Patar said that the writings of Mr. Kang are unique as it has practicality, are normative besides being reflective, for which he complemented the author.

The third book 'Zindgi Ik Safar Hai' (life is a journey, an autobiographical account) was released by Dr. S.P.Singh, the former Vice-Chancellor of Guru Nanak Dev University. Dr. Singh congratulated Mr. Kang for being an active writer in displaying his literary acumen and transmitting his rich experience.

The fourth book 'Safar Zaari Hai' (Journey goes on, an autobiographical account) was released by Mr. Gurbhajan Singh Gill, President of Punjabi Sahit Akademy and Editor (Punjabi) at PAU. He said that there is a great worth in the book from which new writers could seek inspiration.

Dr. S.N.Sewak read his paper on these two books. He appreciated the style with which Mr. Kang has depicted the details of the significant happenings in life. There is a message one can get from these two books, he said. He was all appreciation for the zeal with which the author keeps up his writing endeavour despite his being at 91 years of age.

The fifth book 'Sadeevin Gunjhal' (perpetual complexity, collection of short stories) was released by Mr. Harkesh Singh Kehal, an eminent writer on Punjabi heritage. The book is based upon the characters from real life.

Those who spoke on the content and style of writing of Mr. Gurdit Singh Kang included Prof. Tasneem and Dr. Jagtar Singh Dhiman. They described the author as an energetic writer with exemplary zeal to portray the realities of life. Dr. Dhiman said that Mr. Kang's books are a kaleidoscopic expression of real life situations and congratulated him for enriching the Punjabi language with his remarkable books.

Dr. Sukhchain, who managed the stage, recited a poem on Gandhi specially composed for the occasion.