By Ali Faraz Ali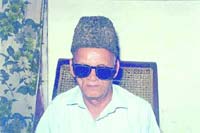 Hafiz Sarshar has spread the light of knowledge quietly and unnoticed for fifty years through a small college known by the name of Sarshar College in Lahore. Few people can claim to have achieved the same results single-handedly. Yet Hafiz Sarshar is unique in that he cannot see.
During this half century over 6,500 students have successfully completed their graduation or masters from this special seat of learning. All of these students have been personally tutored by Hafiz Abdul Hameed Sarshar who has four masters to his credit in different subjects in spite of the limitation that he can neither read nor write. He gained a master's degree in Urdu and later in Persian as a regular student of Punjab University's Oriental College in the early 1960s. He later went on to acquire M.A in Punjabi in 1966 and in slamic
Studies in 1968. Before that he had completed Honours (Adeeb Fazil) in three languages.
Born in 1922 in Gurdaspur, Abdul Hameed lost his eyesight at the age of eight due to an attack of smallpox and has since learnt through his listening skills alone. He learnt the Holy Quran by heart in the beginning which spurred him to seek more and more knowledge in his later years.
He wrote a book 'Adabi Rishman', literary criticism on Punjabi and supplemented it with another book on the same subject by the name of 'Adabi Chalan'. Today both of these books are included in the syllabus of Punjab University's M.A unjabi. 'Rang-o-Ahang' is his collection of Urdu poetry while'Suchay Moti' is a collection of Punjabi essays. Yet another book is titled 'Ghazal tay Punjabi Ghazal.' Situated in a dark corner of a congested area Jain Mandir, Sarshar College is hard to locate but ask any of the old students and he or she would be full of praise for the exceptionally gifted teacher who has taught whole-heartedly generation after generation of aspiring students. All of his students have an admiration for this teacher.
Hafiz Sarshar recalls, "I have had no problems of discipline with my pupils." When asked what has been the secret of his unusual success in life he mentions his family, teachers and his numerous students who he says have been very supportive. "I never felt that I am handicapped in any way. It is the rejection by others that produces feelings of inferiority in many a special people. I have been lucky to have enjoyed immense love and cooperation at every stage of my life." During early life he himself had pprehensions that he would be dependent on others for a living. But as the gracious fate would have it he has not only earned for himself but went on to help others too.
Sarshar never married simply because he doesn't believe in burdening anyone.
Once, inspired by his personality a girl wrote a letter saying that she was willing to 'sacrifice' to marry him. Hafiz Sarshar took serious exception to the use of word 'sacrifice'. "I don't want anyone to ever make a sacrifice for me. I would have married her if she had accepted me as a normal person." All his life he has sincerely prayed that he may not be dependent on anyone. "So far my prayer has been answered," he adds, much contented at the age of 81. His willingness to live a normal life is so strong that he has always refused to use a stick for walking.
He believes that being handicapped is merely a feeling otherwise a 'special' person can lead a normal life. Talking to his students it is clear that they hold him in high esteem for his command of the subject and inspiring method of teaching. They are rather fascinated by his knowledge and passion. Ajmal Niazi, once remarked, "Perhaps Hafiz Sarshar is engrossed in a perpetual
literary meditation. That is why he always keeps his eyes closed." The Sarshar College, tiny in scale, had its first class in January 1956 and after serving for nearly half a century had its last class in August 2003. His old students are spread all over Punjab and include teachers, lawyers, judges and civil officers. About 1500 of his students have acquired M.A Urdu, 2000 have completed their M.A Punjabi, and 1600 have done M.A Islamic Studies while about 200 have completed M.A Persian. Sarshar's professors at the university used to remark that Sarshar College is a branch of Oriental College. Having retired from the college due to his falling health, Hafiz Sarshar teaches some students at his home now. The college that had a glorious past has been closed down quietly without making any eadlines or causing the public to take notice.
Hafiz Sarshar has not bothered anyone to even say a formal goodbye.