By Inderjeet Singh
Tribune India : Sep 23, 2017
In every culture, it is small traditions that stream into one big tradition. The Hindu religion derives its versatility from local expressions and regional manifestations. Ramlila at Sector 15 of Faridabad offers a unique glimpse...
Three ways Pak can go
Rural sector direly needs stimulus package
Private trains can put Railways on the right track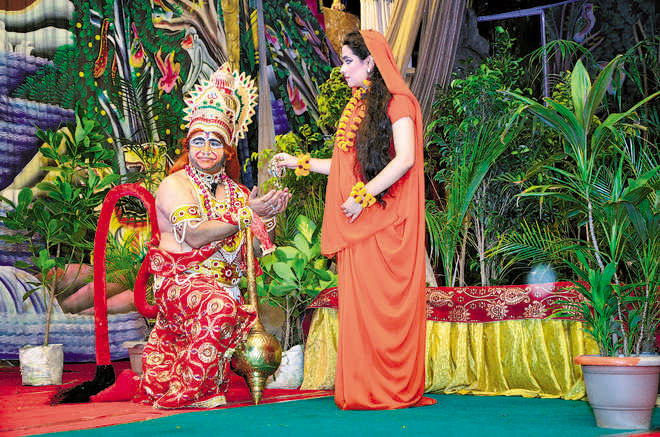 Hanuman meets Sita: A scene from the Sector 15 Ramlila of Faridabad.
Vivek Shukla
Seventy years is not a long enough time to erase memories and traditions. One tradition of the pre-Partition era is being kept alive in a posh locality of a bustling industrial town of Haryana. Bucking the trend, a group of Ramlila organisers has been continuing to Lord Ram's story in chaste Urdu. In their show, that attracts quite a few spectators, Ram, Ravan Hanuman, Sita and other characters mouth dialogues in Urdu. This also proves the point rather conclusively that language has nothing to do with any religion.
It is a tense moment as Ram and Ravan are rehearsing their important dialogue. Both are challenging each other in Urdu rather than Hindi. Sample this exchange:
Mincing no words, Ram tells Ravan sternly, "Ravan, tum shaitan ho. Tum zulm ki nishani ho. Tumhe jeene ka koi haq nahi hai." (Ravan, you are an evil character. You symbolise hate and terror. You have no right to live).
Undeterred, Ravan retorts: "Ram, maine maut par fateh pa lee hai. Poori qayanaat me mere se bada aur takatvar insaan koi nahi hai. Tu jaa apna kaam kar." (Ram, I have conquered even death. Nobody is more powerful than me in this universe. Go and do your job.)
Telling the tale the Bannu way
More often than not, one finds Ramlila being enacted in Hindi. But this Sector 15 Ramlila is different and tells the tale differently. But why is this Ramlila in Urdu? The organisers of this Ramlila originally hail from the Bannu region of southern Khyber Pakhtunkhwa, Pakistan. Bannu was once a British military base, used for action against Afghan border tribes. An inhabitant of Bannu is called Bannuchi. The Bannuchis dialect of Punjabi is heavily laden with Urdu words. After the partition, Bannuchis were allotted property in Faridabad to settle down. They have a very significant presence in the city.
"While we no longer live in our homeland (Bannu), we try to follow some traditions of that place, including the enactment of Ramlila in Urdu," says Rakesh Ahuja, president of Sector 15 Ramlila organising committee. "The script of Ramlila was penned in 1976 by Nand Lal Batra, who was also from Bannu," informs Ahuja.
"As recently as a couple of years ago, three or four Ramlilas used to be enacted in Urdu in Faridabad. In one of them, Faridabad mayor Ashok Arora used to play the role of either Dashrath or Hanuman. Most of old Faridabad residents are refugees and their language is Urdu-Punjabi," informs Rakesh Sharma, who is also part of the Sector 15 Ramlila.
Bannowali Punjabi
Sharvan (32), playing Hanuman's role in this Ramlila, says, "The good thing is that even youngsters enjoy and visit our show in big numbers. Unlike the neighbouring Gurgaon, old order and traditions are still followed in Faridabad. Moreover, we ensure that we have some dialogues even in Bannowali Punjabi. All such things make our Ramlila unique and different."
So, what is his favourite dialogue? After a little pause, Sharvan says that his favourite lines are those when Hanuman reaches where Sita is kept imprisoned by Ravan. She is depressed and all alone. There I tell her, "Maa, main aapko bahifajat Bhagwan Ram ke paas le jaunga. Aap katai fikr na karen. Mujhe to abhi Bhagwan Ram ka hukm nahi hai. Varna main aapko abhi idhar se le jata." (Mother, I will take you safely to Lord Ram's place. Please do not worry. I donot have his instructions to rescue you right now. Otherwise, I would have taken you to him just now."
Now enjoy one dialogue of Sita-Ravan too. Ravan visits Sita where she was kept after he had kidnapped her. With a hearty laugh, Ravan says, "Ab apne shohar ko bhul jaa. Main hi hoon tera shohar." (Now forget your husband. I only am your husband). Enraged with this salacious comment, Sita responds with contempt, "Mujhe daga-fareb se le aaya. Tu jaleel insaan hain. Manhoos insaan hai. Tu khaak ho jayega." (You have kidnapped me by cheating. You are scum of this earth. You are an ominous character. You will be destroyed.)
Says Khalid Alvi, a local journalist, "I notice that the Punjabis of Bannuwal in Faridabad are still strongly attached to their roots and traditions. It is a very well-knit community. That is reflected in the Sector 15 Ramlila as well. It is attended by huge numbers."
Last, but not the least, each Ramlila serial daily ends with the soul-stirring song Ae Maalik tere bande hum sung by Lata Mangeshkar in the film Do Aankhen Bara Haath.
The writer is a freelance journalist